Online Reviews Statistics – 2023
Last updated: 07.01.2023
•
Online consumer reviews are not just great for exposure but also allow you to listen to your customers and invest time in cultivating and maintaining your brand's name. To give you some favorable wind on the stormy sea of customer complaints, we present you with our list of insightful online reviews statistics. Being up to speed with the latest forecasts on the changing disposition of customers will definitely help you build a stronger brand and digital image.
Online Reviews Statistics (Editor's Choice)
Just one review on your product page can scale conversion rates by 354%. (

BazaarVoice

)

With 43%, text reviews are more popular than photo or video reviews. (

Yotpo

)

Worldwide, 89% of customers

read reviews

before making a purchase. (

Oberlo

)

48% of consumers will visit a company's website after reading positive reviews. (

Vendasta

)

72% of travelers always consult reviews when deciding on places to stay and eat or things to do.

(

Tripadvisor

)

Negative review censorship is condemned by 62% of consumers. (

Oberlo

)

A total of 47% of consumers feel companies are manipulating their reputation with fake reviews. (

InternetRetailing

)
General Online Review Statistics
1. Statistics about online reviews reveal 60% of people use mobiles to read them.
This figure should come as no surprise with mobile marketing statistics suggesting that marketers are benefiting big time from the increased mobile usage among buyers. With 57%, PCs or Macs are consumers' second-favorite devices for reading ratings and reviews online, followed by tablets with 45%, and mobile apps, which show the highest jump compared to 2018, reaching a solid 40%.
(BrightLocal)
2. About 60% of shoppers turn to Google for reviews.
59% of people, as online review statistics show, turn to Google when they wish to find out more about the quality of a product or service they intend to buy. Amazon is not far behind, with 57% of consumers turning to this platform for reviews of businesses by consumers. A little over 40% directly visit the vendor's website with the same intention.
(Bizrate Insights)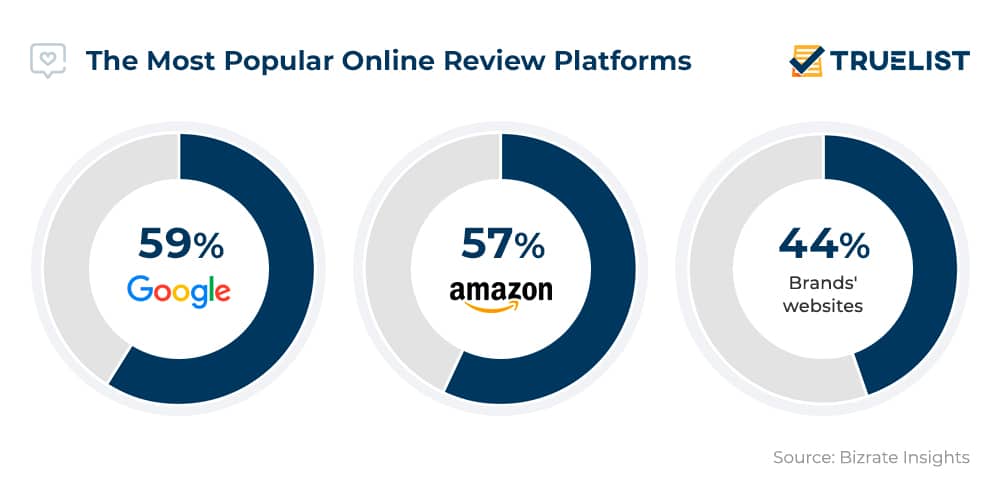 3. Yelp has more than 244 million reviews.
And the numbers keep growing with restaurants (18%) and home and local services (18%), as online reviews statistics say, being the most reviewed businesses by category. You don't even need any major online reviews analysis or studies to tell you Yelp is one of the most commonly used review sites for businesses. Whether you are a small or medium-sized company, if you want your business to grow, you have to be on Yelp.
(Yelp)
4. Only 16.6% of customers trust product reviews on retail websites.
One cannot possibly imagine how skeptical people are until they've been slapped by such devastating data. Statistics on online reviews confirm that a little over 16% of consumers trust what is written on your website about the product you are trying to sell them. Another 41.7% say they somewhat trust it but would definitely visit other relevant online rating and review sites, meaning 16.9% of customers totally distrust the user reviews posted on your website.
(Bizrate Insights)
5. Every one-star increase a brand gets can result in a revenue boost of up to 9%.
Online reviews and reputation management are closely connected to revenue, and as online reviews statistics reveal, if these are adequately balanced, there could be a 5-9% improvement in gains. According to a recent study on online reviews, for every extra star on ratings, businesses see an increase in revenue. This stat should give confidence to independent restaurants whose owners do not have the luxury of relying on big advertising campaigns to help them pump up their ratings.
(Harvard Business School)
6. A single review on your product page can boost conversion rates by 354%.
Online user reviews statistics mention that even though some users distrust and do not directly engage with user-generated content on product pages, the existence of a single review on a product page can improve conversions 3.5 times. Similarly, product pages with relevant Q&As, regardless of whether the customer engages or not, improve conversions by nearly 4.5 times.
(BazaarVoice)
7. 88% of small businesses monitor their online reputation.
Recent stats and facts about small businesses disclose that owners are taking all possible measures to get ahead in managing their reputation in the digital space. Online reviews statistics further reveal nearly 90% monitor their online ratings and reviews at least once every quarter either by using social media (66%) or via in-house employees and PR agencies (44%). Another 48% of small business owners do so by using a combination of social media and other platforms.
(Clutch)
8. 69% of millennials rely on digital resources to manage their online reputation.
69% of millennials that own a small business rely on digital resources to manage their online company reviews. Statistics about online reviews mention the percentage of Gen Xers who use the same tools such as Google Alerts or Yotpo to monitor their user reviews and ratings is somewhat lower at 57%. This percentage drops further for boomers to as little as 34%. In addition to being in tune with digital developments, young millennials go a step further to avoid getting bad online business reviews and hire PR agencies as their eyes and ears in the virtual space.
(Clutch)
9. Half of local business owners don't have the time to work on their online image.
Online review statistics about local businesses and how they manage their online reputation show barely 50% of local business owners find the time to work on their company's image. In fact, according to local SEO statistics, marketing professionals spend as little as 17% of their time on online reputation management.
(BrightLocal)
10. Businesses that display reviews on their websites can increase conversion rates by up to 270%.
Businesses that have no problem displaying comments and recommendations from past and current customers on their websites, according to online user reviews statistics, have 270% higher chances of improving their conversion rates, especially if the content is positive. Then, the chances of prospects spending more money could improve by a solid 31%. Online reviews effects are even more satisfactory if the online review content is displayed next to "higher-priced" products, increasing conversions by 380%.
(Medill IMC Spiegel Research Center, BrightLocal)
11. With 43%, text reviews are more popular than a photo or video.
Although people generally like seeing photos of products, it appears the written word truly is mightier than photo or video materials. As online reviews statistics reveal, a solid 43% of customers claim they trust text-based reviews. One-third of customers, i.e., 33%, would rather see a photo of a product posted by another buyer than read a review, while only 24% like to watch online videos showing the product's pros and cons. So, even if your site contains user photos that do not match your product's quality, make sure the text does, as this is the most trusted type of online reviews.
(Yotpo)
Online Reviews Statistics That Make or Break Purchase Decisions
12. As many as 89% of global customers read reviews before making a purchase.
Customers like to make an effort and read a few online ratings and reviews before deciding whether or not they will spend their money on the item they're eyeing. Regarding gender, women (90%) tend to be a bit more inclined to do their due diligence than men, although, in essence, the difference is not that big, at only 2%.
(Oberlo)
13. Positive reviews play a key role in the purchase decision of 93% of consumers.
Positive online user reviews, statistics show, have a major impact on the buying decisions of nine out of 10 customers. In today's digital dawn, online reviews seem to be gaining traction and are becoming even more powerful than good old word-of-mouth marketing. In fact, one might say these reviews compensate for offline word-of-mouth referrals.
(Dixa)
14. Prior to making a purchase, 36.4 of consumers read between one and three reviews.
Recent online reviews statistics mention that 36.4% of shoppers would read up to three reviews just to get assured that they are getting the best value for money. Another 31% would go through four to six reviews, while 9.1% would settle for seven to nine just to be on the safe side. And there are those 14.6% who are prepared to do extensive research and really dive into the specifics of a product or service. The overall result of the study indicates a whopping 91.3% would read at least one review before spending a dime.
(Bizrate Insights)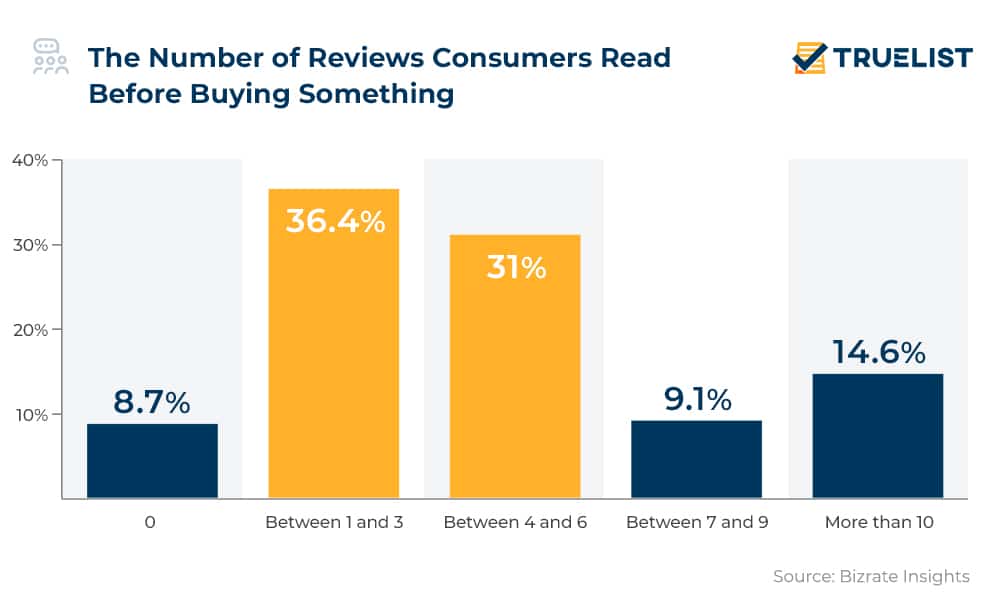 15. Most shoppers believe that a business rating needs to have an average of 50 reviews to be trustworthy.
Online review usage statistics show that when it comes to trustworthiness of a business rating, quantity is just as important, if not more important, than quality. Namely, around 50% of customers say that the rating with between 1 and 50 reviews, is most likely legitimate. A little over 30% would like to be reassured by more than 50, preferably by up to 500 user reviews. Interestingly, 5% believe up to 1,000 is a good enough number. Then, there's the 12.9% that simply don't care about reviews or numbers.
(Bizrate Insights)
16. 82% of shoppers won't buy if a retailer has less than three stars.
Online review usage statistics mention that there could be a positive side to negative things people write about your product.This is because customers deem vendors with all positive reviews less credible. The same thirst that drives customers to seek negative reviews, as customer retention data shows, actually works in favor of vendors and increases retention rates.
(Synup)
17. Statistics about online reviews say 88% of people trust them as much as personal recommendations.
It makes perfect sense for people to trust friends and relatives when they have nice things to say about a product or service. What is interesting, though, is that 88% of consumers trust online reviews almost as much as they trust personal recommendations. On the other hand, influencer marketing data confirms endorsements from celebrities or experts are less popular than product or company reviews by customers.
(Vendasta)
18. Online reviews statistics indicate 72% of people will not buy anything without reading several reviews first.
The importance of online reviews becomes even more evident with data like this, revealing the high percentage of shoppers who would not even consider buying something without researching it online first. Also, the likelihood of winning over these shoppers increases by 15% if the reviews they read are verified.
(My Testimonial Engine)
19. A whopping 92.4% of B2B buyers will most likely decide to buy after reading a trusted review.
That said, online reviews statistics also mention that 67% of these buyers would like to see both positive and negative experiences when exploring businesses. Knowing both sides of the story, especially the negative one, is of the utmost importance to 72% of B2B buyers as they believe it will give them a deeper understanding and insight into the product.
(G2 Learning Hub)
20. An online customer review can convince 94% of people to avoid a business.
Are you still wondering about the online reviews' impact on sales? Online reviews statistics show that businesses risk losing 22% of their customers if just one negative article about the product they've targeted pops out. Can you imagine the cost of reading three such articles? Exactly 59.2% of your prospects. That's the price you'd pay for not taking your digital reputation seriously.
(Review Trackers)
21. 48% of consumers will visit a company's website after reading positive reviews.
And another 23% will directly visit the brick-and-mortar store right after they read nice things about it. Statistics about online reviews also mention that 9% of consumers feel motivated to call a business after being convinced by positive reviews that this business has what they need.
(Vendasta)
22. 73% of people form an opinion after reading around six reviews.
The more recent the review, the higher the chances of people reading it. Online reviews analysis confirms that a total of 73% of people pay much more attention to reviews written in the past month than those written three or four months ago. When it comes to writing an online review, statistics indicate that people expect to get a response within 24 hours. And even though this percentage is not that high, it does suggest that responsiveness plays a vital role in keeping customers happy.
(BrightLocal)
23. 85% of American shoppers say star rating is important for judging a local business.
Statista's online reviews analysis of the US market shows that in addition to a review's recency which sits at 73%, 85% of customers say the second most important factor they consider when evaluating a local business is the star rating. The same online review statistics disclose that 60% of Americans pay attention to the number of reviews posted about a local business.
(Statista)
24. 72% of travelers always consult reviews when deciding on places to stay, eat, or things to do.
The travel sector is one of the industries where the impact of online reviews on sales is the highest. TripAdvisor's research and the online user reviews statistics it produced found that when it comes to booking places to stay, 81% of travelers are especially keen on reading reviews right before making a booking. Another 78% say their focus is on booking places with more recent reviews, while 52% would not even think of booking a hotel or place that has not been reviewed by other travelers. What this shows is that, although it is important for businesses to work on their digital image, at the end of the day, people will always trust other people more.
(Tripadvisor)
25. The majority of US diners recognized that online restaurant reviews influenced their meal decisions.
Online review usage statistics show that 94% of Americans like consulting other people even before doing something as simple as ordering a meal in a nice restaurant. The importance of online reviews in the service industry becomes even more evident if we look at the stat that 59% of prospective patients research medical reviews about healthcare professionals before choosing one.
(Tripadvisor, PatientPop)
26. Customers with an annual income of over $150,000 regularly leave reviews after poor service.
100% of people who make more than $150,000 a year always leave a review following poor service. The good news, however, is that, according to customer service statistics, if these issues are quickly resolved, the chances are 95% of unhappy customers will return.
(Vendasta)
Fake Online Reviews Statistics
27. Negative review censorship is condemned by 62% of consumers.
And why wouldn't it be? People turn to reviews to learn more about a business, and in doing so, they want the whole truth. Plus, data shows that censoring can do greater damage to a business than any number of negative comments or ratings because 62% of consumers say they'd stop supporting a brand that engages in such activities.
(Oberlo)
28. Over 90% of buyers suspect that a review is fake if they can't see bad scores.
And that's not all. According to fake online reviews statistics, a staggering 82% of consumers have read such reviews in the past year, meaning the number of businesses that expose their customers to questionable information is relatively high. The harmfulness of fake online ratings and reviews causes mistrust among consumers, with 54% of them claiming they will most likely cancel an order altogether if they suspect the text's legitimacy.
(Invesp)
29. A total of 47% of consumers feel companies are manipulating their reputation with fake reviews.
So, can online reviews be trusted? Judging by fake online reviews statistics, which reveal that nearly 50% of consumers believe businesses are building their online reputation based on manipulation and false user-generated information, the answer would be no. An additional 40% of consumers are certain that businesses are building a fake image by deleting negative online consumer reviews. What is more, 42% say they are concerned about the effects that removing or censoring legitimate reviews has on their freedom of speech.
(InternetRetailing)
30. For 95% of customers, businesses with good scores only mean fake or censored reviews.
Online reviews statistics about fake or censored user-generated content show that customers find it suspicious when other people have only nice things to say about a brand. This is because 62% of customers have been disappointed by the quality of a product even after they've read more than one online rating that rendered it excellent. Similarly, ecommerce stats reveal 65% of people do not believe in the legitimacy of ecommerce ratings.
(Invesp)
Online Reviews FAQ
What percentage of customers write reviews?
Around 5-10% of global digital buyers write reviews, and by doing so, influence the total ecommerce sales revenue by approximately $400 billion. What is interesting, though, is that among consumers who write product reviews online, a majority do so to comply with a request made by the vendor. Online review statistics reveal that as much as 73% of US consumers left a review about a local business when asked to do so.
(USA Today, BrightLocal)
How much do online reviews affect sales?
In addition to strengthening a brand's credibility and reliability, reviews can generally increase sales. Of course, there are variations, depending on the type of industry, but in essence, if a product has at least five reviews that strongly recommend the brand, buyers are four times more likely to make a purchase.
(Econsultancy)
Do online reviews impact buying behavior?
A recent study on online reviews showed that 96% of people don't trust ads, but when ads are combined with what customers say online about a business, the impact on the buying behavior improves significantly. This is because reviews can be leveraged as social proof that shows others they are making the right shopping decision, as online reviews statistics reveal.
(Inc.com)
Sources: BrightLocal, Bizrate Insights, Yelp, Harvard Business School, BazaarVoice, Clutch, BrightLocal, Medill IMC Spiegel Research Center, BrightLocal, Yotpo, Oberlo, Dixa, Synup, Vendasta, My Testimonial Engine, G2 Learning Hub, Review Trackers, Statista, Tripadvisor, Tripadvisor, PatientPop, Invesp, InternetRetailing, USA Today, Econsultancy, Inc.com