Customer Service Statistics – 2023
Last updated: 07.01.2023
•
Customer service statistics show that US businesses lose a shocking $62 billion a year due to poor customer service and half of their customer base because of substandard customer experience. To avoid such catastrophic damages, consider our list of the latest customer service data.
Customer Service Statistics (Editor's Choice)
Globally, 59% of people have higher expectations for customer service compared to a year ago. (

Statista

)

42% of US customers prefer to resolve issues over the phone. (

Statista

)

Poor customer service

will force 96% of customers to replace you. (

Hyken

)

33% of consumers want their issues resolved over a single interaction. (

Statista

)

When filing a complaint or asking a question on social media, 79% of customers expect a response within a day. (

Hootsuite

,

HubSpot

)

71% of customers who've had a positive experience on social media will recommend your brand to friends and family. (

Soul Of Brands

)

84% of businesses working on improving

customer experience

report increased profits. (

PR Newswire

)

90% of customers prioritize receiving an "immediate" response to their questions. (

HubSpot

)
Customer Service Facts & Stats Everyone Should Know
1. Companies lose $1.6 trillion a year because of bad customer service.
If you are still wondering how, or worse, why you should improve the services and experiences you provide to your customers, now you have 1.6 trillion reasons. In the US alone, companies with poor customer service lose a mind-blowing $62 billion because of it. And the irony of it is that the cost paid by the customer service industry is completely avoidable.
(Accenture, Vonage)
2. Globally, 59% of people have higher expectations for customer service compared to a year ago.
Customer service facts and figures reveal the expectations of key stakeholders in this area are high. Six out of 10 consumers expect customer service to be better than the year before. Statista's customer service report says 56% of US citizens have the same levels of expectation in this field. By contrast, the percentage of people whose expectations remain unchanged sits at 41% on a global level and 44% among US consumers.
(Statista)
3. 42% of US customers prefer to resolve issues over the phone.
The traditional phone call is the preferred way of resolving issues related to customer service, statistics reveal. Digital channels are also gaining traction and, with 38%, are the second most used communication channel in the US. Emails rank third, with 20% of US consumers seeing this type of communication as the most efficient channel for resolving customer service problems.
(Statista)
4. With 92.3%, the car manufacturing industry has the highest customer satisfaction rate in Australia.
Australians are generally happy with the services provided by most of the leading industries. According to customer service statistics, Australia scores highest on the charts in services provided by the car manufacturing industry (92.3%), followed by hardware stores (90.8%),  chemists and pharmacies (90.5%), and clothing stores (90.2%). Department, liquor, discounts and furniture, and electrical stores also hover around 90%, meaning Aussieland businesses go the extra mile to keep their customers happy.
(Statista)
5. The customer service index in the UK has dropped by 1.2 points compared to 2017.
According to customer service statistics, UK public service providers and companies experienced a minimal decrease by 0.1 points in the customer service index, which amounts to 77 out of 100 as of July 2020. As the customer service report states, it is mainly because the tourism sector notes a drop in customer satisfaction rates but luckily, high satisfaction rates in public services make up for it.
(Institute of Customer Service)
6. With 45%, Ryanair has the lowest "customer service score" in the UK.
Based on customer service statistics, UK consumers have a lot to say about how valued companies make them feel, how helpful and knowledgeable their staff is, and how well they handle complaints. Ryanair is at the very bottom with a 45% satisfaction rate, followed by Scottish Power (46%) and BT (52%). At the top of the list are British companies with exceptional customer service, such as First Direct with 89%, Lakeland with 87%, and Marks & Spencer with 86%.
(Statista)
7. 49% of Canadian consumers switch providers because of bad customer service.
According to customer service statistics, Canada-based companies are doing very little to invest in analytical tools and expertise that could offer them proactive insights and help deliver a more personalized experience. And it's not just that they are losing nearly half of their consumers to subpar customer service — 80% of Canadians who have switched companies said they could have been retained. But now that they've found another provider, a solid 68% say they see no point in going back to the old one. The saddest part is that most of the Canadian customer service data is in line with global stats.
(Accenture)
Statistics on the Value of Customer Service: What Customers Say
8. Slightly less fun facts about customer service say the #1 reason customers switch to a new brand is that they feel unappreciated.
A recent customer service study indicates that 40% of US consumers say that the number one reason for moving to a different vendor is that they felt undervalued by the customer service reps. Other reasons for abandoning a company include the lack of the option to talk to a human representative (33%), being switched from one agent to another (30%), and spending too much time on hold (28%).
(Business Wire)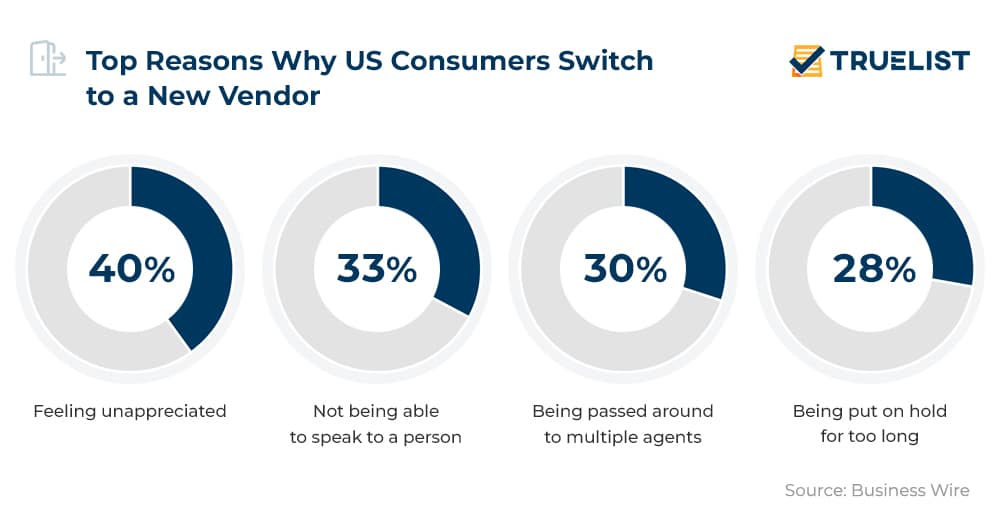 9. 90% of consumers decide whether or not they should do business with a company based on their customer service.
Global statistics on customer service say most consumers consider customer service a deal maker or breaker when it comes to working with other businesses. Consumers are also very much likely to change the vendors that have offered them bad customer service. In fact, half of them do so after a single bad experience.
(Microsoft Dynamics 365, Zendesk)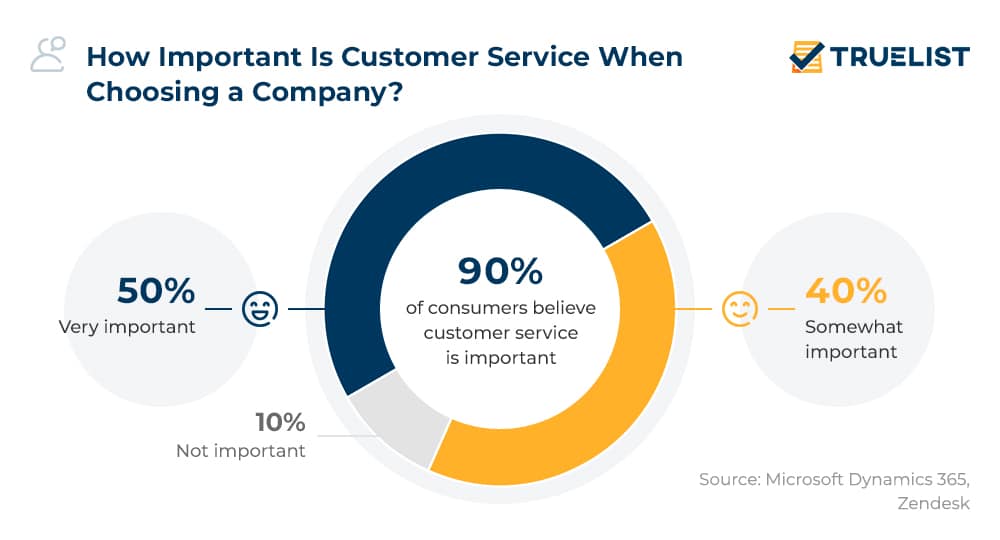 10. 73% of consumers will fall in love with a brand if the customer service rep is friendly.
Employee friendliness, and in particular customer service reps, play a huge part in making your consumers fall in love with your brand. Customer service statistics show that seven out of 10 consumers find that hearing a welcoming voice that shows readiness and willingness to help is sure to win them over. Another 55% say easy access to information and support is what makes them bond with a brand, while 36% say they prefer a personalized experience, like the rep knowing they've already made a purchase once before can do wonders.
(Oracle)
11. Poor customer service will force 96% of customers to replace you.
According to customer service facts from the 2020 Achieving Customer Amazement study, a whopping 96.2% of consumers said they would gladly switch companies or brands for the sake of better customer service. At the end of the day, everyone wants customer service excellence. And hopefully, this stat will signal companies to see the value of customer service and start investing more in the industry.
(Hyken)
12. 83% of customers contact customer service several times for the same reason.
While some might see such clients as impatient or even frustrated, customer service facts prove that these people often have a legitimate reason to contact the vendor so many times. One of the reasons is to report bad customer service. But that's not all, folks! An incredible 83% of consumers are forced to explain their problems more than a few times to multiple reps. Infuriating, right? Obviously, no matter how much one tries not to get frustrated, a situation like that would make even the toughest nut crack.
(Infolink)
13. 33% of consumers want their issues resolved over a single interaction.
Customer support facts and figures show that when it comes to resolving issues, time is of the essence. One-third of global and another 36% of US consumers believe the most important aspect of customer service is to have their problem resolved in a single sitting. And they don't care how long it takes as long as it is solved. 31% of customers, meanwhile, believe that dealing with a knowledgeable customer service rep is what makes their customer experience enjoyable, while 12% would rather find the information they need without contacting customer support.
(Statista)
14. Customer service stats reveal consumers will spend 17% more on a company that offers them great service.
We've all been there, right? That time when you got the urge to buy more just because the service was great. Well, it appears everyone is willing to spend more money as a reward for getting outstanding customer service. Customer service research further reveals that 94% of customers will recommend a brand that offers a very good customer experience to a friend.
(American Express, Qualtrics XM)
15. 70% of purchases made are based on how the customer feels.
Customer service fun facts reveal that pampering customers and making them feel special has a great impact on their buying experience. Customer service vs customer experience comparisons show these two areas are interdependent as not only is 70% of the buying experience based on the mood the customer service agent evokes in the client, but 80% of people say the experience the company creates for them is just as important as the products or services they provide.
(Salesforce)
16. Less known customer service facts mention 95% of people connect customer service to brand loyalty.
What you give is what you get, or at least this is the view of the vast majority of customers who link customer service to brand loyalty. In essence, this stat indicates that companies that are strongly focused on delivering outstanding customer service can rest assured their buyers will reward them with loyalty and devotion.
(Microsoft)
17. 26% of consumers feel that engaging with a company's customer support team is becoming more difficult.
Over a quarter of consumers believe that getting in touch with customer support and having their questions answered has become more challenging than before, customer service stats show. On the flip side, the percentage of consumers who believe accomplishing this has become easier is significantly higher at 39%. Meanwhile, 35% of consumers don't see any changes in how they interact with customer service.
(Microsoft)
18. 87% of customers say they value proactiveness for customer service-related issues.
Companies with excellent customer service are usually proactive in contacting their clients for service-related issues. Proactiveness is valued by almost 90% of customers who appreciate it when a company reaches out to them before they even experience some issues about a product or service. 
(SuperOffice)
Social Media Customer Service Statistics
19. A total of 65% of people contact customer service via social media.
Since Facebook sees six new profiles every second, it makes perfect sense for 65% of social media users to contact their customer service via this channel. Just imagine, the latest Facebook Insights Guide reported that businesses receive over 20 billion messages per month from their customers. And this astonishing customer service data is for Facebook only, not all social media.
(SuperOffice, Facebook)
20. When filing a complaint or asking a question on social media, 79% of customers expect a response within a day.
Social media customer service statistics mention that nearly half of customers expect an answer within an hour. Meanwhile, a total of 45% of brands take more than five days — yep, you got that right, "five whole days" to respond to messages through their Facebook page. These stats show that customer service levels can be improved by better managing social media interactions, like responding to your customer's messages or comments promptly.
(Hootsuite, HubSpot)
21. Social media customer service stats reveal poor customer service is the top reason users stop following a brand on social media.
Bad customer service is one of the reasons 49% of social media users would unfollow a company. Apart from poor customer experience, 49% of people stopped following a brand because of low-quality products and support, and another 45% do so because the brand doesn't post content that's relevant to them. On the other hand, following brands on social media is how 40% of consumers show their loyalty to brands, which gives more weight to this stat.
(SproutSocial)
22. 71% of customers who've had a positive experience on social media will recommend your brand to friends and family.
Social media-related customer service statistics confirm that seven out of 10 people whose interaction with your brand on social media was positive will most definitely recommend it to friends and family. That is yet another positive example of how good and cheap a marketing tool social media can be. Timely interaction with customers on social media shows them your brand cares.
(Soul Of Brands)
23. A whopping 84% of social media service interactions get transferred to other channels.
Even though many companies provide bad customer service on social media, clients are always inclined to give them a second chance to resolve an issue by escalating it to other channels. The problem, however, is that customer service statistics disclose that 61% of customers experience difficulties when attempting to switch from one channel to another for customer service interactions. Another disturbing figure is that a total of 55% of the service requests made on social media remain unacknowledged.
(Groove HQ)
The Power of Customer Service: How Businesses Act
24. 84% of businesses working on improving customer experience report increased profits.
And it's not just that. Customer experience statistics show that companies that know how to optimize the experience they provide to their clients outperform those that lag by a whopping 80%. Overall, businesses that invest time and money in providing their customers with outstanding experience drive up to 8% higher revenue.
(PR Newswire)
25. Tech-related problems are the reason why 42% of customer service agents cannot resolve issues efficiently.
The latest trends in customer service reveal 72% of organizations place customer experience and service as their top priority. Moreover, 63% of marketing professionals claim investing in new technologies is how they intend to reach this goal. If this target is reached, we can expect to see a significant reduction in the percentage of service agents who fail at resolving customer service issues efficiently due to disconnected systems and archaic user interfaces.
(Groove HQ)
26. By 2025, AI will power 75% of customer interactions.
How will customer service change in the future? With AI, of course. As it appears, artificial intelligence is one of the latest trends in customer service.Forecasts also show three-quarters of all customer interactions, live phone and online conversations like live chat included, will be AI-powered by 2025. Seeing how customer service levels can be improved by better incorporating technological solutions, it is no wonder that many companies will be investing in chatbots in the future.
(IT Pro)
27. 82% of business leaders say adopting new ways to please customers is imperative.
As customer service statistics note, the vast majority of service decision-makers acknowledge that they must transform if they wish to remain competitive. For this reason, many service organizations have big plans for artificial intelligence. According to projections for the next 18 months. Note that the projected growth rates are high at over 100% for all service-oriented industries except for financial services, which stand at 78%.
(Salesforce)
28. 88% of organizations worldwide say they are making significant investments in training their customer service agents.
Statistics on customer service agents show that globally, 88% of high-performing service decision-makers are investing a lot of their resources in agents' training as opposed to 57% of underperforming decision-makers who claim the same. Data further shows that 83% of high-performing customer service agents believe they are getting the training they need to deliver the best experience possible. The same customer service study from Salesforce indicates the global average of confident and well-trained agents currently stands at 70%.
(Salesforce)
Customer Satisfaction Statistics
29. 90% of customers prioritize receiving an "immediate" response to a customer service question.
Of course, no one can argue with that, given how everyone believes that companies with great customer service are the ones that put their client's happiness first. Plus, everyone wants to be immediately acknowledged, especially when calling to complain or inquire about a service or product they've paid for. The tricky part for businesses, however, is that for 60% of consumers, "immediate" response is 10 minutes or less.
(HubSpot)
30. Strong customer engagement strategies help retain an average of 89% of customers.
Customer service statistics mention that organizations that have built a strong multichannel strategy to engage their customers, usually by providing them a personalized experience to show them they care, are likely to keep nearly 90% of them. On the other hand, companies with weak omnichannel strategies that do not appear very keen on pleasing their customers, barely retain 33% of them. These companies also have lower revenue, as 80% of the revenue comes from 20% of repeat customers.
(Groove HQ)
31. A little over a third of businesses invest in customer experience as a way to improve satisfaction rates.
Customer service statistics show that 32% of businesses are focused on investing more in this area to boost customer experience. Although improving satisfaction rates is one way to positively impact a business's bottom line, it is not the primary one. The first and most important reason for investing in customer experience is to improve revenue (42%), while the second is to boost retention rates (33%).
(SuperOffice)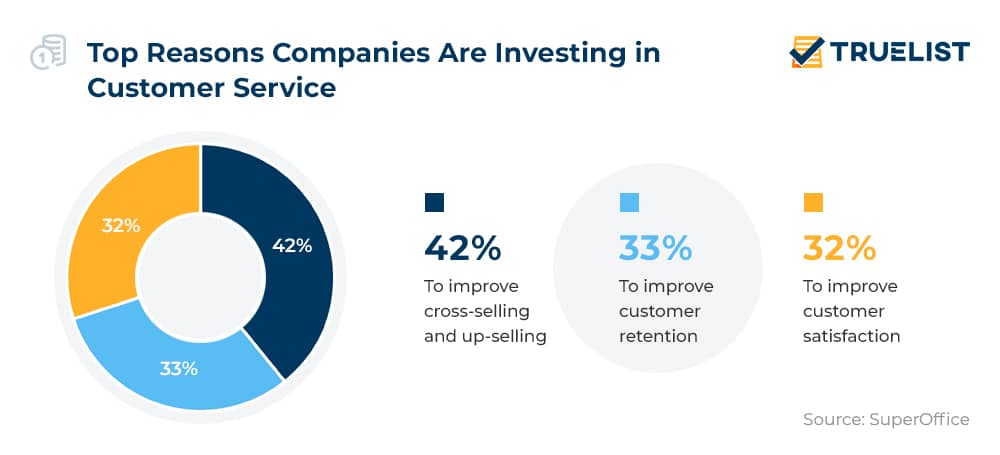 32. A 10% boost in customer satisfaction score will increase their trust in your business.
According to customer satisfaction statistics, an increase of only 10% in this area will trigger a 12% surge in the customer trust department. And although most businesses claim they are having a hard time measuring customer satisfaction rates, data shows that calculating customer journey satisfaction rate provides 30% more insight on the overall score than measuring how happy a customer is after just one interaction.
(Groove HQ)
33. With 84%, the brewery industry has the highest customer satisfaction score in the US.
It seems US beer makers hold the secret to keeping even the grumpiest of customers in a state of utter bliss, or at least this is what customer satisfaction statistics from the CSAT Benchmark Report reveal. Other US industries that appear skillful in delivering high customer satisfaction rates, although not as crafty as beer makers, are the Personal Care and Cleaning Products (83%), Televisions and Video Players (82%), Food Manufacturing (82%), and the Soft Drinks (82%).
(Emojics)
Customer Service FAQ
How important is customer service?
According to customer services statistics around 97% of customers tell others about very good or great customer service experiences. Also, almost 70% of people would rather spend more money on a company with excellent customer service. Research further reveals that 59% of people would consider trying a new company not to receive poor customer service or to receive better customer service.
(Ameritas Insight)
What are the 3 P's of customer service?
Companies with exceptional customer service focus on nourishing these three qualities: professionalism, patience, and a people-first attitude. These companies are focused on maintaining a professional attitude. They are patient and understanding and are trying to connect on a personal level with customers.
(Brittany Hodak)
Can customer service increase sales?
Keeping your customer happy and engaged by providing them with excellent customer service can go a long way. Highly engaged customers tend to buy more frequently, and spend more. Our extensive list of customer service statistics has more than one example demonstrating the power of excellent service.
(Loyalty Lion)
Sources: Statista, Statista, Hyken, Statista, Hootsuite, HubSpot, Soul Of Brands, PR Newswire, HubSpot, Accenture, Vonage, Statista, Institute of Customer Service, Statista, Accenture, Business Wire, Microsoft Dynamics 365, Zendesk, Oracle, Infolink, American Express, Qualtrics XM, Salesforce, Microsoft, Microsoft, SuperOffice, Facebook, SproutSocial, Groove HQ, IT Pro, SuperOffice, Emojics, Ameritas Insight, Brittany Hodak, Loyalty Lion