In today's world basically anything and everything internet-related is available at the tip of one's finger (or thumb). It stands to reason, then, that you need to get in on the mobile game if you're looking to be competitive. The hiccup is that mobile marketing statistics tend to become outdated quickly, meaning you'll need fresh numbers often. That's where this article comes in. Read on to find out the latest data.
Mobile Marketing Statistics (Editor's Choice)  
Mobiles have the largest market share at 59.02%. (

Stat Counter

) 

Unique active mobile internet users numbered 5 billion in April 2022. (

Statista

)

More than 50% of small businesses have a mobile app.

(

Make a Website Hub

) 

75% of Americans take their mobile device to the bathroom.

(

Convince & Convert

) 

With a market share of 72.48%, Android is the world's most popular mobile operating system.

(

Stat Counter

) 

Mobiles are used by 51% of customers to find and buy new products or services. (

Think With Google

)
Mobile Usage & Marketing Stats Rundown
1. The number of mobile users worldwide will reach 7.33 billion by 2023. 
The latest mobile users statistics confirm that the number of global mobile users amounted to 6.95 billion at the end of 2020. Future forecasts predict the number will surge to 7.33 billion by 2023. According to the same data from Statista, by 2025, the number will jump to a whopping 7.49, and given the current trends, this means that the majority of the world population will own a mobile device. 
(Statista)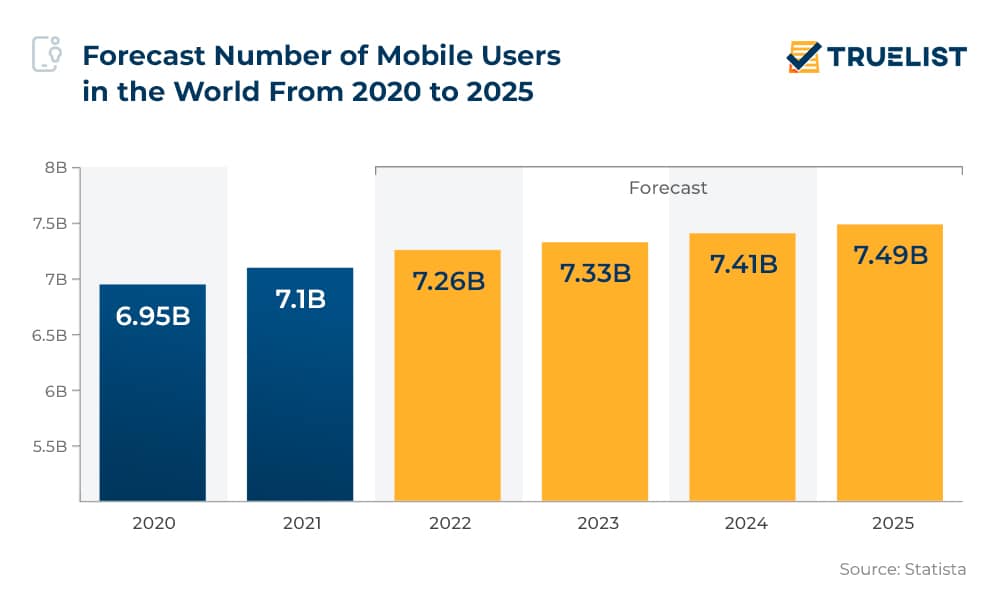 2. Mobiles have the largest market share at 59.02%.
Mobile usage statistics show that the majority of people prefer to use their mobiles for conducting daily activities on the world wide web. At present, mobiles hold 59.02% of the market share while desktops account for 38.65%. By contrast, 2.33% of the global digital market share belongs to tablets. Such figures indicate that mobiles are heading towards full market dominance so if you haven't optimized your marketing strategy for mobile, now is the time to start working on it.  
(Stat Counter) 
3. Smartphone usage statistics indicate there will be 7.7 billion smartphone users by 2027. 
Smartphone owners could very well be the fastest-growing group of handheld device users with the number having surged from 2.5 in 2016 to an incredible 5.9 billion in 2020. And this is not all; the latest forecasts confirm that the numbers will continue to grow exponentially. Throughout 2023, the number of smartphone users is projected to reach 6.8 billion. 
(Statista) 
4. When searching on mobile, Google is the preferred choice of 96% of smartphone users.
Mobile marketing trends confirm that investing in methods that will get you leads via Google is essential if you're looking to tap into this user pool. Boosting your SEO game is crucial if you are to trust mobile SEO and search engine stats. A properly executed SEO strategy will bring your website to mobile users, leading to increased traffic, and ultimately, better conversion and sales. 
(Web FX) 
5. Unique active mobile internet users number 5 billion in April 2022.
A great way to gain insight into new business opportunities, especially when it comes to finding an advantage that helps you cater to mobile users more effectively is to tap into mobile internet usage statistics. You should also consider the fact that the number of unique active social media users amounts to 4.65 billion in April 2022. 
(Statista)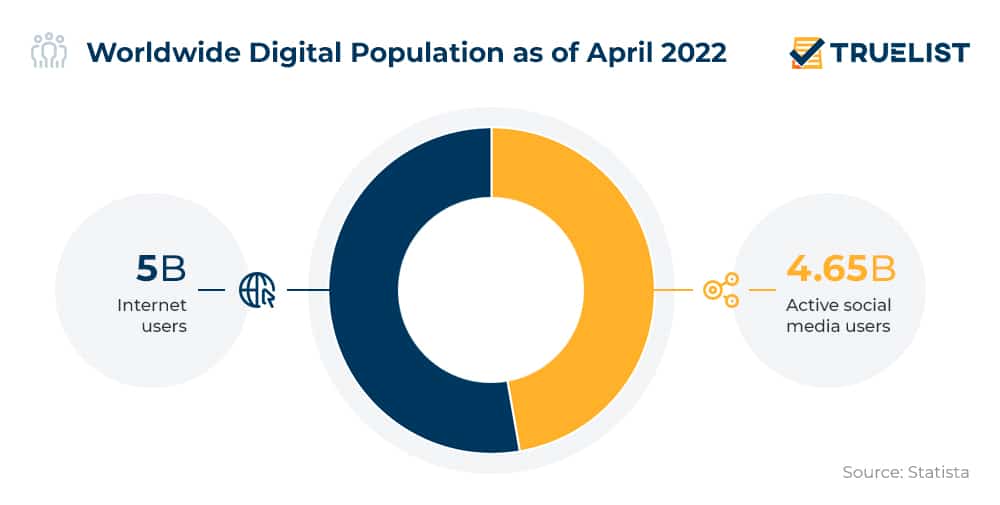 6. Mobile traffic stats show that mobile devices were the source of 52.2% of all internet traffic in 2018.
Given that more than half of the world's total population owns a mobile device, this translates into nearly 5.13 billion people around the globe. Among all these folks, the number of smartphone owners is the highest in China (782.85 million), with the second and third places occupied by India and the United States, with 374.89 and 251.69 million users, respectively. 
(Monster Insights) 
7. Mobile video traffic amounted to 29,149 petabytes per month in 2020.
Recent mobile data usage statistics related to the growing percentage of consumers using mobile devices mention that videos are the new favorite for consumers. In fact, mobile video data is currently the fastest-growing segment of mobile traffic and is set to reach a whopping 60,889 petabytes per month in 2022. This not only means that this mobile data category will reach the highest growth rate, but that it will make up 78% of the total mobile data traffic.
(Business Insider, Statista) 
8. When it comes to immediate needs, 3 out of 4 mobile users go to mobile search first. 
Mobile search statistics also demonstrate the level of 'addiction' of smartphone users. 75% will turn to mobile search first to satisfy immediate needs, i.e. everything from finding nearby restaurants to finding a handyman.
(Business 2 Community) 
9. 75% of Americans take their mobile device to the bathroom.
Mobile device usage statistics also show that Americans are attached to their devices today more than ever. While this is likely to be true for most—if not all—smartphone users regardless of which corner of the world they live in, the cold, hard numbers show that three-quarters of Americans have a tendency to take their devices with them literally everywhere, including the bathroom. 
(Convince & Convert) 
10. With a market share of 72.48%, Android is the world's most popular mobile operating system.
Mobile marketing trends, however, show that Apple's iOS market share continues to grow and currently amounts to 26.91%. At the same time, Apple's Safari browser similarly boasts a 24.55% market share globally, and Chrome once again takes the win. With its 62.63% market share, it is officially the most popular mobile browser in the world. However, the situation is somewhat different in the United States, where Safari prevails with a 57.22% market share and the title of the leading mobile browser in its domestic market. Then again, the number of active Android devices in the world exceeds 2.5 billion, according to Google, making the battle between the two tech giants even more interesting. 
(Stat Counter) 
11. Mobile marketing statistics show a staggering 95% of active Facebook users access the social network via mobile.
When it comes to the various types of mobile marketing, social networks simply cannot be ignored as 95% of Facebook users regularly access their accounts via mobile. Also, 80% of Pinterest fans access it via mobile and a massive 85% of Twitter users like to tweet on handheld devices. The percentage of consumers using mobile devices to browse LinkedIn is also high at 60%.
(Make A Website Hub) 
12.  More than 50% of small businesses have a mobile app.
Mobile app marketing statistics reveal that you don't have to be a huge company or corporation to benefit from the fact that pretty much everybody uses smartphones nowadays. More than 50% of small businesses have figured out that having their own app is helpful in driving online business and have come on board with this fact. 
(Make a Website Hub) 
13. You lose 61% of users if your site is not optimized for mobile. 
One of the most basic mobile marketing methods is to have a site that is optimized for mobile. 61% of users will most probably contact a local business with a mobile site. This practically demonstrates the importance of mobile marketing as the data shows that by not offering them what they want you will probably be sabotaging your potential customers. 
(Restaurant Engine)
14. Mobile website stats show 40% of users that have a bad experience with your mobile website go directly to your competitor shortly after. 
If users have a bad experience with the mobile version of your website for whatever reason, 40% of them go directly to your competitors' websites shortly after. Studies also show that following a bad mobile experience, 52% of consumers are put off by a business. This goes to show the importance of having your website or online shop optimized for mobile at all times. 
(AdStriangle) 
15. Mobile ads are a significant customer deterrent as 70% of smartphone users report disliking them.
According to mobile advertising stats, the best way to cripple the development of your online business or shop is to smother and oversaturate your website with mobile ads. In a recent HubSpot study, after seeing an ad on their smartphone more than 70% of mobile users reported not liking mobile ads at all. The number of people blocking mobile ads is also on the rise.
(HubSpot) 
16. Mobile websites account for only 11% of mobile media time, while 89% is spent on apps.
As the latest mobile app vs website statistics indicate, mobile media time is divided between websites and apps, with the former taking up just a fragment of the total time (barely 11%). This means you should consider offering value to users and hire an app design company immediately. The same goes for being able to sell via the same apps. 
(Business 2 Community) 
17. More than 40% of online transactions take place via mobile devices.
While mobile devices were initially created with the purpose of allowing users to place calls or send text messages while on the go, they have been providing so much more since. Mobile banking usage statistics reveal that more than 40% of online transactions take place on mobile. This is mostly due to the increasing comfort of users when it comes to spending money online, as well as mobile devices that are available to users at affordable prices.
(Think with Google) 
18. The number of proximity mobile payments is expected to surpass 1.3 billion in 2023. 
Mobile banking usage statistics further mention that the number of proximity payments jumped to 1.06 billion in 2020, since 2019 when it was 950 million, and is set to grow even more. Statista's data also show that by the end of 2021 a total of 1.15 billion people will be using POS, and by 2023 this number will be higher than 1.3 billion.
(Statista)
19. 88% of consumers search for local businesses on their mobile phones.
The most recent mobile search statistics related to mobile marketing growth emphasize the importance of local search. And considering 88% of mobile users search for a local business on their handheld devices so they can call or visit within 24 hours, optimizing your site for local mobile searches is an absolute must. Google studies further show that 40% of all mobile searches have local intent, meaning the gains for small local businesses from a good mobile marketing strategy could be huge.
(IMPACT) 
20. Smartphone users stats show that approximately 90% of them are not 100% sure about the specific brand they want to purchase.
What does this mean for your business? It's simple: always make sure your online store or website is visible, easily accessible, clear, easy to navigate, well organized and provides a short and simple process between users visiting the landing page and ending up at checkout. Since 9 out of 10 of those owning a smartphone aren't sure what they're looking for, make it easy for them to realize why it should be your product or service.
(Blue Corona) 
21. Mobile advertising statistics indicate 53% of paid ad clicks come from mobile.
If you thought that email and social media marketing are the best types of mobile marketing, you'd better think again as PPC advertising tells a different story. Data shows that more than 50% of paid ad clicks are made by mobile users, meaning that the only way to retain these leads is to offer them a positive mobile experience. So, optimize your landing page for mobile and avoid missing out on 53% of your leads. 
(Invesp CRO) 
22. 81% of emails are opened and read on mobile. 
Mobile marketing facts show that a total of 81% of emails (business, promotional, or even newsletters) are opened on mobile, up from 61% in 2018. It doesn't take a genius to figure out why email marketing continues to be the backbone of online sales. And since emails are likely to be deleted unless they're mobile-optimized, you know what to do next time you assess your mobile marketing strategy. 
(Super Office) 
23. 91% of smartphone owners either make a purchase or plan one after seeing an ad on their smartphone.
While it is true that most users despise mobile ads and prefer to block them, mobile advertising statistics show there are times when they work. Online ads on desktop computers have a lower conversion rate than ones on smartphones, and traditional advertising media doesn't even come close. Aside from a smooth sale process, ads that target the right audience the right way and get the message across quickly and clearly are the ones that don't get blocked.
(Think with Google) 
24. Mobile advertising spending is expected to surpass $412,593 million by 2024.
Worldwide mobile advertising spending has been increasing rapidly in the past few years, but the latest mobile advertising trends indicate the growth will start slowing down soon and by the end of 2022 it will reach 10.4%. Based on data on mobile marketing growth, at the end of 2019, mobile ad spending worldwide was close to $198 billion.
(Statista) 
25. Mobiles are used by 51% of customers to discover and purchase new products or services.
Perhaps the most important mobile marketing statistics are those related to businesses seeing a return of investment because they've adapted their strategy to fit their prospects' needs. Even if we disregard the fact that a little over 50% of mobile users explore and buy new products on their handheld devices, we cannot ignore the cold data that restaurants see a 54% higher purchase rate resulting from good mobile marketing practices. Plus, there is the apparel and beauty industry which also marks a significant growth by 40%, and the electronics industry by 36%.
(Think With Google) 
Frequently Asked Questions
Is mobile marketing effective?
Mobile marketing is very effective and can create results more quickly than most other marketing channels. Superior quality, speedy conversions, and a vast majority of mobile searches lead to action within a single hour. Smartphone users also look up information on a regular basis, and most of them take action very shortly (think, within one day). 
(RD Com)
What percentage of websites are read on a mobile device?
Data from Statista shows that 54.4% of global websites were read from a mobile device in the 4th quarter of 2021. 
(Statista)
What percentage of emails are read on a mobile device?
Over 70% of Americans have a habit of checking their email on their smartphones.
(Campaign Monitor)
How can mobile marketing help my business?
Having a well-conceived mobile marketing strategy will not only create better customer engagement but will also reach a wider audience and help your customers connect with your brand. But in order for your business to truly benefit from mobile marketing trends, you need to first optimize your site for mobile, capitalize on social media, use mobile native advertising, and use QR codes to better streamline the customer experience. 
(Tech Guide)
Which mobile marketing is best?
In Europe, the Middle East, and Africa, the top three advertising channels for mobile are Google Ads, Facebook, and Unity. From SMS and interactive ads to rich media ads, click-to-call ads, and in-app marketing, deploying advertisements on mobile is easy. And since mobile users spend most of their time on apps, in-app marketing could be the most efficient of all mobile marketing methods. Social media, proximity marketing, and location-based marketing are also marketing channels.
(Ground Truth)
Conclusion
Smartphones have practically taken over digital communications. Many say that the next big thing shaping pretty much everything in this age is artificial intelligence and voice search combined with smartphones. A mobile-centered approach, therefore, is the smartest strategy here, as confirmed by the mobile marketing statistics listed above. Use them to craft a proactive mobile marketing strategy for your business. 
Sources: Statista, Stat Counter, Statista, Web FX, Statista, Monster Insights, Business Insider, Statista, Business 2 Community, Convince & Convert, Stat Counter, Stat Counter, Make A Website Hub, Restaurant Engine, AdStriangle, HubSpot, Think with Google, Statista, IMPACT, Blue Corona, Invesp CRO, Super Office, Think with Google, Statista, Think With Google, RD Com, Statista, Campaign Monitor, Tech Guide, Ground Truth