We've all been there—browsing through a website to look for more info about a product, or just having questions and wanting answers right now. That's where live chat comes in. It's an effective tool that improves the overall user experience and interaction. Live chat statistics point to a massive surge in its use by companies and users alike, and for a good reason. Simply put, live chat has very few–if any–downsides. So, take a look at the fresh figures we've compiled to see why you should jump aboard the live chat ship if you haven't done so already.
Live Chat Statistics (Editor's Pick)
61% of B2B companies use live chat.  (

Zoho

)

41% of customers expect your website to have a live chat. (

Help Scout

)

63% of millennials prefer live chat to traditional customer service channels. (

LiveAgent

)

73% of people consider live chat the best way to communicate with a business. (

InvespCRO

)

38% of customers who had a good live chat session made a purchase. (

WhosOn

) 

Companies report a 49% hike in conversion rates within two years of using live chat. (

Zoho

)

Live chat can boost your sales ROI by 305% with a payback period of six months. (

ProProfs

)
Live Chat Stats Rundown
1. 85% of companies will have some form of live chat support by the end of 2022. 
Companies are well aware of the massive change in customer preferences in terms of communication with brands. Companies with live chat support that provide consumers with the possibility of real-time communication are now considered the norm. Data from a recent survey suggest that 85% of businesses will have live online chat by the end of 2022.
(Thrive My Way)
2. Live chat stats point to a whopping 150% growth in live chat usage.
Online chat has been around since the 70s, and yet businesses have only recently started exploiting its many benefits. For some industries, the growth of live chat has been exponential and increased by as much as 150%. Data further show that in the next 12 to 18 months, live chat usage (with either a human agent or a chatbot) is expected to continue to grow by as much as 87%.
(Super Office, Ec3)
3. The total number of live chats for all businesses handled on LiveChat is over 68.5 million.
The live chat stats in the LiveChat's 2020 Customer Service Report also show that April, May, and June were the months with the highest number of live chats, or at least this is what happened with the COVID-19 pandemic. Live chat growth data reveals that the mid-spring/summer months—typically between April and August—see an increase in the overall number of chats.
(LiveChat)
4. Only 14% of US online consumers have positive expectations about interacting with chatbots.
While 41% of customers prefer using live chat, support statistics reveal that 42% of businesses believe that their customers prefer phone interactions. Another report says some 8% of respondents had a very positive experience with chatbots. Some companies, on the other hand, are successful with human-intermediated chatbots. Dutch airline KLM reports a 50% reduction in handle time with agents not needing to type everything. 
(Finances Online)
5. Zendesk live chat statistics indicate it takes less than a minute to resolve an issue addressed via live chat. 
Live chat response time is what makes or breaks the customer service you are trying to provide via this channel. And when customers use live chat to reach out to a brand, a swift response is one of the most important factors that enhance positive interaction. Zendesk-conducted research shows that it takes no longer than 42 seconds on average to resolve the bulk of problems addressed via live chat. 
(Sales Manago) 
6. 50.07% of US internet users say keeping them away from live people is the biggest problem with chatbots. 
Live chat trends and insights show that wasting customers' valuable time is one of the biggest problems posed by chatbots. As much as 47.5% of all internet users in the US reported that communication with chatbots was a waste of time, as they often returned scripted responses that did not address their specific concern. And that's only the second biggest concern. According to 39.5%, using chatbots for customer service only leads to redirects to the FAQ section. Lastly, 28.2% of the cases lead to bad suggestions.
(Statista)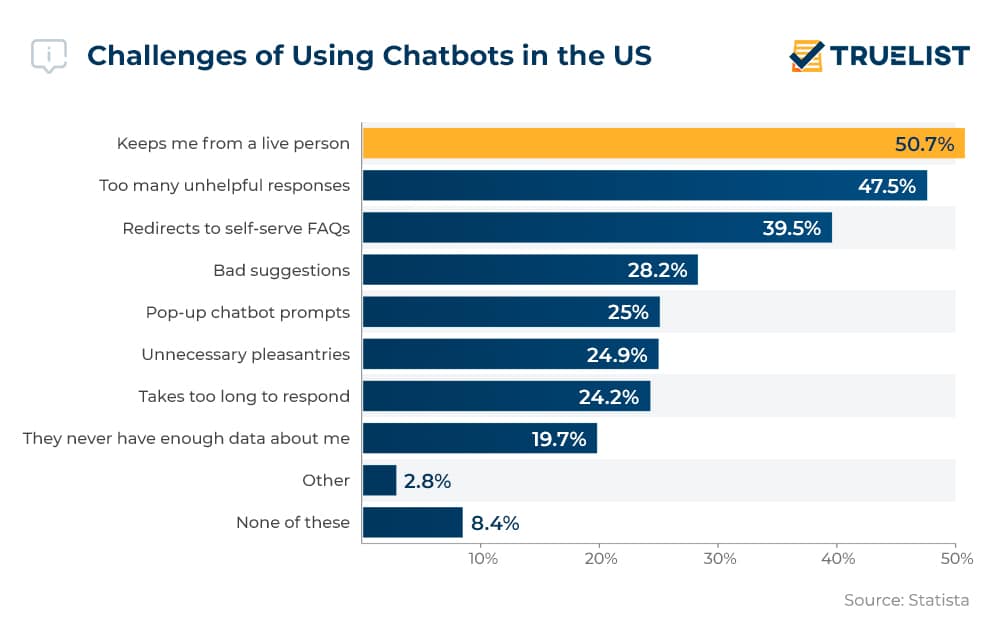 7. A massive 61% of B2B companies use live chat. 
Live chat statistics mention that with six out of ten B2B companies using live chat, this segment is the biggest to take advantage of this tool. This compares to about a third of B2C companies that have adopted live chat. Because of the small customer/client base, non-profit and B2G have the smallest pieces of the pie at 5% and 2%, respectively. 
(Zoho)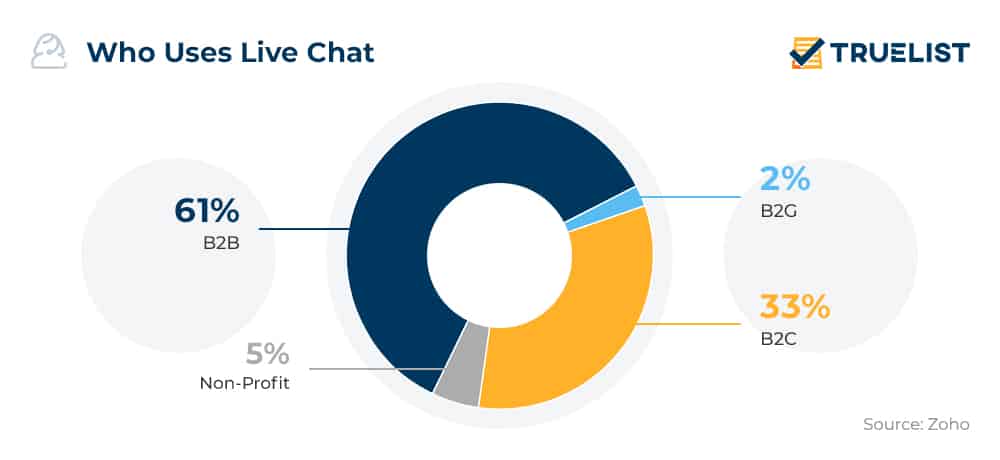 8. According to live chat statistics, 41% of consumers would rather chat than talk on the phone or write emails. 
It would seem that the majority of consumers prefer live chat support to phone, social media, or email for that matter. Only 32% are phone support fans, 23% of customers like exchanging emails, while a minimal 3% are happy with getting support via social media. 
(Help Scout)
Live Chat Customer Service Statistics 
9. Customer service is important for 96% of consumers worldwide when choosing a brand.
Clients, both existing and prospective, are increasingly expecting a higher standard of customer service globally. Live chat industry standards meanwhile show that 73% of companies with an above-average customer experience, delivered by features such as live chats, report better financial performance than the competition. 
(Microsoft)
10. 41% of customers expect your website to have live chat.
Websites with live chat support are what 41% of customers worldwide expect to find when browsing the internet, as confirmed by live chat support stats. While it used to be just "nice to have", the incredible growth of live chat and mobile usage appears to have brought a revolution of its own. Mobile marketing statistics meanwhile show that the share of live chat fans is even higher at 50% among mobile users, meaning you stand to lose half of your mobile customers if you fail to incorporate it into your daily operations. 
(Super Office)
11. Live chat customer service statistics reveal 73% of people consider live chat the best way to communicate with a business.
A vast majority of global customers today not only prefer live chat to resolve issues and get additional information from brands but believe that this channel of communication is the most satisfying. Four out of ten customers meanwhile say live chat is their preferred method of providing contact information. Chatting live with your clients can give you a clear picture of what most customers would like to see, use, and buy. 
(InvespCRO)
12. 63% of millennials prefer live chat to traditional customer service channels. 
Customer service stats show that millennials (the generation born between 1980-2000) are number one fans of the live chat feature. Millennial marketing statistics indicate that 63% of people from this cohort prefer live chat to traditional channels. In contrast, only 36% of Gen Zers, the generation famous for being born digital, opt to use live chat when contacting a company for a customer service-related inquiry.
(LiveAgent)
13. 79% of consumers use live chat to get immediate answers to queries.
Live chat support stats help both owners and marketers understand why certain communication channels work better than others. A study on companies offering live chat support revealed that for 79% of surveyed consumers, getting immediate answers to their questions is the top reason for preferring live chat over other methods. The second most popular reason, cited by 51% of consumers, is their ability to multi-task while chatting with brand representatives. In addition to immediacy and multitasking, 21% love it because they can chat while they are at work.
(InvespCRO)
14. 20% of people who had a negative live chat experience shared their disappointment with friends and colleagues.
Customer service statistics also show that a solid 47% have not had a positive experience in the past month. And by the way, this is a big issue for customer service in general, not just online chat customer service. The good news is that 29% of users pass the word along about a positive experience with the solution.
(Kayako)
15. No wait times (34%) and convenience (26.9%) are the main reasons for customers choosing live chat over phone communication.
Live chat trends in a live chat vs phone support survey suggest that more and more customers are opting to solve their issues via live chat compared to the more traditional phone customer service. This is especially true for customers aged 18-49. The main reasons for this, according to a report from SoftwareAdvice, are that live chat has no wait times (for 34% of survey respondents) and offers overall convenience (26.9% of respondents). 
(ProProfs)
Live Chat Conversion Statistics 
16. If visitors chat with you first, they are 82% more likely to convert to customers.
The relevant experience in providing online chat customer service can help you reap the benefits of communicating with the visitors on your website, particularly in terms of conversions. Data from Intercom shows that if you chat with your website users first, they are 82% more likely to convert to customers. According to the latest live chat ecommerce stats, the accounts of clients who used the live chat feature are worth 13% more than those your business did not chat with before sign-up.
(Intercom)
17. Implementing live chat in your business leads to a 40% increase in conversion rates and a 48% hike in revenue per chat hour.
The existence of live customer chat clearly makes a difference as data show a significant increase in conversions and revenue as a direct result of having this feature incorporated in your online business. Live chat statistics indicate that businesses can boost their conversion rate by as much as 40% if they implement this feature. And it doesn't end there; companies reported a staggering 48% increase in revenue per chat hour as yet another consequence of live chat.
(Reve Chat)
18. 38% of customers who had a good live chat session made a purchase.
Live chat data reveals that customers appreciate having a real-time channel of communication with a brand, particularly when they're seriously considering a purchase. Live chat ecommerce stats signal that 38% of clients will buy a product or service after a good live chat session with a brand representative. Moreover, customer loyalty stats confirm prospects who have been offered the option to chat are 2.8X more likely to convert to loyal customers.
(WhosOn) 
19. Orders from customers who engage in live chat before a purchase are 10% higher in value.
Conversion and live chat stats reveal that customers who use live chat before making a purchase are not just certain conversions but place more valuable orders compared to those who don't. Customer journey is another area of business where live chat can be helpful, improving post-sales customer support by 39%, early-stage sales development by 32%, and overall marketing awareness by 29%.
(Super Office)
20. Installing a live chat messenger on pages other than the homepage increases your chances of conversion by 45%.
Live chat conversion statistics show that it's the "where" that really counts when it comes to live chat. If you install this feature on other pages of your website rather than the homepage only, you'll increase your chances of converting your visitors by as much as 45%.
(Intercom)
21. Within two years of using live chat, companies report a 49% spike in customer conversion rates.
Live chat facts point to the following benefits of live chat within two years of integration: 
36% customer retention and satisfaction improvement;

44% better understanding of customers;

49% spike in conversions;

24% revenue increase.
(Zoho)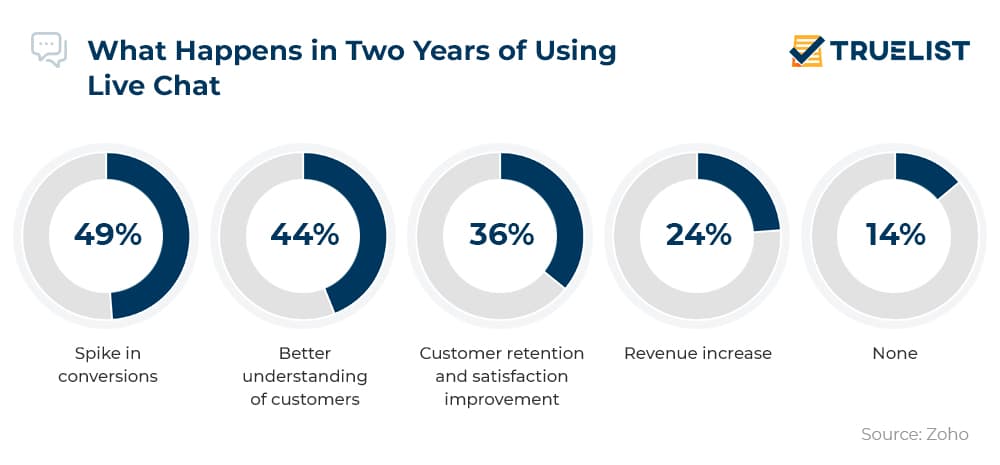 22. Live chat can boost your sales ROI by 305% with a payback period of six months. 
Taking into account that chatting is a method that offers more direct interaction with customers and is also more personal than other means of brand communication, it significantly increases the probability of customers making a purchase; by three times to be exact. Live chat statistics further reveal that when using paid chat services, companies can report up to 305% ROI from sales in a relatively short period of time. 
(ProProfs)
Final Remarks
As a growing number of businesses are concentrated online, customers and users have higher expectations for the speed, accuracy, and availability of support. Live chat is a great opportunity for companies and brands to understand their clients better, as well as tailor their products and services to their specific needs. This, in turn, is sure to improve conversion rates and boost revenue, as further confirmed by our list of live chat statistics. 
Sources: Thrive My Way, Super Office, Ec3, LiveChat, Finances Online, Sales Manago, Statista, Zoho, Help Scout, Microsoft, InvespCRO, LiveAgent, Kayako, ProProfs, Intercom, Reve Chat, WhosOn