Customer Loyalty Statistics
Last updated: 04.01.2022
•
Taking care of your customers should be a top priority if you want your business to survive and prosper. All research conclusively indicates that customer loyalty is one of the main engines of driving a venture forward. That's why we've prepared some of the most vital customer loyalty statistics to help you make sure your clients are happy and keep coming back. What are the numbers behind a good loyalty program and what does it mean for a business to take more care of their existing clients?! Read on for all the essential information and use it wisely. 
Customer Loyalty Statistics (Editor's Choice)
By 2025, the loyalty market is expected to be worth $6.96 billion.

Acquiring new customers can be 5X times more expensive than investing in loyal ones.

Loyal customers

are 70% more likely to convert through an ad.

86% of loyal clients will stick to their preferred brand. 

Around 37% of Americans consider themselves loyal after 5 purchases.

30% of Millennials in the US are generally more loyal to brands than products.

Nine out of 10 Americans are loyal to US brands.

Over 60% of Amazon clients become Prime members to show they are

loyal customers. 

The average consumer has 14.8

customer loyalty cards.

15% of paid loyalty program customers expect benefits every day.
Customer Loyalty Stats Rundown
1. By 2025, the loyalty market is expected to be worth $6.96 billion.
With an expected 16.9% growth over the next 5 years, the loyalty market is projected to reach $6.96 billion by 2025. In 2018, the market was worth $1.9 billion. This particular customer loyalty research focuses on the development of Loyalty Management in the US, Europe, and China. 
(Orbis Research) 
2. The annual difference between loyal and standard clients is $424.
One of the most important customer loyalty facts relates to the annual sum that loyal clients are willing to spend on their favorite brands. The average loyal client will fork out $699 throughout the year while the standard client will spend only $275. That's a difference of $424 per person every year. 
(HubSpot) 
3. Emotionally attached clients will buy the same brand 82% of the time.
Consumer loyalty statistics also indicate that in 86% of the cases, loyal clients will always think of the brand they are connected to when they need to buy something. In comparison, 56% of customers with low emotional engagement do not care what brand they buy as long as their needs are met. 
(Capgemini) 
4. Acquiring new customers can be 5X times more expensive than investing in loyal ones.
Customer retention statistics confirm it's 5 times more expensive to make strategies, marketing campaigns, and chasing new clients than it is to invest in the happiness of your existing customers. The formula that generates this number takes into account the money you need to spend and the return on investment. Loyal clients meanwhile generate 60-70% more profit than new ones.
(OutboundEngine)
5. 61% of loyal customers will make a detour for their favorite brand.
Loyalty goes a long way, literally. Customer loyalty stats show that around 61% of US consumers will gladly make a detour just to go to their favorite store. The importance of customer loyalty is also demonstrated by the fact that 60% of these loyal clients would make more frequent purchases, and this particularly goes for Millennials (70%) who are even more likely to do it.
(InMoment)
6. 40% of customers show loyalty to their brands by following them on social media. 
When a customer interacts with their favorite brand on social media, brand and customer loyalty statistics suggest that it paves the way to a mighty loyalty boost. A loyal customer will further start following their favorite brand on social media on their own, looking for shopping inspiration. This is where social media marketing companies should step up, because based on the content they decide to share with them, chances are that one in four will most likely make a purchase. 
(WordStream) 
7. Loyal customers are 70% more likely to convert through an ad.
A regular customer targeted by a commercial will probably convert in 1-3% of the time. Loyalty statistics meanwhile show that this number is up to 70% for loyal clients. This means that targeting ads towards your existing customers is a much better idea.
(Smile.io)
8. 77% of loyal bank customers trust their banks to take care of their finances.
Bank customer loyalty statistics show that people who are loyal to a bank will have no problem trusting it to take care of their finances in 77% of the cases. These clients are also ready to take advice and handle their money as the bank's experts suggest. 
(Accenture)
9. 86% of loyal clients will stick to their preferred brand. 
The majority of customers say that if they are satisfied with the customer loyalty programs they are offered, they will opt to stick to it. Customer loyalty trends show this is valid for the cases where a rival offers a cheaper product or a service.  
(Clarus Commerce)
10. Inspiring customers to make a second or third purchase boosts brand value.
Every purchase lifts the loyalty value. If a person buys something, there's a 27% chance they'll do it again. If they do it again, the chance to do it once more rises to 45%, then to 54% after the next purchase. Incorporating discounts in your loyalty marketing strategy is one way to go at it. 
(Smile.io)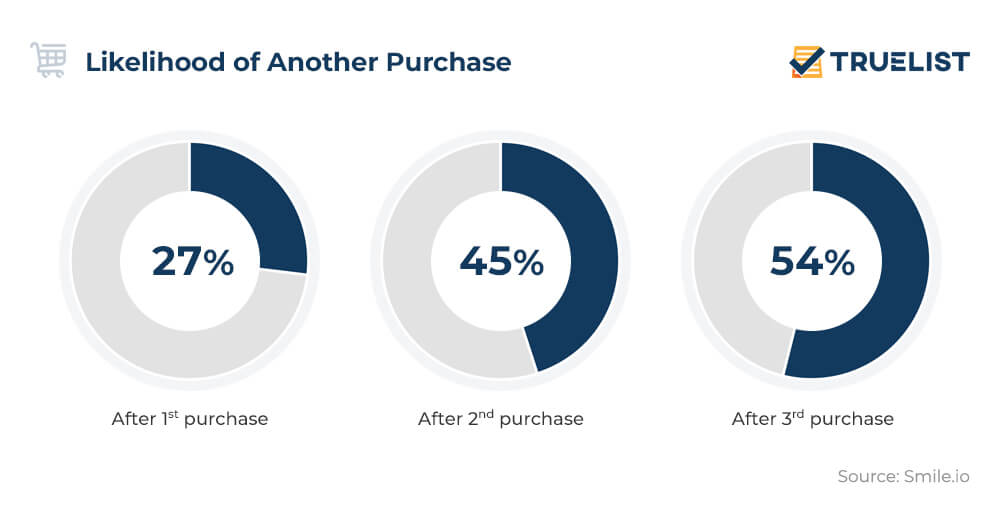 US Brand Loyalty Statistics 
11. Around 37% of Americans consider themselves loyal after five purchases.
It takes five times for a customer to spend money in a certain shop or business to consider themselves loyal to a brand. Loyalty statistics say this is true for over one-third of Americans. Similarly, 33% of US consumers think third time's a charm, meaning that if they do end up making three purchases, they're yours 'for life'. Also,12.35% think that more than one purchase is enough to call themselves loyal to the brand. 
(Yotpo)
12. Customer loyalty statistics indicate 77% of US customers have held a relationship with a brand for more than 10 years.
The companies lucky to have more of these people are truly successful because their success is founded on the happiness of their customers. A whopping 77% of Americans say they've been doing business with one company for more than 10 years. For Millennials in particular, who currently comprise the largest generation of potentially loyal clients, this number stands at 60%. 
(InMoment)
13. Consumer loyalty statistics say 97% of clients will become more loyal if they see the company took their feedback seriously.
This is a win-win situation and a firm basis for building lasting relationships. Almost every customer wants to see that the company they are being loyal to has taken their complaints seriously, followed through with their reviews, and implemented their ideas. Customer loyalty research mentions the same thing with B2B customer relations. 
(Feedier)
14. 30% of Millennials in the US are generally more loyal to brands than products.
Brand and customer loyalty statistics confirm that there are drivers of customer loyalty other than quality. For example, the average American is more loyal to The Coca-Cola Company and what its brand represents than to their most popular drink. Data shows that 26% of Americans feel more loyal to brands, while 21% are loyal to products. Millennials definitely lead the pack with 30% saying they are loyal to the brand rather than its products.
(InMoment)
15. 33% of American customers say it takes just one mistake for them to consider taking their business elsewhere.
Customer service statistics signal that every third American will consider going to another place to do business if they experience just one mistake by the company. That's completely normal as customers want the best there is for the money they've worked hard for.
(HelpScout)
16. In 68% of the cases, customers will stop being loyal for no reason at all.
An interesting survey by Rockefeller Foundation explains that people don't really have to be dissatisfied to "sever all ties" with a particular brand. Brand loyalty statistics show that 68% of consumers who moved their business elsewhere did not have a specific reason to do so. Similarly, 14% did it because their complaints were not resolved. But there are other customer loyalty factors that affect this decision. Nine percent cited relocation, and another 9% who dropped their brand did so because the competition simply managed to offer them a better deal. 
(vPromos) 
17. Nine out of 10 Americans are loyal to US brands.
Patriotism is big for Americans. Brand and customer loyalty trends confirm it with 90% of Americans saying that they prefer buying from their favorite US brands than foreign rivals. The industry that is most affected by this trend is electronic devices with 79%, shoes with 65%, and healthcare with 59%.
(BusinessWire)
18. Walmart and Amazon have the most loyal customers in retail.
Every 5th American is loyal to Walmart. Research of over 6,600 people showed that 1,262 are most loyal to the retail giant. Next on the list is Amazon with 854 mentions, followed by Target, Apple, Kroger, Costco, McDonald's, Coca-Cola, and Nike.
(Morning Consult)
19. 63% of iPhone owners are loyal to the Apple brand.
Data showed that a solid 63% of Apple fans were adamant in their claim that they would stick to this brand no matter what. The latest Apple customer loyalty statistics show that 84% of iPhone owners will buy another Apple handset to replace the old one. This is mainly because many smartphone users believe the ecosystem of a mobile OS is a determining factor when upgrading. 
(Venturedna)
20. Over 60% of Amazon clients become Prime members to show they are loyal customers. 
Amazon customers are massively becoming Prime members as a way to show they care about the brand. Even Whole Foods clients have started signing up for Prime and according to Amazon customer loyalty statistics, an incredible 69% believe they are showing their loyalty in this way. But the best data ever is that a solid 44% of loyal clients check the prices of the products they intend to buy first on Amazon before deciding on buying from another retailer.
(BarnRaisers)
21. Target has made one of the biggest leaps in customer loyalty.
In 2018, this company was not among the most successful in the customer loyalty department. Just a year later, they were the third retailer with the most loyal customer base. Customer loyalty research revealed that their new Target Circle program made wonders to increase customer loyalty in a single year. What's more, these loyalty members have already donated $250,000 to 50 organizations.  
(CNBC)
Loyalty Program Statistics
22. The Baby Boomer generation is most likely to be a part of a loyalty program.
Loyalty statistics indicate that 71% of those aged between 56 and 65 have been a part of at least one loyalty program in their lives. That compares to 57% for the millennial age group (25-34), and 43% for Generation Z or those aged between 18 and 24.
(eMarketer)
23. 76% of clients would join a loyalty program if the company only requires them to leave a name and phone number, loyalty program statistics show.
A survey on behalf of Wilbur showed that Americans will gladly join a loyalty program if they don't need to write down more than their name and phone number in 76% of the time. At the same time, 71% will refuse if the company requests personal information.
(PRWeb)
24. The average consumer has 14.8 customer loyalty cards.
The average consumer participates in just under 15 consumer loyalty programs but actively uses fewer than half or 6.7, according to loyalty program stats. That means it's not enough to just put that card in your clients' hands, you need to do more if you want to see any benefits from it. Making your clients enjoy the fact that they are participating would be a good place to start.
(Bond)
25. Loyalty program statistics show that around 74% of people are members of a loyalty program.
The same research by Clarus showed that 74% of surveyed consumers are a part of free customer loyalty programs. In contrast, the percentage of loyal customers who actually pay for their memberships is lower and currently stands at 54%.
(Clarus Commerce)
26. 68% of women were in a loyalty program at least once.
Women always have more than a few customer loyalty cards in their wallets. As a matter of fact, loyalty program trends define female customers as more valuable because 68% of them have participated in a loyalty program at least once. The percentage of men who have done the same is lower and amounts to 59%.
(eMarketer)
27. 15% of paid loyalty program customers expect benefits every day.
15% of customers expect benefits every day if they're a part of a paid loyalty program. 24% expect a perk every few days, and 22% at least once a week. The same customer loyalty research shows that frequency of benefits (40%) and cost (39%) are the most important factors for customers when considering whether to renew a specific paid loyalty program or not.
(Clarus Commerce)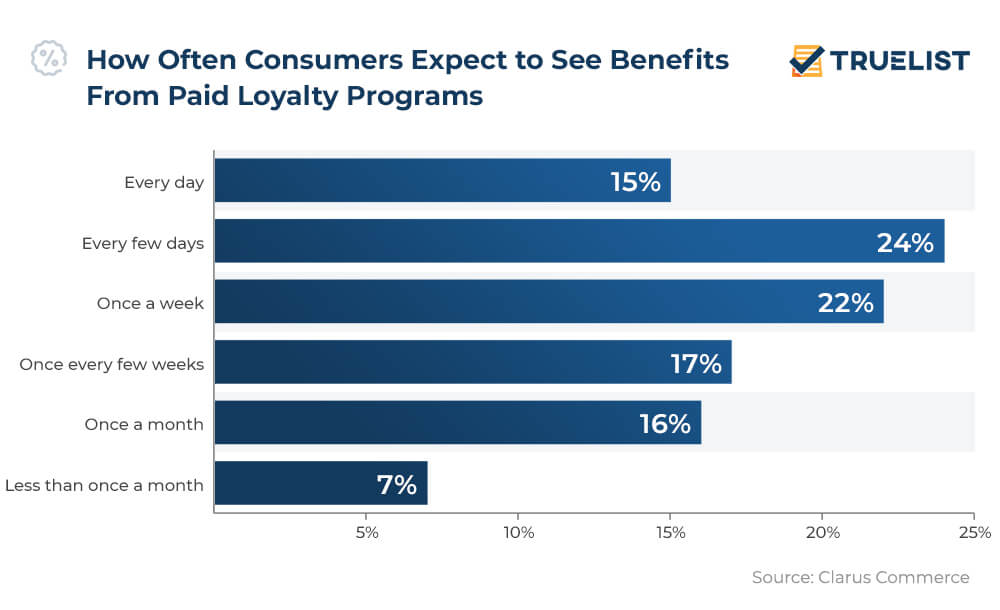 28. Brand loyalty statistics show 73% of consumers are more likely to recommend a brand if it has a good loyalty program. 
A loyalty program will not only assist you in retaining your existing customers but will also help you gain new ones. This is particularly important in this day and age when word-of-mouth marketing yields much better results than traditional advertising in most cases. 
(Bond)
29. Being a part of a program would secure the loyalty of 79% of the clients.
In 79% of the cases, clients are going to stay loyal to a brand or a business if it has a loyalty program. These loyalty program trends are based on a 2019 Bond Loyalty Report covering over 55,000 consumers across more than 900 programs in more than 20 markets.
(Bond)
30. Getting special offers that standard customers can't have is important for 59% of loyalty program members.
Just under 60% of members of a brand's loyalty program expect to get special offers that standard clients don't have access to. Whether it's getting their hands on a product before the official release, off-stock availability, or something similar, it's important that the company makes a move that will show its dedication to its loyal customer base.
(Qivos)
31. Starbucks' outstanding loyalty program has brought them a 25% increase in membership.
Even though Starbucks is the most famous coffeehouse company and a giant in its niche, customer loyalty programs are a "Godsend" for them too. Starbucks customer loyalty statistics show that in the past two years, the 'Starbucks Rewards' program has boosted its membership by 25%, and the company has also attributed its increased revenue ($2.65 billion) to its prime loyalty program. 
(Zinrelo)
32. 31% of consumers would join a paid loyalty program if their preferred brand offered it.
That's nearly one-third of loyal customers who would love to join paid reward programs for consumers, but the brand they're spending money on simply has none. 65% of those that already belong to a loyalty program, plan to join another one in the next 12 months, according to customer loyalty program stats. 
(Clarus Commerce)
FAQ
Why is customer loyalty important?
Loyal customers will choose one company's products and services over their competitors over and over again. Loyalty statistics reveal these customers usually spend 67% more on products and services, and most importantly, they associate favorable experiences with their preferred brand. Moreover, customers that are loyal to and trust the companies they do business with, are more likely to make repeated purchases in the future.
How much more do loyal customers spend?
The average loyal customer is likely to spend 10x as much as their first purchase. Research further reveals that these customers are 50% more likely to try out new products their favorite brand offers and are sure to spend 31% more compared to new customers. 
Are customer loyalty programs worth it?
Customer loyalty programs (or frequent buyer programs) reward customers based on how much money they've spent with a company. Research shows they can be cost-effective and significantly contribute to increasing social proof, word-of-mouth, and customer referrals. However, many also believe that regardless of the popularity, customer loyalty programs are somewhat ineffective unless specifically aimed at enhancing the value of a product/service and motivating buyers to make another purchase. 
How big is the loyalty market?
In 2018, the loyalty market was worth $1.9 billion, and it's projected to reach $6.96 billion by 2025.
Wrapping It Up
There are lots of ways to make people involved and become loyal to a brand. Think about Amazon, Apple, Target, and the like; companies that have millions of customers, most of which are happy with the products they are purchasing over and over again. While they work on a much larger scale, customer loyalty statistics show that the basic principles of client satisfaction can be applied to pretty much any business to drive sales. 
Sources: Orbis Research, HubSpot, Capgemini, OutboundEngine, InMoment, WordStream, Smile.io, Accenture, Clarus Commerce, Yotpo, Feedier, HelpScout, vPromos, BusinessWire, Morning Consult, Venturedna, BarnRaisers, CNBC, eMarketer, PRWeb, Bond, Qivos, Zinrelo