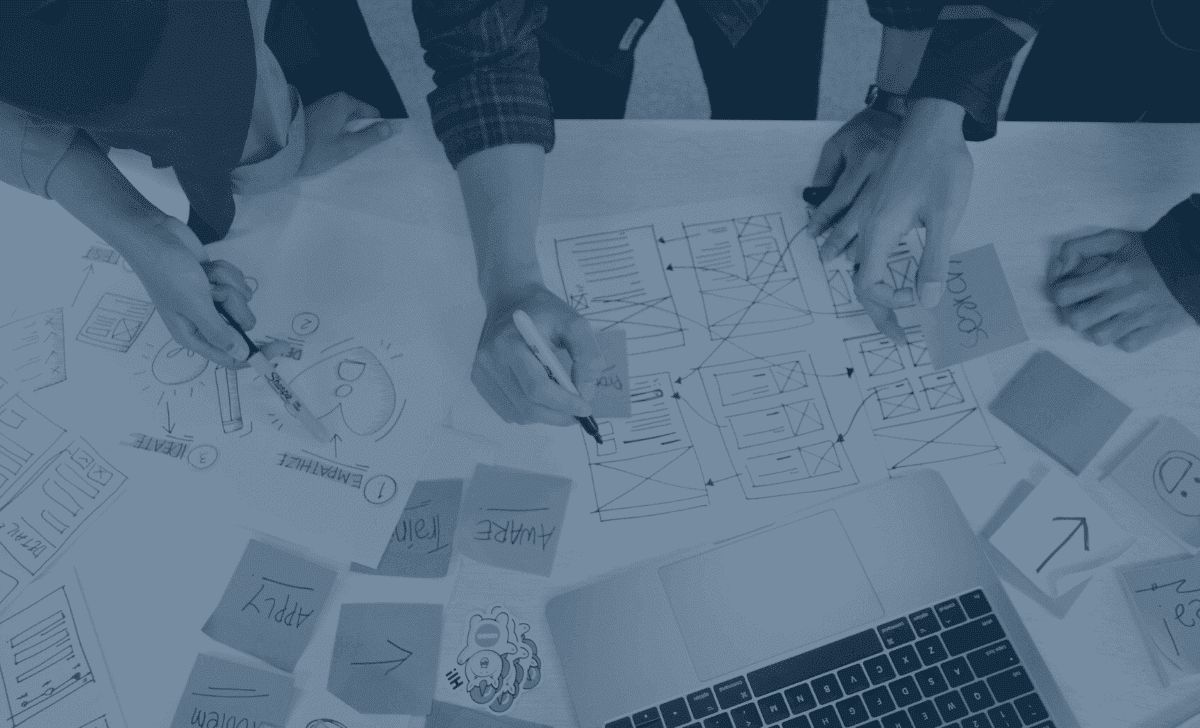 40 Fascinating UX Statistics
Last updated: 05.03.2021
•
User experience is an aspect of design which often goes overlooked — until something goes wrong! Understanding the value of UX and giving it the attention it deserves when planning a website can help prevent issues in the future and save your nerves, time and money in the long run.
We've pondered the different aspects of UX design, and explored why and how much they matter by compiling these UX statistics and letting the numbers speak for themselves.   
It doesn't matter how beautifully designed your website is if your visitors can't figure out how to use any of its features. So read on to find out all the ways in which user experience can affect the growth or even survival of your business in today's competitive online environment.
User Experience Statistics (Editor's Choice)
Only 55% of companies are currently conducting any user experience testing.
Intentional and strategic user experience has the potential to raise conversion rates by as much as 400%.
74% of people are likely to return to a website if it is optimized for mobile.
Every $1 invested in UX results in a return between $2 and $100.
52% of online shoppers claim that quick page loading influences their loyalty to a site.

 
General UX Stats
1. 85% of issues related to UX can be detected by performing a usability test on a group of 5 users.
Taking the time to perform a usability test can prove to be very valuable. The recommended dynamic for an efficient user experience study is testing three or four sets of users, one set at a time. With each set consisting of five users, this comes out to no more than 15-20 people total.
(MeasuringU)
2. Developers spend 50% of their time fixing issues which could have been avoided.
Having your developers spend this much time on reworking existing elements of your project can significantly affect the duration of the project as a whole. This is yet another reason in favor of timely UX testing. With a bit of planning ahead, you can avoid a bad user experience and save everyone time!
(Vitamin T)
3. Fixing a problem in development costs 10 times as much as fixing it in design, and 100 times as much if you're trying to fix the problem in a product that's already been released.
A lack of planning can result in more than just a disrupted timeline — It can have a significant impact on the budget as well. The price difference here is drastic; it comes to a choice between thinking ahead now or throwing money at the problem later in order to achieve the same end goal: a frictionless user experience.
(UX Planet)
4. Only 55% of companies are currently conducting any user experience testing.
Considering the significant benefits of UX testing, one would expect this figure to be much higher. Implementing testing can be a great way to push you ahead of the competition while using minimal resources.
(Skyhook)
5. Of the IAB survey respondents, 54% cited ad clutter as the biggest obstacle to good user experience.
The Interactive Advertising Bureau brings some user experience homepage statistics from a different angle; via insight from those within the digital marketing industry. Apart from overcoming the challenge of displaying ads without putting off website visitors, issues UX designers have the most difficulty with include creative quality – 37% and overall experience – 36%.
(ClickZ)
6. You are 276.74 times more likely to climb Mt. Everest than click on a banner ad.
Or, if you prefer to look at it from another angle, you are 475.28 times more likely to survive a plane crash than click on a banner ad. While funny and a little over the top, these UX statistics illustrate an important point — just how rare banner clicks actually are. Studies also show that those who do click on them tend to be less educated and poorer.
(Business Insider)
7. 420 million people around the world use ad blockers, and poor user experience caused by ads is the most cited reason.
Although ads can be hard to avoid in website design, the way they are incorporated into the page is critical. While ads need to be visible by definition, making sure they don't disrupt the users' activities on the website should become a part of UX best practices.
(ClickZ)
8. 63% of people would consider messaging a chatbot to communicate with a business or a brand.
While not without their issues, chatbots can be a great way to provide your customers with answers quickly and are cheaper to install and maintain than hiring workers. Availability is another benefit as chatbots don't require shifts and breaks. With that said, they are better suited for some applications while in other situations communicating with a human provides a far superior website user experience.
(Mindshare)
9. Over 70% of small business websites do not use call to action buttons.
Calls to action can make or break a conversion rate, depending on how well they're executed. This seemingly small and insignificant element of web design is instrumental in getting your visitors to perform that desired action.
(Uxeria)
10. Only 1% of users click on slider content.
There is a definite decline in the use of this once popular design element, also known as a carousel. According to website user stats, the decline is completely warranted. To encourage user engagement, it might be wiser to turn to other options such as video content, infinite scrolling, or replacing your stock images with "real" ones.
(Erik Runyon)
11. 46% of online shoppers list not being able to tell what a company does as the reason for leaving a website.
The second most frequently cited annoying element is an absence of contact information — 46%, followed by animated ads — 42% and poor website navigation — 37%. Other grievances mentioned in this user experience survey include automatic audio and video, intrusive live chat, sliders, tiny text, and stock photos.
(KoMarketing)
12. 70% of users look at lists with bullets while only 55% look at lists without bullets.
Bullet points are the way to go when presenting text you want your website visitors paying attention to. Don't let that copy go unread — create a bulleted list.
(Red Website Design)
13. After landing on a homepage, 86% of users want to see information about products and services, 62% are interested in contact information, and 52% are looking for the "about us" section.
These are B2B UX statistics, and they show us what B2B buyers want from vendor websites, which is an important viewpoint for those operating within this niche.
(KoMarketing)
14. Intentional and strategic user experience has the potential to raise conversion rates by as much as 400%.
Ultimately, a healthy conversion rate is the end result most businesses are looking for. Being aware just how greatly UX can impact this metric ensures that adequate attention will be paid to this segment of a website. Further in the article containing this statistic, published by Forbes, user experience is mentioned as a key tool for influencing the leads visiting your website in the limited time during which opinions form and decisions are made.
(Forbes)
15. Visual data is processed 60,000 times faster by the brain than text.
This may be a statistic which pertains to something broader than strictly user experience design, but it can certainly find its implementation in this field. If you want to leave a quick impression on your visitors, put those visuals to work.
(Mainstreethost)
Mobile User Experience Stats
16. If a website isn't mobile-friendly, 50% of users will use it less even if they like the business.
Mobile device usage has skyrocketed in the last couple of years. This means optimizing website content to fit a small screen has become standard practice. Judging by this statistic, if your website isn't cutting it on mobile devices, not even the quality of your products and services can save you.
(Think With Google)
17. 52% of users claim that a poor mobile experience makes them less likely to engage with a company.
Compared to a standard computer screen, space is minimal on mobile phone screens. Failing to accommodate for those differences in dimension isn't good UX practice. It can result in a site becoming very difficult to use on mobile. It's no wonder, then, that this presents such a strong deterrent to users.
(Think With Google)
18. 25% of users in the US exclusively use a mobile device to access the internet.
This is a portion of the market you'll be missing out on if you don't take into account the look and feel of your website on a smartphone. UX trends are developing with mobile in mind as this method of accessing the internet doesn't show signs of slowing down anytime soon.
(MarTech Zone)
19. 2 out of 3 minutes spent online are via mobile.
Extensive mobile data included in phone contracts and the proliferation of wifi services has made the internet accessible nearly anywhere. And with smartphones within arm's reach at all times, mobile usage is bordering overuse for many. This means that your website is statistically more likely to be accessed via mobile than via computer, once again confirming that mobile user experience should be a top priority for website owners.
(Red Website Design)
20. 74% of people are likely to return to a website if it is optimized for mobile.
People appreciate a good online experience and will reward it with their loyalty. This is yet another incentive not to disregard mobile optimization for your website and tap into that potential.
(Red Website Design)
21. 20.2% of those surveyed cite security concerns as the main reason they don't buy from mobile eCommerce sites.
This is a clear indicator of why UX is important for business. Other common reasons for mCommerce websites fail to convert include not being able to see product details, navigation problems, not being able to browse multiple screens for comparison purposes, and difficulties with data input.
(WebAlive)
22. eCommerce conversion rates for computers are 3.94% while mobile conversion rates are 1.84%.
Interestingly enough, eCommerce conversion rates for tablets are comparable to those of computers, with a rate of 3.78%. While these are eCommerce site stats from the third quarter of 2018 specifically, the numbers have remained in similar relation to one another for the past two years. This shows that smartphones are primarily used for browsing, while desktops and tablets are where the actual transactions take place.
(Smart Insights)
Loading Time UX Statistics
23. 53% of mobile visits are abandoned if a page takes more than three seconds to load.
Loading speed is a major concern nowadays. With high-speed internet connections the norm around the globe, users' expectations are high and their patience short when it comes to page loading.
(Toptal)
24. 52% of online shoppers claim that quick page loading influences their loyalty to a site.
Even a one-second delay can have a severe impact on customers' perception of a business. Instantaneous loading is expected and goes unnoticed while even the slightest increase in loading time makes a negative first impression of a website.
(CDNify)
25. A survey of online user experience priorities among ad buyers showed that out of the 283 questioned, 79% said that they place the highest level of importance on overall site/app experience as well as page load time.
Other qualities respondents marked as "important" or "very important" were creative quality, content personalization/relevance, responsive design, number of ads, as well as virus and malware protection.
(ClickZ)
26. Sites that load in 5 seconds observed a 25% higher ad viewability compared to sites which load in 19 seconds.
These quicker loading websites also experienced a 70% longer average sessions and 35% lower bounce rates, leading to a 2:1 ratio in ad revenue between the two.
(Hobo-web)
Company User Experience Statistics
27.  A major eCommerce company increased sales by $300 million after changing their button text from "register" to "continue".
Seeing that figure, it is no surprise that the company in question is Amazon.The story of the $300 million button is something of a UX legend. The simple act of changing a button eliminated major user frustration with having to register in order to complete their purchase. Registration was made optional, and the primary CTA was turned into a much more welcomed "continue", cementing its creator Jared M. Spool as a major name in UI and UX design.
(UIE)
28. Computer security software company McAfee managed to cut their support calls by 90% as a result of a user interface redesign.
This is quite an impressive figure, and yet another statistic which confirms the importance of analysis and study before launching a product. McAfee's team did precisely this, and the results were well worth it.
(Pixeline)
29. Airbnb attributes UX for taking them from being a near-failure to being valued at $10 million.
According to the company's co-founder Joe Gebbia, after realizing listings with bad quality photographs were performing poorly, the company took a risk and hired a professional photographer to reshoot the apartments. Weekly profits doubled, and the rest is history, proving the importance of UX once again.
(First Round Review)
30. ESPN's revenue increased by 35% after a homepage redesign.
The company listened to their community and took users' suggestions into account which resulted in quantifiable financial gains. The users made it easy; all the company had to do was be receptive.
(Inside Design)
31. Time.com's bounce rate dropped 15% after they adopted continuous scroll.
Infinite scroll has been shown to lower bounce rates. Time.com opted for a sidebar with top content which allows a site user to see which articles are coming up next and enables them to jump to any story. This is the kind of UX news portals can greatly benefit from.
(The SEM Post)
32. A 500ms increase in loading time can cause traffic on a Facebook page to drop by 13%.
We're talking less than one second here! Time delays add up quickly and translate into significant traffic losses so keeping an eye on that loading speed is essential.
(CDNify)
33. A  500ms decrease in loading speed results in 25% fewer searches for Google.
This stats shows us what a 500ms difference can do for a search engine. When you're operating on such a large scale, even small changes can have a big impact, which is why hiring a user experience company is a no brainer.
(CDNify)
34. Slow-loading websites cost retailers an estimated $2 billion in lost sales each year.
Even worse than the retailers having to deal with such dramatic losses is the knowledge that it could have been avoided. The investments related to ensuring a fast-loading site are substantially lower than the losses they'll help prevent.
(Toptal)
35. 73% of companies not conducting user experience testing will be doing so in the next 12 months.
This is one of the UX design statistics from an infographic compiled by Experience Dynamics which focused on user experience for mobile users specifically. They also mention that by the year 2020 customer experience will overtake price and product as the key brand differentiator!
(ExperienceDynamics)
36. Every $1 invested in UX results in a return between $2 and $100.
If you wanted to put a number on the value of UX investments, here it is. Well, at least a range, and a broad one at that. But even at the lowest end of the scale, you are looking at an increase of 50%, so reach out to a user experience firm right now.
(The American Genius)
37. 70% of online businesses fail due to bad usability.
This statistic serves as a good warning if you're someone starting out in online business. Take the necessary steps to ensure your usability is on point and consider it as a potential culprit things go south with your online venture.
(Uxeria)
38. Amazon discovered that a 100ms decrease in page loading speed could cost them 1% in sales.
It can be difficult to wrap one's head around the fact that one-tenth of a second can cause a noticeable difference in sales. That is, however, the reality of online business today — cutthroat is an understatement, and UX impact on revenue is tremendous.
(Gigaspaces)
39. Evernote increased user retention by 15% after launching intuitive, helpful features.
The increase in user retention happened across all devices and was the result of some well-planned user testing. Product managers were able to hear the study participants narrate their experiences while using the product as well as see where on the interface the users were tapping and swiping.
(UserTesting)
40. Walmart Canada increased their on-site revenue by 13% after tailoring customer experience.
In another case study by UserTesting, the retail giant's Canadian division was able to pinpoint an issue with the visual representation of products on Walmart Canada's mobile site. Thanks to testing they were able to achieve the best UX design for their users and the easy fix brought about a revenue increase.
(UserTesting)
Final Thoughts
At the end of the day, regardless of the specifics of your online business, it's the needs of the users that come first. All you have to do is ask and be receptive and responsive to the answers they provide.
You only get one shot at a first impression, so treat your users to a comfortable, easy-to-use experience, or they may never come back. As Frank Chimero, one of the top UX designers put it: "People ignore design that ignores people."
You can't blame them; as competition continues to rise across industries, people have come to expect intuitive, top-notch user experience. If you don't offer it to them, they'll find it with your competitor. The opposite also rings true: a well-designed and meaningful user experience results in satisfied and loyal customers.
Prioritizing UX is in the best interest of your website and business overall. Let these UX statistics inspire you to take the next step in your company's user experience journey.
Sources: MeasuringU, Vitamin T, UX Planet, Skyhook, ClickZ, Business Insider, Mindshare, Uxeria, Erik Runyon, KoMarketing, Red Website Design, Forbes, Mainstreethost, Think With Google, MarTech Zone, WebAlive, Smart Insights, Toptal, CDNify, Hobo-Web, UIE, Pixeline, First Round Review, Inside Design, The SEM Post, ExperienceDynamics, The American Genius, Gigaspaces, UserTesting, UserTesting