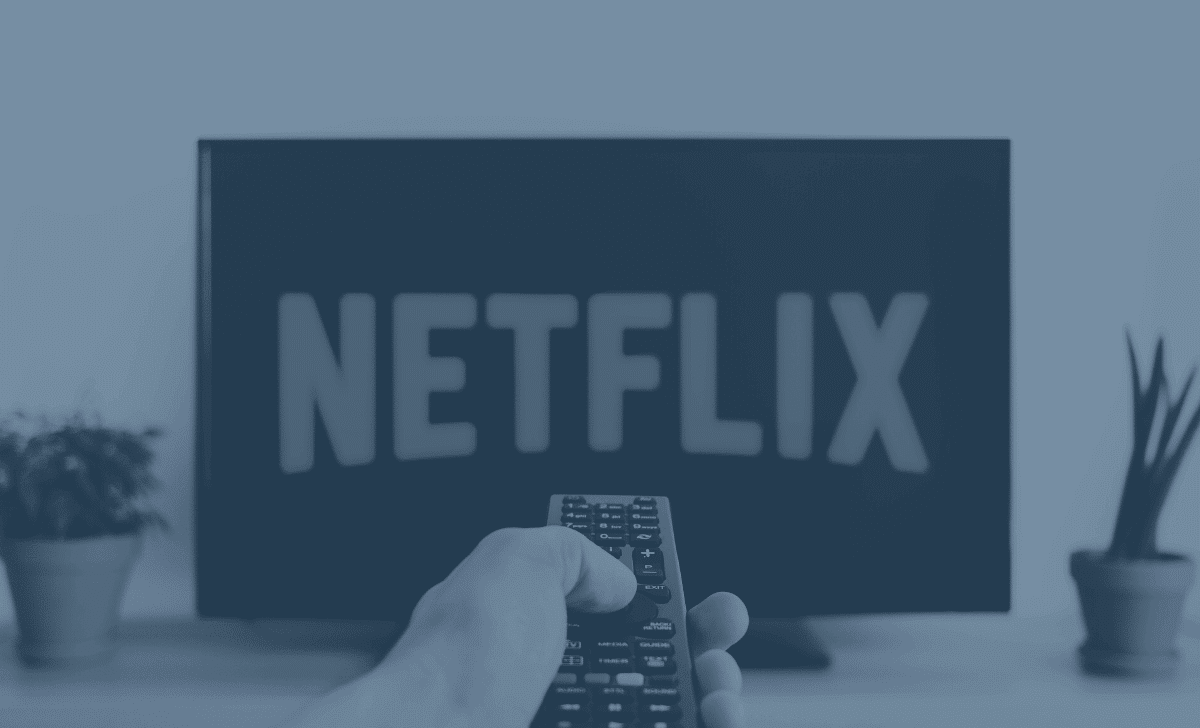 Netflix Statistics
Last updated: 31.01.2022
•
Netflix had gone a long way since its humble beginnings in 1997. From a simple DVD rental service, this platform became one of the most powerful streaming giants, having recognized the opportunity in a subscription-based model. Netflix statistics indicate that the platform was also ahead of its time when it launched the basic algorithm to determine users' preferences. The following facts and figures speak more loudly about the Netflix popularity than anything else, so let's check them out.
Netflix Statistics (Editor's Choice)
Netflix earmarked $17.3 billion for original content in 2020. (

Fortune

)

9 out of the 10 most popular original series are Netflix-produced. (

Nielsen

)

Today, Netflix has 213.5 million paid subscribers. (

Statista

)

In 2020, the platform's streaming revenue reached $25 billion. (

Statista

)

In 2019, Netflix produced 371 original titles. (

Statista

)

About 82% of the online streaming subscribers consider Netflix more entertaining than cable TV. (

Statista

)

Most of the

Netflix subscribers worldwide

come from the US. (

Finances Online

)
Some General Netflix Usage Stats
1. In 2020, Netflix experienced a 22.8% subscriber growth compared to the previous year.
Approximately 34 million new subscribers joined the platform, with some of them seeking forms of at-home entertainment during the pandemic. COVID-19 aside, the number of Netflix subscribers has been on the rise for the past few years. Just between 2018 and 2020, the streaming giant managed to add nearly 85 million new members. 2020 was a spectacular year for the company, according to Netflix statistics during COVID, especially compared to 2019, when the platform saw a minor decline in the number of paid subscribers YoY.
(Statista)
2. Netflix has produced 9 out of the top 10 most popular original series.
Disney+'s Mandalorian was the only non-Netflix top 10 series to find its way in the top 10 original content series by streaming providers. First on the list was Netflix's Ozark, with 30.46 billion minutes streamed in the US. Netflix stats further show that all of the top 10 series acquired from other networks, most-watched in 2020, were on Netflix. For movies, 3 out of 10 most popular movies were hosted on Netflix.
(Nielsen)
3. Netflix surpassed YouTube as the most-watched service in 2018, with an average viewing time of 23.2 minutes daily.
In 2019, the platform's users spent two hours per day on average watching Netflix. On top of that, the corona lockdowns the following year caused a 61% increase in streaming. Netflix viewership statistics show that the average user streamed around 3.2 hours per day during the quarantine. This equals 203,840,000 hours per day watched if we take into account all users. And these are solely statistics for US users.
(KilltheCableBill, eMarketer)
4. About 25.6% of Americans share their Netflix account with relatives.
Another 17.7% share it with friends, while 9.2% share it with family members in a different household. Despite the push from the company to do something about it in 2019, nothing ever transpired. Still, 47.5% of users do not share passwords.
(KilltheCableBill)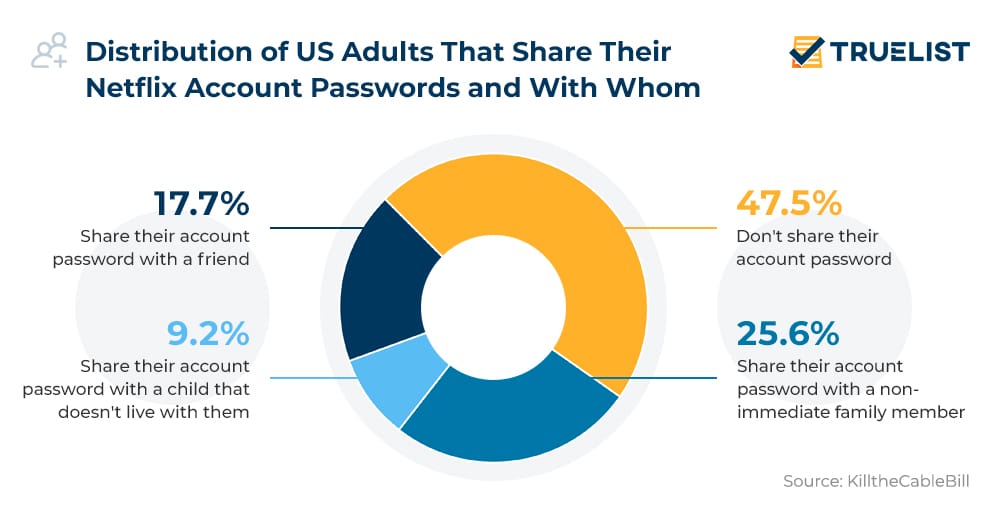 5. Some 70% of content on Netflix is streamed on a TV.
On top of that, Netflix stats suggest that mobile has 30% of sign-ups, and laptops account for 40%. The majority watched Netflix on TV, while 15% streamed it on laptops, 10% on mobile, and 5% on tablets. Statistics have proven that the majority of Netflix users eventually do migrate from other devices to their TV.
(Finances Online)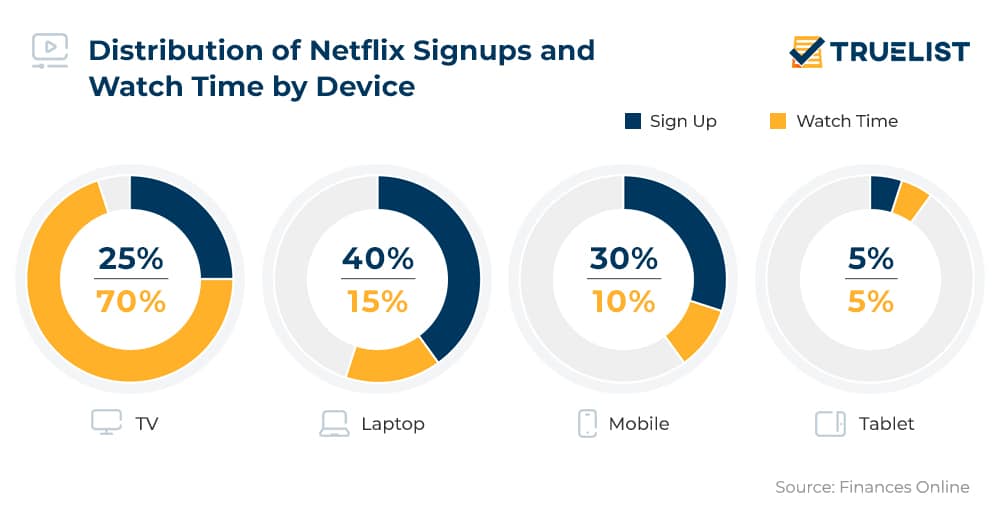 6. Two in five subscribers use VPN for streaming Netflix.
Netflix doesn't necessarily allow all users to access all its content. So, for example, some movies and shows are locked for people in certain regions. To bypass this barrier, many users turn to different VPNs for Netflix.
(TechRadar)
Netflix User Statistics & Demographics
7. Netflix is available in about 190 countries.
Looking at Netflix demographics, we can see that the platform now operates in most countries and territories worldwide. Its international expansion began in 2010, and in just a decade, it even reached Greenland. Some countries, however, don't support Netflix, most notably North Korea, China, Syria, and one disputed territory — Crimea. In most of these (except China), US sanctions prevent the company's operations. Beijing's censorship and stringent local competition constraints, meanwhile, are what hinders Netflix's expansion to China.
(Finances Online)
8. In the first quarter of 2021, Netflix had about 208 million paid subscribers, 2 million fewer than expected.
The company cites COVID-19 as one of the main reasons behind the slowdown, with some subscriptions coming earlier in 2020 and the pandemic delaying production. In line with Netflix usage statistics, the platform registered a 17% growth since the beginning of 2020 and the third quarter of 2021. This is a long way since 2001 and the 400,000 paid members the platform had back then.
(PYMNTS, Statista, HRtechX)
9. The average Netflix user in the US has an annual income of between $25,000 and $50,000.
Netflix demographics based on income vary depending on the period. So, for instance, between 2015 and 2017, around 26% of the Americans surveyed who had a Netflix subscription earned between $25, 000 and $50,000. From 2017 until today, this percentage decreased to 21%. To illustrate it better, approximately 25% of the general US population falls under this income category. From 2017, those with income lower than $25,000 are the smallest group having Netflix subscriptions (14% of those polled).
(WallStreetZen)
10. The median age of Netflix's core subscribers is 35-44 years olds.
Back in 2015, Americans between 18 and 34 years old made up the largest share of the platform's audience. Today, Generation X and Millennials form the core Netflix viewership, statistics show. Similarly, the segments from 34 up to 65+-year-olds have also experienced growth since 2015.
(Finances Online)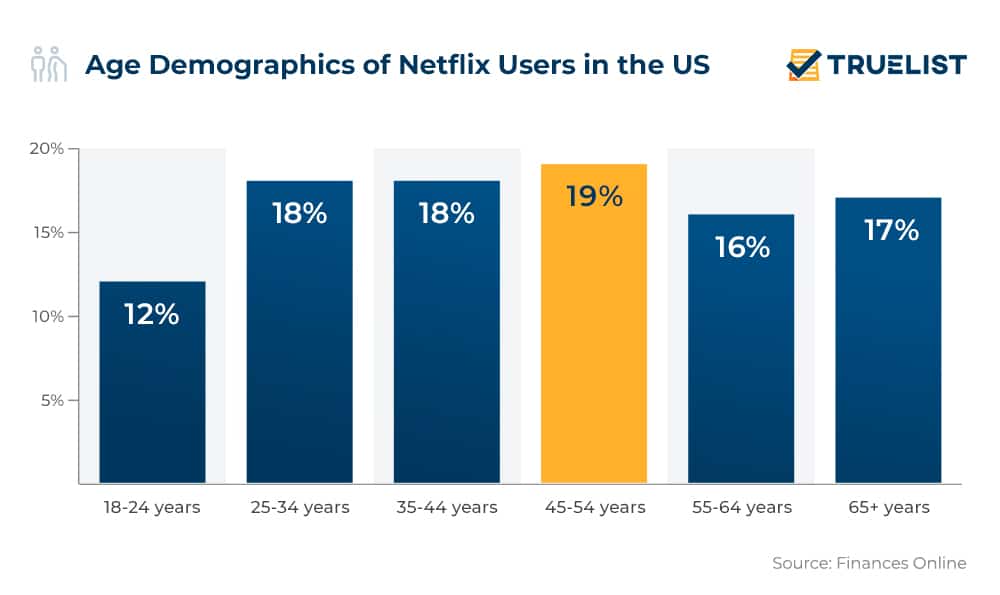 11. Netflix stats show that about 52% of the platform's subscribers are female.
Rival Hulu has the same fairly balanced ratio of 52:48 female to male users. On the other hand, CBS All Access is one of the most unbalanced platforms, with 62% of male users, as opposed to 35% female users. Similarly, Discovery+ and HBO Max both have an unbalanced audience — 62:38 and 61:39, respectively, in favor of male users.
(Morning Consult)
12. In 2019, about 59% of those between 16 and 34 years old considered Netflix the most indispensable TV/video source, Netflix statistics show.
This is arguably the most loyal Netflix audience that finds it their must-keep entertainment provider. Amazon Prime and HBO each have only 17% of the same age group that sees either service as essential. ESPN and Hulu are a little bit more popular with 24% and 26%, respectively.
(Statista)
Netflix Market Share and Revenue Stats
13. In 2020, the platform's revenue reached $25 billion.
This figure stands in strong contrast with its humble beginnings two decades ago. Netflix stats from 2002 show that the company's total revenue amounted to just over $150 million. Moving forward, the revenue growth was steadily rising, reaching $1.67 billion in 2009. For reference, Netflix's net income in 2020 was $2.76 billion, more than double the total revenue a decade ago.
(Statista)
14. The US and Canada accounted for 46.3% of the company's revenue in 2020.
In 2020, the United States and Canada were the biggest contributors in terms of geography to the total revenue accrued by Netflix. Another significant region, adding the most yield, was EMEA, where the company's share was 31.4%. The Netflix revenue in Latin America was 12.8%, while in Asia-Pacific it was the smallest or about 9.6%.
(Craft)
15. Netflix lost 31% of the US market share between 2020 and 2021.
According to the most recent Netflix subscriber statistics, the platform has fallen to 20% compared to the same period in 2020 (29%). Despite the record Netflix subscriber count, the company didn't grow as fast as the total market. For reference, it added 36.58 million new subscribers in 2020. However, new players in the market drove in to absorb this growth (HBO Max, Peacock). In addition to Netflix, Hulu, Amazon, and Disney+ all lost shares. So, Amazon dropped from 21% to 16%, Disney+ from 12% to 11%, and Hulu from 16% to 13%.
(Cartoon Brew)
16. Netflix's total ARPU grew 6% YoY between 2020 and 2021.
For reference, ARPU represents an average revenue per user, and it's derived by dividing total revenue by the number of all subscribers. Netflix statistics show that the platform's total ARPU for Q1 2020 was $40.48, while in the same period in 2021, it reached $42.91. EMEA registered the highest ARPU growth of 11%, while Latin America witnessed a decline of 8%. According to the info from Business Quant, Netflix revenue increased due to successful price changes and fluctuations in foreign exchange rates.
(Business Quant)
17. The US and Canada generated $14.25 average revenue per month per subscriber in 2021.
On top of that, similar to the previous years, the US and Canada was the biggest market for Netflix. In Q1 of 2021, it accounted for 33% of the total ARPU. The reasons behind this lie in the average time users in both of these countries spend watching TV series. Netflix binge-watching stats indicate that Americans spent 90,672 minutes watching Netflix on average. Canadians, meanwhile, spent circa 98,583 minutes on Netflix, registering a 9% ARPU growth.
(Business Quant)
18. Netflix is projected to reach a 62% penetration rate in North America by 2025.
That compares to the Netflix penetration rate of 55% it had in 2019. This is nothing compared to the forecasts for EMEA and Latin America. In the first market, the platform is on course for a 41% penetration rate (from 19% in 2019), while in Latin America, Netflix will allegedly achieve 53%, from 39% in 2019. Lastly, in the Asia-Pacific, the platform's penetration rate might rise to 25% (from 11% in 2019).
(Statista)
19. In 2019, Netflix produced 371 original titles.
Netflix statistics show that the company produced around 2,769 hours of original content. About 80.15% of that falls under the category of exclusive materials in comparison to 2018. To give you perspective, the amount of content produced in 2018 and 2019 surpasses all content released between 2012 and 2017 by two times.
(Statista)
20. Netflix was forecast to fork out $17.3 billion for original content in 2020.
In fact, the company was projected to raise its content spending by $2 billion, compared to 2019. Analysts further expect that, by 2028, Netflix will have spent $26 billion yearly on content. In retrospect, just two years back, the platform spent around $13 billion.
(Fortune)
Netflix vs Cable Statistics
21. In 2019, about 82% of the online streaming subscribers considered it more entertaining than cable TV.
These were the results of the survey conducted on a sample of 1,277 people in 2019. Based on that data, Netflix subscribers and those who use other providers considered streaming much more entertaining than cable. On the other hand, only 18% of the people from the same group preferred cable. Approximately 65.6% of TV cable subscribers agree that online streaming is more fun, while only 34.4% considered the same for cable.
(Statista)
22. The number of TV consumer subscriptions dwindled from 73% to 67% in 2018.
Netflix usage, meanwhile, has risen to surpass cable and satellite combined (76%). These Netflix vs cable statistics come from the annual PwC streaming and pay-TV report. For this purpose, PwC polled a sample of 2,016 Americans between 18 and 59. It also factored in the household income (above $40,000). Despite the general fall in paid cable TV and the rise of streaming, the report indicates that one-third of consumers want an easier way to find what they want to watch. Alternatively, 21% of users think their platform knows what they want to watch better than themselves.
(BGR)
Netflix Statistics by Country
23. In 2020, the highest number of Netflix subscribers worldwide came from the US, or 65.3 million.
This is the largest number of subscribers the platform had globally in this period. Brazil and the UK are the next two big aggregators of Netflix subscriptions, boasting 17.9 million and about 16.7 million users, respectively. Other popular destinations for Netflix include Mexico (8.1 million), France (8.6 million), Canada (7.9 million), and Germany (8.2 million).
(Finances Online)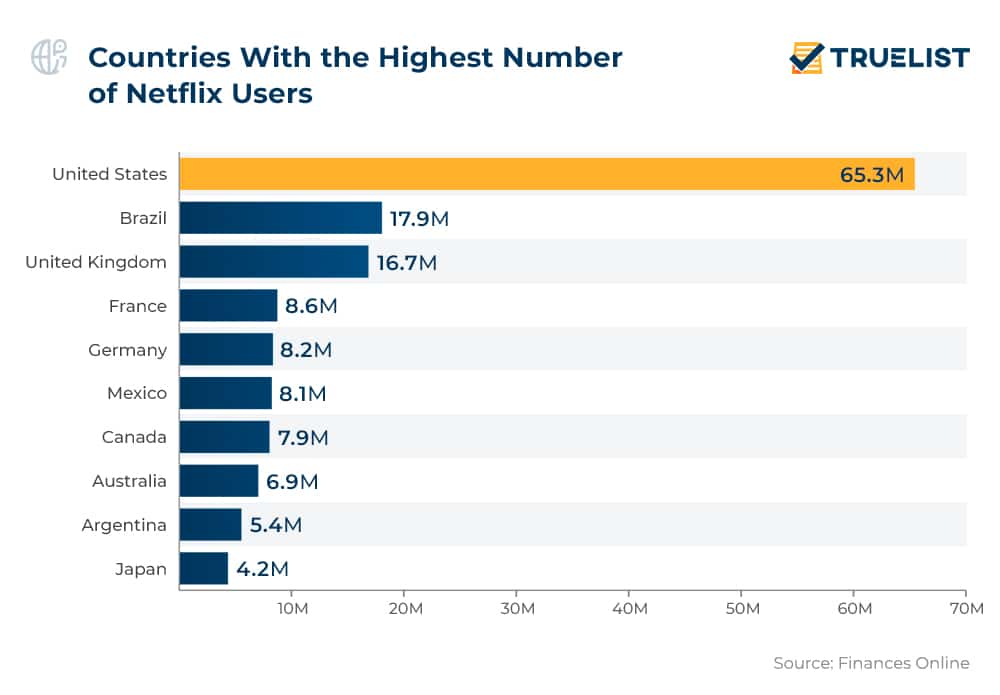 24. In 2020, over 3.45 million Australians over 14 years old had subscriptions for both Stan and Netflix.
Netflix statistics for Australia further show that 3.3 million of people Down Under had a dual subscription to Netflix and Foxtel. Lately, many Australians have started switching to Disney+ as well. Over 1.85 million Australians meanwhile had subscribed to both Netflix and Disney+ in Q1 2020. It's a much higher number than all other combinations of subscriptions that involve Foxtel and Stan.
(Statista)
25. In 2019, over a third of households in Singapore had Netflix subscriptions.
Based on these Netflix statistics for Singapore, viewership in HDB households was 36% and a bit higher in freehold houses and condominiums (40%). For reference, Netflix's share of the household was 37%, while the other big players were StarHub Go with 15%, SingTel TV GO (13%), and 22% of people subscribed to other relevant providers. When it comes to the Singaporeans favorite content on this platform, 24% of people listed Stranger Things as their top choice.
(Black Box)
26. In Malaysia, Netflix gained 195% in sequential traffic seven days in a row, in March.
Most of this traffic was a result of the quarantines that pushed the consumption of videos by entertainment-hungry consumers. Besides Netflix, statistics in Malaysia show that tonton had a gain of 232%, Viu 140%, and dimsun 140%. Except for people being stuck at home, lack of cinemas and similar entertainment drove them toward the ott platforms.
(The Malaysian Reserve)
27. Netflix was leading the market in the UK with 12.4 million subscribers in 2020.
Amazon Prime Video was a runner-up with much less (about 7 million). During the first quarantine stage in 2020, in Q1, the tally of the new subscribers more than doubled for the platform. Netflix statistics for the UK indicate that it added 15.8 million, unlike the seven it forecasted. In a broader sense, over 5 million households in the UK became members of a streaming platform since the lockdowns.
(The Guardian)
Final Thoughts
According to these Netflix statistics, we can expect to see much more from the streaming platform going forward. Currently, it's clear that it's the largest platform for video-on-demand, however, the competition is rising and gaining on it. One thing is certain, though — with Netflix changing the way people perceive television and video content, we no longer need to depend on video channels' fixed schedules or wait on the couch at a specific time of the day to watch our favorite show.
Netflix FAQ
How many subscribers does Netflix have?
Netflix boasted over 200 million subscribers at the end of 2020. Data further suggests that in the third quarter of 2021, the platform reached 213.56 million users.
(Statista)
How many shows are there on Netflix?
At the time of writing these Netflix statistics, the platform has some 17,070 titles across all of its regional libraries. Not all TV shows and movies, however, are available in all regions, which is why a lot of consumers turn to VPNs for streaming to watch whatever they want.
(uNoGS)
Sources: Fortune, Nielsen, Statista, Statista, Statista, Statista, Finances Online, KilltheCableBill, eMarketer, KilltheCableBill, TechRadar, PYMNTS, HRtechX, WallStreetZen, Morning Consult, Statista, Craft, Cartoon Brew, Business Quant, Statista, Statista, BGR, Statista, Black Box, The Malaysian Reserve, The Guardian, uNoGS