Hulu Statistics – 2023
Last updated: 09.01.2023
•
Despite being rich in content, Hulu faltered in releasing its original titles. All of this resulted in it being in the shadow of Netflix for a long time. In 2017, things started to change, with the company launching its first original title, The Handmaid's Tale, achieving remarkable success. But nothing says more about a company than some stats — so let's dive into these Hulu statistics and determine whether it's on a good track to rival Netflix properly.
Hulu Statistics (Editor's Choice)
In 2019, the majority of

Hulu subscribers

, around 70%, were on ad-supported plans. (

Variety

)

In 2020, Hulu had 94.5 million viewers. (

eMarketer

)

Hulu's revenue in 2020 climbed to $4.4 billion. (

Marketing Business Review

)

Hulu has around 42.8 million paid subscribers. (

Statista

)

Hulu's ad revenue is projected to reach $2.7 billion by 2021. (

Fierce Video

)

About 40% of the content on Hulu is the company's original titles. (

The Streamable

)

In 2020, 41% of Americans aged 18-29 had a Hulu subscription. (

Statista

)

About 52% of viewers are female. (

Morning Consult

)
Essential Hulu Stats
1. Hulu has approximately 2,350 employees.
The average annual salary for employees at Hulu (base plus bonus) is $101,593, corresponding to $48 per hour. The median salary, on the other hand, amounts to $89,632. Principal engineer is the highest-paid job across the company with an annual salary of $240,000, while the lowest one goes to technical support with $48,784.
(Dun & Bradstreet, Comparably)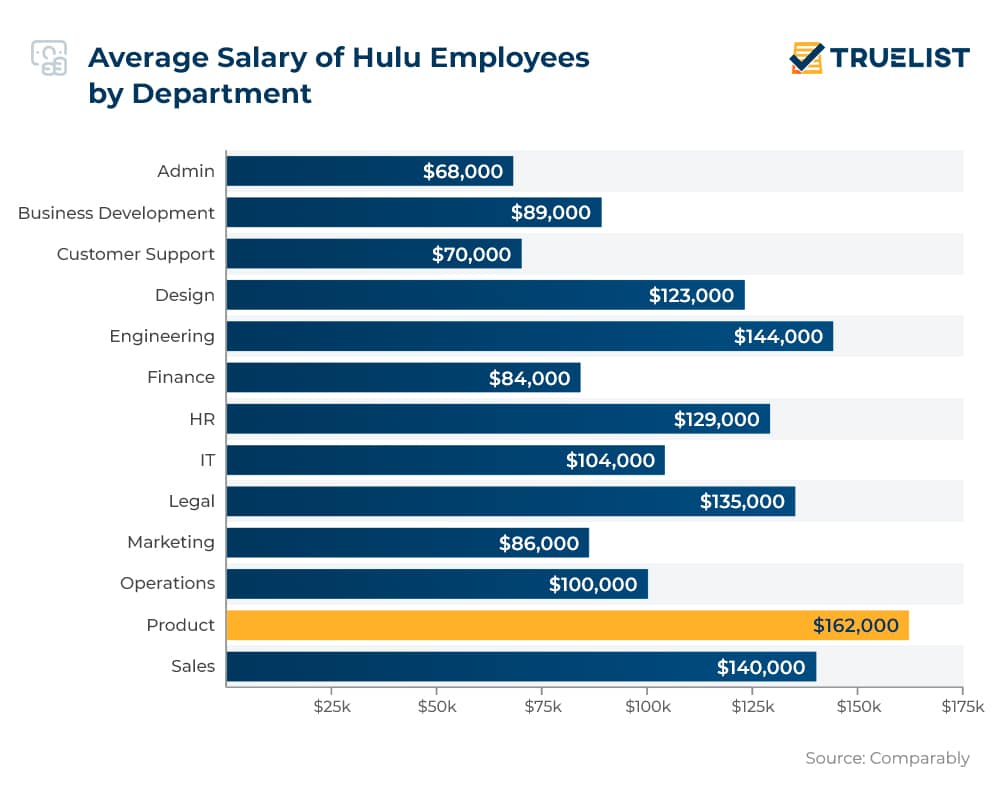 2. In 2021, Hulu's monthly plan with no ads had a 65% six-month customer retention rate.
Add-free plans of streaming services see slightly higher customer retention rate. 
Hulu stats on customer retention point out that, in 2021, Hulu's monthly plan with no ads had an average six-month customer retention rate of 65%, and the retention rate for its monthly plan with ads was 63%. The same thing happens with Discovery+ and Peacock, as well.
(Second Measure)
3. Live TV is 6.95 times more profitable per user than streaming-only subscribers.
Hulu statistics show that the average revenue per Live TV viewer has routinely grown since the first quarter of  2019, while streaming subscriber revenue remained flat in comparison. An average Live TV viewer contributed $88.77 to monthly revenue in the second quarter of  2022, growing from $52.58 in the Q2 of 2019, while streaming viewer contribution grew from $12.73 to $12.77 in the same period.
(Statista)
4. In the second quarter of 2022, the average revenue per user without the live TV plan was $12.77.
Hulu subscription statistics indicate that Q2 has witnessed a slight decrease from Q1, in which the average revenue amounted to $12.96 per user. The company's lowest ARPU since 2019 was in Q3 2020 with $11.39, while the highest was in Q1 2019 ($14.49).
(Statista)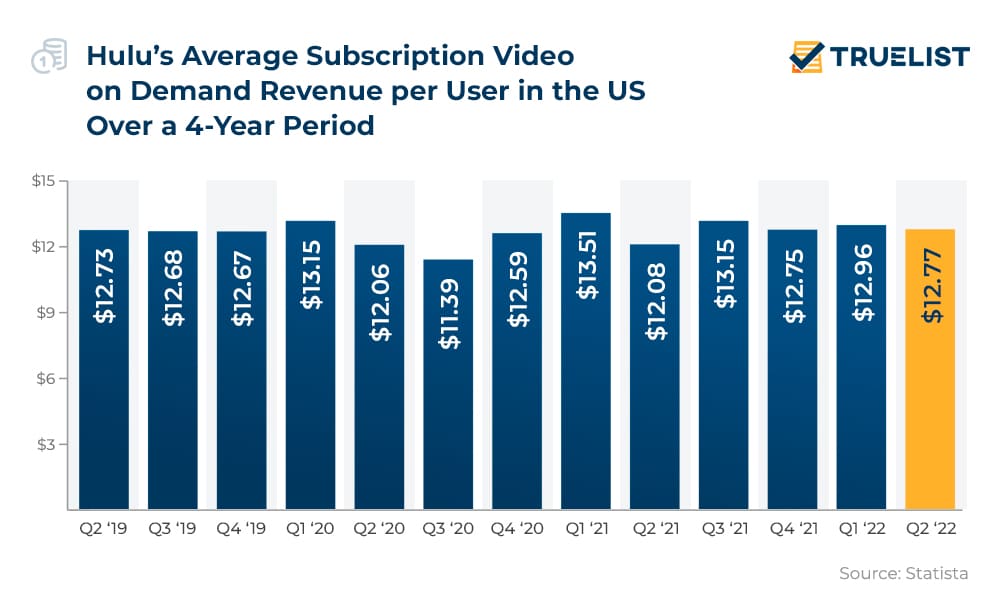 5. In 2019, 70% of subscribers were on ad-supported plans.
Hulu does have a plan for ad-free streaming, but many customers still prefer the cheaper one for $6.99. In order to prevent further irritation, the platform capped the ad length to 90 seconds with a countdown clock that shows them when the ads are finished.
(Variety, Hulu)
6. Hulu's revenue in 2020 reached $4.4 billion.
During the last decade, the company has accelerated its strategies on improving the platform's public image. Their efforts, Hulu statistics show, paid off, helping the company increase its revenue, which jumped from $0.2 billion to $4.4 billion in the past decade.
(Marketing Business Review)
7. In 2019, Hulu was the third most popular streaming service by mobile reach.
YouTube was by far one of the most popular streaming services with an 88% mobile reach. Though Netflix takes the lead in subscription-based streaming services, it came second on this list with 25%, as Hulu (14%) and Amazon Prime Video (11%) trotted behind. Vimeo had the smallest share at 8%.
(Statista)
8. In 2020, Hulu had 94.5 million viewers.
Hulu viewership statistics and predictions project the viewer number to hit 99.7 million by 2021. That puts Hulu within the top three US OTT services. Netflix had the lead here, with 168.9 million viewers in 2020, and is expected to reach 171.70 million in 2021. Amazon Video followed as a close runner-up, with 130.1 million viewers in 2020.
(eMarketer)
9. In 2019, only 17% of Americans watched Hulu's The Handmaid's Tale.
Numerous lists that feature the show among the top original TV shows based on audience demand contradict Hulu statistics. Some sources indicate that the reason behind small viewership lies in the plotline, considering it is rather specific and might not speak to everyone. On the other hand, its dystopian character has the potential to generate interest.
(Statista)
10. NordVPN is the number one out of 40 VPNs tested for Hulu streaming.
In theory, Hulu viewership is only possible from within the US and Japan. Yet, with NordVPN as the best option, many VPN services allow viewers to access Hulu, regardless of their location. Besides Hulu, NordVPN is also a prime choice for various streaming platforms, including Netflix, Amazon Video, and Disney+.
(Security)
Hulu Stats on Market Share and Revenue
11. The Hulu market share dropped by 1% in the first quarter of 2022.
According to the latest info, Hulu held 11% of the global market share. Apart from that, HBO Max currently holds 14% of the market share, while Netflix has 23% and Prime Video accounts for 19%. Disney+ is not far behind, as it holds 13% of market share. Older data shows that Hulu's share in SVOD between Q3 '19 and Q4 '20 went from 27% to 20%. 
(Cord Cutters News, Antenna, Media Post)
12. Hulu has around 45.6 million paid subscribers.
Hulu users statistics record a significant increase from previous years, particularly year-on-year. For reference, the platform had 32.1 million subscribers in 2020. Its subscribers have several plans at their disposal: the basic subscription costs $6.99/month, while the costliest one is set at $64.99 monthly. The latter includes premium features, like an ad-free option, live TV, in addition to some of the most popular channels like CBS, NBC.
(Statista, Hulu)
13. In 2020, Hulu's share of virtual MVPDs was 34%.
The market, multichannel video programming distributors, has grown steadily with a 24% year-on-year increase in total subscribers. The number of Hulu subscribers grew from 31% in 2019. YouTube TV has also experienced subscriber growth, scoring a 5% increase, while AT&T TV Now and Sling TV lost customers. If we look at the efforts invested in marketing on Hulu statistics confirm the platform's growing subscriber count is once again a testament to the effectiveness of these efforts.
(Antenna)
14. Hulu generated $2.1 billion in ad revenue during the 12 months leading up to September 2021.
Four of the US's most prominent AVOD platforms generated $3.5 billion in advertising revenue during the mentioned period. Hulu revenue was the biggest, as Hulu managed to generate  $2.1 billion in ad revenue during the 12 months leading up to September 2021.
It's followed by Paramount+ ($822 million in ad revenue), Peacock ($279 million in ad revenue), and Tubi ($250 million in ad revenue).
(Fierce Video)
15. Hulu + Live TV had an average churn rate of 6.9% per month in 2020.
Hulu stats show similarity to other streaming platforms in terms of churn rates. As MVPDs have a customer-oriented approach, it's quite simple to cancel a monthly plan, unlike regular TV subscriptions. Philo had the highest average monthly churn rate, or 11.4%, while Netflix had the lowest (2.4%). Further, YouTube TV had 4.3%, and Disney+ recorded an 8% monthly churn.
 (Antenna)
16. Hulu was earmarked to accumulate $1.96 billion in 2020 in ad revenues from connected TV.
Moreover, its CTV ad revenue was set to reach $3.10 billion by 2022. In 2020, nearly one-fourth of the US CTV spending was all Hulu, statistics confirm. Similarly, its net share of US CTV ad spending by 2022 is estimated to remain higher than Roku or YouTube. YouTube was still the largest US CTV ad seller in 2020, accounting for $2.89 billion in gross revenue for this segment alone.
(eMarketer)
Hulu vs Netflix Statistics
17. About 40% of the content on Hulu is the company's original titles.
For comparison purposes, about 83% of the content on Netflix is exclusive. The only platform with less original content than Hulu is Amazon Prime (38%). Some of the well-known original titles on Hulu include The Handmaid's Tale, Runaways, Normal People, and Veronica Mars.
(The Streamable, Android Authority)
18. Both Netflix and Hulu shows have an average of 8 or higher rating on IMDb.
Although Prime Video leads with the largest selection of movies and TV shows, Hulu statistics are comparable with that of Netflix in quality as per IMDb. For reference, the average rating for high-quality content on Prime is 7.5. In contrast, Apple TV Plus, a relatively new streaming provider, comes at the end with the smallest amount of quality content. Apart from being the cheapest out of six providers included in this particular analysis, it has by far the lowest number of movies and TV shows.
(Business Insider)
19. Hulu and Netflix have roughly the same monthly prices, around $11-13.
Hulu's ad-free version of monthly subscription comes at $11.99 per month, while Netflix has a standard HD plan of $12.99 per month. Hulu statistics also list an ad-supported pricing plan that is by half cheaper ($5.99/month). On top of this, Disney, the platform's owner, has created a bundle that includes Disney Plus, Hulu, and ESPN Plus, for a $12.99 monthly fee. Nonetheless, none of these is the cheapest or most expensive. The titles go to Apple TV Plus, with the lowest monthly fee of $4.99, and HBO Max, the most expensive one at $14.99.
(Business Insider)
20. Hulu's most important add-on remains Hulu +Live TV plan, with a price between $65 and $73 depending on the version.
A significant portion of profit stems from these add-ons, as Hulu stats confirm. Aside from allowing you to stream on multiple devices for $10 per month, additional services come with further customizations: you can purchase additional content, like Cinemax for $10 per month, HBO for $15 per month, Showtime for $11, and Starz for $9 monthly. Netflix, on the other hand, doesn't have the option for add-ons.
(Android Authority)
21. Hulu users can download up to 25 episodes or movies with the ad-free plan.
Otherwise, it's off-limits. By comparing Hulu vs Netflix statistics in this context, we see that the latter has a much better offer as users can download up to 100 titles, regardless of the plan. The only limitation is that, with the basic subscription, users can only download on one device at a time, which increases with higher tiers. Hulu's customers, on the other hand, can download across five supported devices.
(VPN Mentor)
Hulu Demographics
22. As of May 2021, 57% of Americans aged 18-34 had a Hulu subscription.
According to the Hulu subscription statistics, this is in strong contrast to those 65 years old or over, only 10% of which had subscriptions. Despite this disparity, roughly the same number of respondents in respective categories were aware of Hulu. An additional 19% of those in the younger group have not renewed their subscriptions, and 8% share their password.
(Statista)
23. About 52% of Hulu subscribers are female.
Hulu subscriber growth has been proportioned gender-wise, and the only other platform that can match its balance is Netflix, with 48% of male and 52% female subscribers. If we look at the other platforms, we see that CBS All Access has a larger male base, about 69%. The same applies to Discovery+ and HBO Max (62% and 61%, respectively).
(Morning Consult)
24. About 54% of all Hulu viewers belong to either Millennials or Generation Z.
Looking at the Hulu viewership statistics, the math is simple. Over half of the service's subscribers are young people. Divided between the two categories, Millennials account for 37% while Generation Z for 17% of Hulu's user base. Another numerous Generation is X, with the same number of subscribers as Millennials (37%). Lastly, Baby Boomers have a 19% share.
(Morning Consult)
25. 50% of Hulu viewership has an income of less than $50,000/year.
This makes them the largest group within Hulu's total subscriber base. The share of those earning between $50,000 and $100,000 sits at 31%, while those that earn over $100,000 per year make up 19% of Hulu's viewership.
(Morning Consult)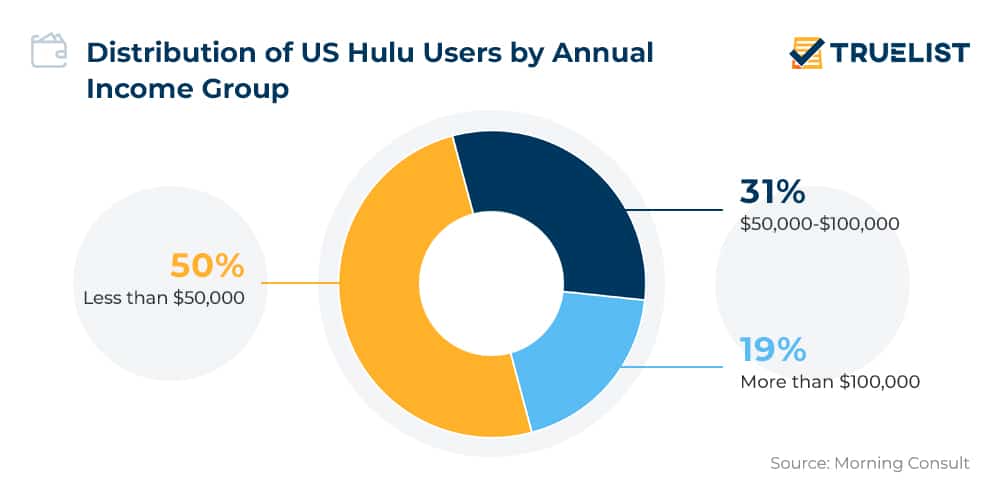 26. 38% of Americans aged 35-44 watch Hulu several times a week.
According to the latest available Hulu stats, those aged 35-44 represent the highest percentage of viewers, with 38% of the respondents saying they watch it several times weekly. Another 39% from the same group watch it every day, on top of 10% of those who watch it once a week. Also, the groups that watch Hulu the least are those over 65 and 18 to 34.
(Statista)
The Bottom Line
Consumers' interests are shifting from traditional television, Hulu statistics confirm. Streaming platforms are gaining significant momentum, allowing users to find what they are looking for without wasting time, making regular TV obsolete. Hulu net worth and subscription growth speak volumes about this fact. Not to mention that it's currently one of the biggest players in the world of online streaming services worldwide — despite being available only in the US and Japan.
Hulu FAQ
How many subscribers does Hulu have?
Hulu users statistics show that in Q3 of 2021, the platform had 42.8 million subscribers, up by 1.2 million from the previous quarter alone. For reference, in the last quarter of 2020, Hulu had 36.6 million subscribers, and at the beginning of the same year, it had 30.4 million, meaning the platform gained 6.2 million new subscribers in just one year. Meanwhile, Hulu has the smallest number of subscribers compared to the other two biggest streaming platforms — Netflix and Amazon Prime, with 183 million and 150 million subscribers, respectively. However, this platform is only available in Japan and the US.
(Statista, Forbes)
How many viewers can watch Hulu at once?
Even though you can install the app on as many devices as you prefer, the number of devices through which you can watch simultaneously depends on the plan. Hulu and Hulu+Live TV have the option to watch it on two devices at the same time. However, by activating an add-on, Hulu+Live TV users can access the platform through an unlimited number of devices.
(Hulu)
When was Hulu founded?
According to Hulu statistics, the platform was founded in 2007, and its ownership structure consisted of Fox, Comcast, and Disney. By acquiring 21st Century Fox in 2019, The Walt Disney Company obtained a 60% stake in Hulu. Following these events, AT&T sold its 10% share to Disney as well. In the end, even Comcast succumbed and signed a deal to hand over its 33% stake in Hulu.
(Hulu, The Verge)
Sources: Dun & Bradstreet, Comparably, Second Measure, Statista, Variety, Hulu, Marketing Business Review, Statista, eMarketer, Statista, Security, Cord Cutters News, Antenna, Media Post, Statista, Hulu, Antenna, Fierce Video, eMarketer, The Streamable, Android Authority, Business Insider, Android Authority, VPN Mentor, Statista, Morning Consult, Statista, Forbes, Hulu, Hulu, The Verge