MLM Statistics – 2023
Last updated: 07.01.2023
•
You have probably heard about the infamous pyramid schemes. Sometimes, multi-level marketing businesses are inaccurately referred to as such. But, in fact, this type of business is more known as network marketing or direct sales. With the rise of social media in the modern age, this type of marketing is gaining momentum again. Although there is a lot of skepticism around these organizations, here are some MLM statistics to get you better acquainted with all the benefits and downsides of this type of marketing. 
MLM Statistics (Editor's Choice)
Over 20 million Americans participate in MLM or have done so in the past. (

Cision PR Newswire

)

One-third of MLM participants ended up being part of the network through friends. (

Viva Fifty

)

89% of top salespeople consider social media important in closing their deals. (

SuperOffice

)

With $40.2 billion in direct sales, the US is the global MLM leader. (

Statista

)

The global multi-level marketing software market is set to grow at an $8.3% CAGR between 2021 and 2029. (

Globe Newswire

)

75% of direct selling participants in the US in 2020 were women. (

Statista

)

About 25% of those who work with MLM make a profit. (

The Balance SMB

)
General Network Marketing Statistics
1. Over 20 million Americans participate in MLM or have done so in the past. 
According to facts about network marketing, a lot of Americans are already part of multi-level marketing. About 90% of them joined to make some money from what is essentially a $36-billion industry. 
(Cision PR Newswire)
2. 10.5 million people globally work in the network marketing field as their full-time job. 
It's only a small number, considering that the other 42.9 million consider it a side gig where they earn some additional money. 
(SaaSWorthy)
3. 69.6 million people in Asia were involved in direct sales, pre-Covid. 
Before the pandemic, Asia was the largest market based on the number of salespeople in the MLM industry, statistics show. Next were the Americas with 33.7 million people involved with the direct salesforce, followed by Europe (14.5 million), and Africa (7.6 million). 
(Epixel MLM Software)
4. Two-thirds of participants in MLM would not join the same or another organization again. 
Network marketing facts suggest that not everyone is satisfied with MLM. A lot of people drop the job, with some of them feeling strange pitching products and services to family members and friends (39%). Four out of 10, however, claim that the company misled them about their future financial success. 
(AP News)
5. One-third of MLM participants ended up being part of the network through friends. 
Network marketing stats indicate that many people end up being recruited by their friends and family. 34% of MLM participants were recruited by a friend, while 12% came to the network through family members. This means that people who want to engage in this type of direct sales need to be sure they are comfortable selling and making business with friends and family. 
(Viva Fifty)
6. The US is home to the top three most profitable MLMs, with joint revenue of about $19 billion. 
Amway, with $8.8 billion in revenue, Avon, with $5.7 billion, and Herbalife, with $4.5 billion, are the top MLM companies, all located in the US. MLM statistics point to Mary Kay Europe and Vorwerk as the next top companies, which come from Germany and have revenue of $4.2 and $3.5 billion, respectively. 
(Codeless)
7. Herbalife had to pay $200 million in fines and restructure its business to solve charges from the FTC in the US. 
The Federal Trade Commission fined Herbalife in 2016 due to misleading actions against consumers regarding their potential earnings. To comply, they had to reorganize their compensation plans. As a result, they reward actual product sales more than recruiting downline members, statistics on network marketing show. 
(Family Finance Mom)
8. Advocare was fined $150 million by the FTC over false claims. 
On top of that, the company had to stop working in the multi-level marketing business permanently due to false claims about offering a life-changing financial solution for individuals who want to earn unlimited income and quit their job. 
(Family Finance Mom)
9. Amway's top distributor sells or moves about $2 billion worth of products through his network each year. 
Dexter Yager is a top distributor for Amway and one of the most famous MLM success stories. According to network marketing industry statistics worldwide, his network was so large that at one point, it included 50% of Amway's total global distributors. 
(Codeless)
10. There is a 7% chance for MLM participants to go bankrupt. 
Although the MLM success rate could be high, those involved in MLM have a higher rate of potential bankruptcy, namely 18% vs. 11% for those that haven't been involved in this type of direct sales. About 72% of surveyed bankrupted people did so after entering network marketing. Then, 4% declared bankruptcy while network marketing. 
(Codeless)
11. 46% of Americans accept contacts from direct sellers on social media platforms. 
Social media is one of the most effective platforms for promoting brands, according to influencer marketing statistics, but also for generating leads in MLM. Statistics on multi-level marketing suggest that nearly half of all surveyed Americans would accept requests from direct sellers on these platforms. 
(Codeless)
12. 72% of sellers who use social media surpass their sales quota. 
Social media plays a big part in network marketing growth. As many as 72% of sellers who use social media to contact people exceed their sales quotas by almost 23%. The same percentage outperforms those that don't use social media in their sales strategies. 54% of surveyed individuals meanwhile have connected completed deals with their engagement on social networks. 
(StartupBonsai)
13. 89% of top salespeople consider social media important in closing their deals. 
Statistics on network marketing reveal that the majority of best salespeople use social media and find them crucial to their work. 70% of sales professionals are active on LinkedIn for business purposes, while 64% are active on Facebook for the same reason, and 43% are on Twitter. 
(SuperOffice)
14. 7% of direct sellers are aged 18-24. 
In 2020, some 7% of the participants in network marketing were Generation Z. Millennials, aged 25 to 34, comprise 19% of the direct selling force globally. Next, 26% of those who participated were 35-44 years old, network marketing stats confirm. Following that, 25% of direct sellers were 45-55 years old. Finally, 23% were aged 55 or more. 
(Epixel MLM Software)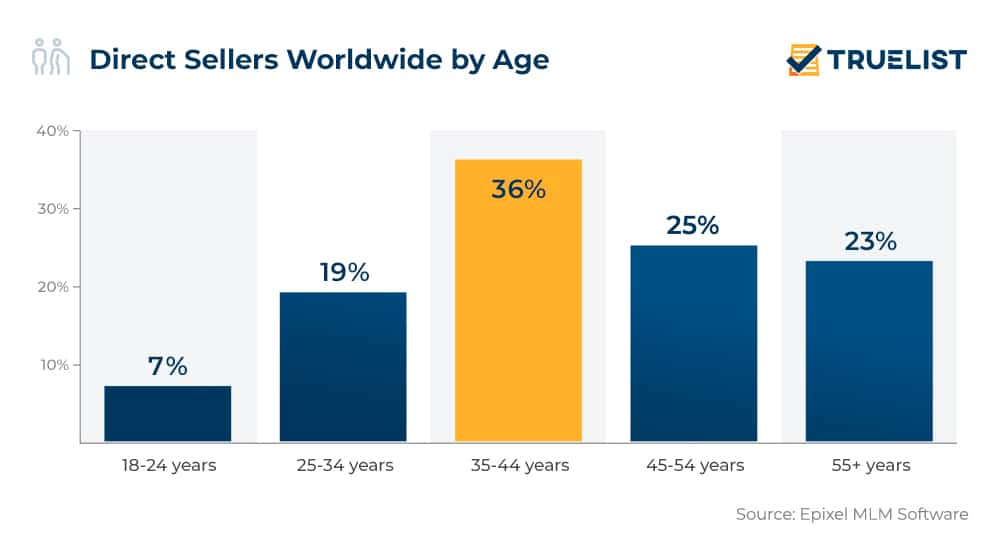 15. With an average score of 46, Amway remains the leader for web search trends among the top five MLMs. 
It's followed by Natura (43), Herbalife (41), Vorwerk (4), and Infinitus (1). However, Natura was the company that achieved the maximum popularity score in 2020, with a score of 100. In the US, the most popular are Herbalife (50), Amway (40), Natura (2), Vorwerk (1), and Infinitus (1).
(Epixel MLM Software)
16. 83.87% of surveyed people would consider direct selling as a good part-time work opportunity. 
Network marketing statistics show that most people think of it as a solid business opportunity for part-time work. This indicates that while most people wouldn't consider this good enough for a full-time job, they still see it as a nice way to supplement their income. Some of the reasons probably include flexibility and the option to work remotely. Namely, when asked if they would love to work with flexibility, after their retirement period, 74% of surveyed people said yes. 84% meanwhile confirmed they love working remotely. 
(Epixel MLM Software)
Network Marketing Industry Statistics
17. With $40.2 billion in direct sales, the US is the global MLM leader. 
Based on MLM profit, the US reigns supreme. Coming in second, China generated $19.18 billion in the same period, followed by Germany with $17.97 billion. Next on the list are South Korea ($17.75 billion), Japan ($15.41 billion), Brazil ($8.25 billion), Malaysia ($6.98 billion), Mexico ($5.28 billion), France ($5.13 billion), and Taiwan ($4.46 billion). 
(Statista)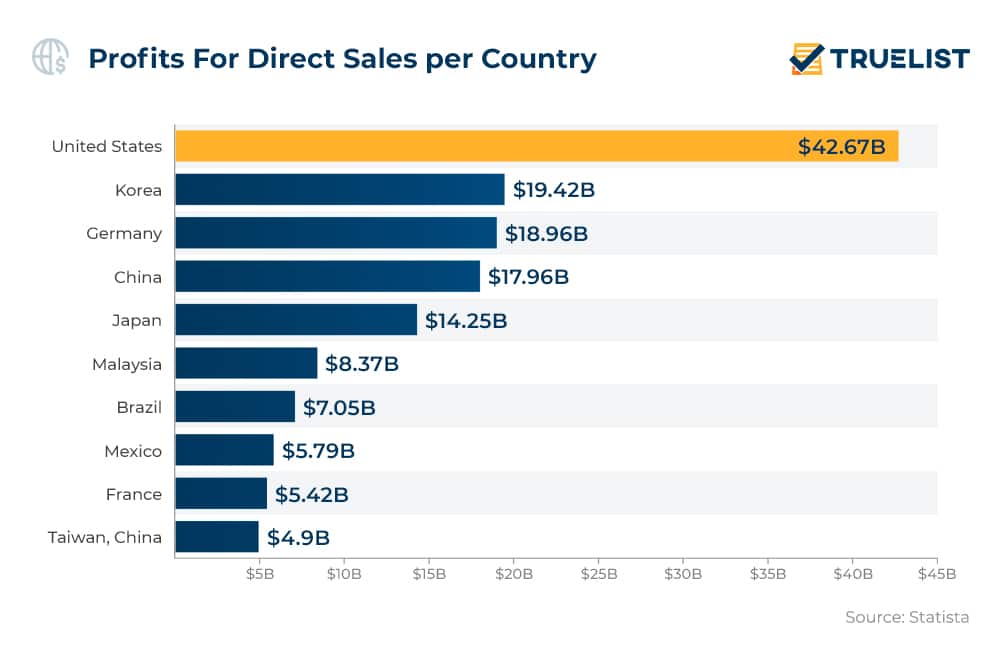 18. The global multi-level marketing software market is set to grow at an $8.3% CAGR between 2021 and 2029.  
Thanks to the growing network marketing market, the demand for sales management software is also on the rise. The Asia Pacific is among the leaders in the global software market for this marketing segment, followed by Europe and North America, with revenue shares of 19% and 20%, respectively. MLM industry statistics reveal that China is the leader in the Asia Pacific MLM software market, thanks to its leading share in network marketing. 
(Globe Newswire)
19. The wellness segment accounted for 34% of the multi-level marketing software market's revenue in 2020. 
The wellness segment drives most of the network marketing industry growth, especially in the multi-marketing software market. Rising concerns about wellness and health globally underpin the demand for cosmetics and personal care products. For Amway, these products account for over 60% of its portfolio. 
(Globe Newswire)
20. With $8.8 billion, Amway is the most profitable direct sales company of all time. 
MLM success statistics reveal that Amway stands at the top of the most popular and profitable companies in this field. It mostly deals with nutrition and makeup products and covers a palette of brands like Artistry, iCook, eSpring, Nutrilite, and many more. Amway has 17,000 global employees.
(Title Max, Amway)
21. In JR Watkins, every product sold in retail sales gets the seller about 20-30% commission. 
Founded back in 1868, JR Watkins is probably the oldest MLM. First, sellers for this company went door to door, and later on, adopted a multi-level marketing model. The company specializes in high-quality personal care products and food.
(OnlineMLMCommunity, Bestpreneur)
22. Network marketing turnover grew 2.3% between 2019 and 2020. 
MLM statistics show that approximately 47 out of 70 markets worldwide registered positive retail sales growth. In the network marketing industry, the top three largest markets were the US, China, and Germany.
(Epixel MLM Software)
23. 68% of the top 100 network marketing companies registered a positive revenue increase. 
Network marketing industry statistics show that the majority of the top 100 global direct selling companies have positive revenue numbers. Out of these, 55% are based in the US, while 12% have HQ in China. 
(Epixel MLM Software) 
24. Avon has the largest US direct salesforce, made up of 6.4 million individuals. 
Next to Avon, Herbalife has the largest salesforce in the US, or 4.5 million people, followed by Mary Kay with 3.5 million. Tupperware has three million salespeople, while Nu Skin has 1.2 million. Other noteworthy companies include Amway (with 1 million), Noevir Group (one million), Arbonne (668,843), Jafra (600,000), and Nature's Sunshine (500,000). 
(Epixel MLM Software)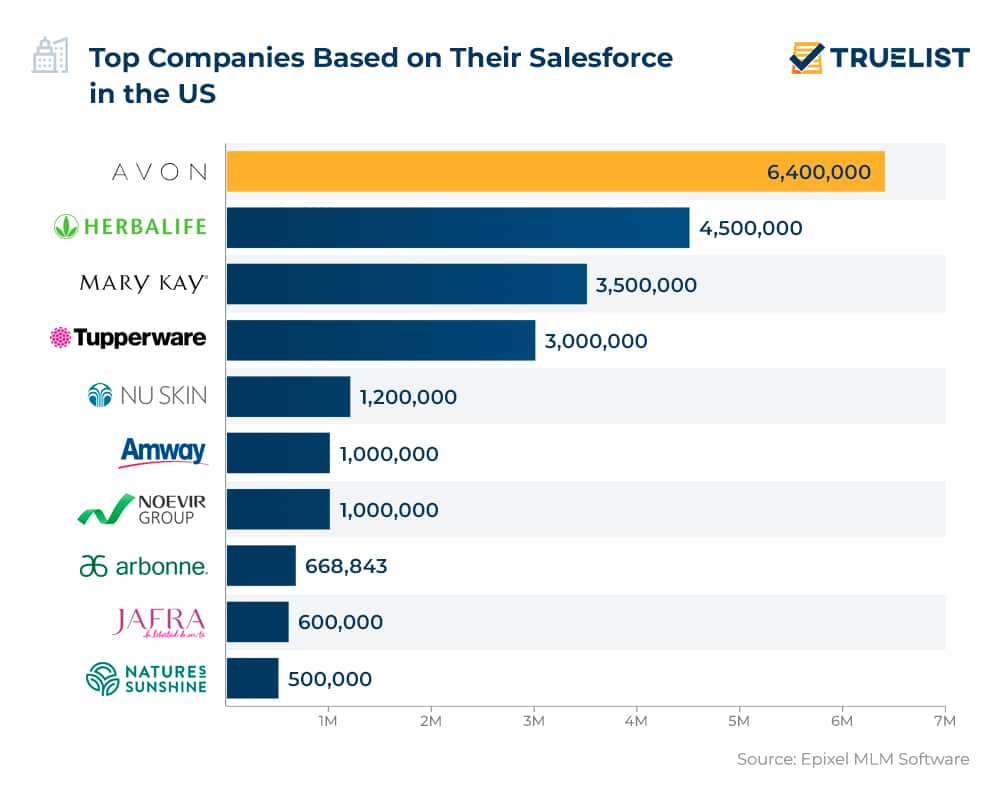 Women in Network Marketing Statistics
25. 75% of direct selling participants in the US in 2020 were women. 
Based on the data on MLM demographics for this segment in the US, women are predominantly involved in direct selling. Men meanwhile comprise only 25% of direct sellers. 
(Statista)
26. Around 75% of women participants in MLM have no experience in commission-based sales. 
Not only are the majority of MLM sellers women, but most of them start with no experience in the industry. Education-wise, 66% of MLM participants were found to have attended college or graduated from it vs. 60% of those who have never had this type of job, multi-level marketing statistics show. 
(AARP Foundation)
27. Roughly 2.7 million women in India work in network marketing and direct selling. 
The network marketing industry seems to be characterized by strong female participation. The total involvement of women in India in the labor market is about 23.3%. MLM comprises 53% of the total women involved in the labor market in the country. 
(Codeless)
28. In Europe, women comprise 84.9% of direct sellers. 
MLM statistics suggest women are typically more involved in network marketing than men. In Europe, it's 84.9% vs. 15.1%. That's the largest percentage in favor of women. In the Americas, 80.2% of women are part of network marketing, as opposed to 19.8% of men. In Asia-Pacific, it's 68.5% vs. 31.5%, while in Africa and the Middle East, it's 63.8% vs. 36.2%.
(Epixel MLM Software)
MLM Profit Statistics
29. About 25% of those who work with MLM turn up a profit. 
According to the AARP Foundation's network marketing success rate metrics, a quarter of MLM participants are in the black. This, however, is not a very large percentage and many people don't make money at all — 27% break even, while 50% end up losing money. 
(The Balance SMB)
30. Only 0.05% of MLM participants earn about $100,000 and more from their activities. 
MLM income statistics show that out of the quarter of those who make a profit in this segment, very few earn a lot of money. Some 3% earn $25,000 and more. Another 3% earn between $10,000 and $24,999. 6% earn between $5,000 and $9,999, and 14% make less than $5,000. 
(The Balance Small Business)
31. 95% of MLM participants quit within the first 10 years. 
The MLM failure rate is in fact quite large, with 95% of participants quitting in the first 10 years. However, about 30% of small businesses survive at least 10 years. Another study shows that half of all participants in the MLM business model quit after only one year. 
(Due)
32. Only 40% of MLM participants claim they received a copy of the company's income disclosure statement. 
Network marketing income statistics from the AARP Foundation show that less than half of participants received the income disclosure statements from the company they work for. Of those who did, 16% claim that they felt it was very accurate, and 50% thought it was fairly accurate. On the other hand, 24% said it was fairly inaccurate, while 9% said it was not at all accurate. 
(The Balance Small Business)
33. Total expenses for an effective campaign for recruitment-focused MLM comprise about $25,000.
It's not cheap to launch an effective business-building campaign, MLM facts confirm. MLM stats meanwhile indicate that costs include giveaways, internet, phone, products, incentives, advertising, computer supplies, and travel. 
(The Balance Small Business)
34. 66% of MLM participants invest $1,000 or less for training, inventory, and materials. 
24% of participants spend between $1,000 and $4,999, while 11% paid $5,000 or more. 23% don't even know how much they have invested. Ultimately, only four surveyed people claim they spend over $50,000. 
(The Balance Small Business)
35. Network marketing accounts for 20% of all millionaires globally. 
Network marketing has the potential to create millionaires. In fact, some authors claim it has more potential than any other form of marketing, including affiliate marketing which has emerged as a fairly popular way to make money. Network marketing millionaires statistics show that 20% of millionaires in the world come from network marketing. Moreover, 20% of global millionaires make a fortune through MLM, while tax evasion works for 20%. 
(ICTSD)
36. Andreea Cimbala and Igor Albers, network marketing partners, made a lifetime income of over $135 million from MLM. 
These two have amassed significant revenues with network marketing and similar ventures. However, later they were found to be dealing with questionable practices involving the MLM cryptocurrency business OneCoin, which turned out to be a Ponzi scheme. 
(Codeless)
The Bottom Line
Due to low starting costs, MLMs tend to be an interesting model of business to many, as evidenced by MLM statistics. Unfortunately, most people who think of it, think about pyramid schemes. However, this is not stopping the industry from growing at a fast rate. But, to be on the safe side, if you are considering such a venture, start with research about all the conditions and the standing of the company. This would save you a lot of money and time in the long run. 
FAQ
How big is the network marketing industry?
By 2025, the market is set to hit $237.63 billion, at a 6.5% CAGR. This growth is mostly accredited to the expansion and recovery of the companies following the COVID-19 impact. 
(Globe Newswire)
What percent of people are successful in MLM?
About 25% of people participating in an MLM are profitable, according to statistics on multi-level marketing. Then, 27% break even, which leads to about 50% of people who lose money. 
(Fundera)
Which MLM makes the most money?
Amway is one of the most profitable network marketing companies ever, with revenues of $8.8 billion. The company sells nutrition and makeup brands like iCook, eSpring, Nutrilite, and Artistry. 
(TitleMax)
Which country is no 1 in network marketing?
According to MLM statistics, the US is the leader in this segment. Namely, in 2020, direct sellers accumulated $40 billion worth of sales. With nearly $20 billion in direct sales, China is second on the list, followed by Germany, with almost $18 billion. 
(Statista)
Sources: Cision PR Newswire, Viva Fifty, SuperOffice, Statista, Globe Newswire, Statista, The Balance, SMB, SaaSWorthy, Epixel MLM Software, AP News, Codeless, Family Finance Mom, StartupBonsai, Title Max, Amway, OnlineMLMCommunity, Bestpreneur, AARP Foundation, Due, ICTSD, Globe Newswire, Fundera