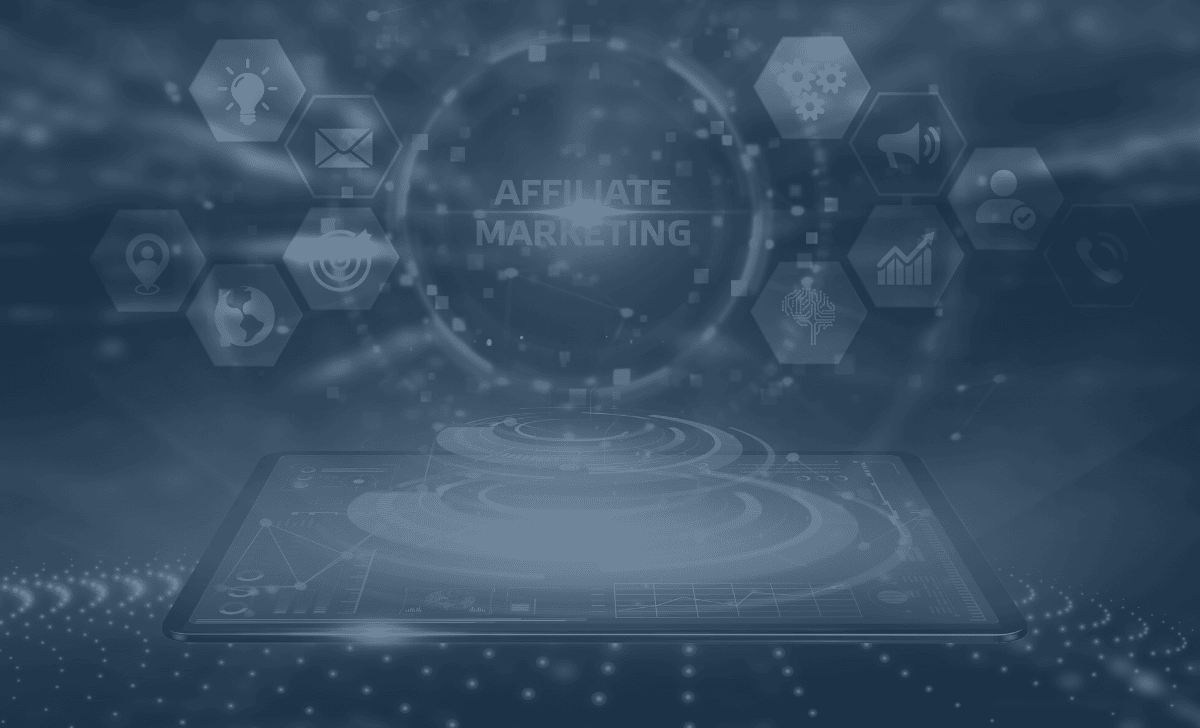 Affiliate Marketing Statistics – 2023
Last updated: 07.01.2023
•
Are you tired of working nine to five? Ready to become the next big entrepreneur? The good news is that the world has invented affiliate marketing, an advertising model where you can earn a commission in exchange for promoting products and services sold by other businesses. What's even better is that it takes little or even no initial investment. All you need is your own blog or website, some writing skills, and our list of affiliate marketing statistics below.
Affiliate Marketing Statistics (Editor's Pick)
Over 80% of brands have affiliate programs. (

Influencer Marketing Hub

)

America is the biggest player in the

affiliate industry

with a 39% share. (

Software Findr

)

Nearly 65% of affiliate marketers generate traffic by blogging.

(

Awin

,

BlogginX

)

94% of publishers use multiple affiliate marketing networks. (

Affise

)

Advertisers generate between 15% and 30% of all sales from affiliate programs. (

BlogginX

)

Affiliate marketing is responsible for 16% of global ecommerce sales. (

Fetch Profits

)
General Affiliate Marketing Stats & Facts 
1. A staggering 94% of publishers use multiple affiliate marketing networks.
Successful affiliate marketers and publishers might have started their journey by subscribing to one network only, but the latest affiliate marketing trends show they should be present on as many networks as possible to reach a maximum number of affiliates. A recent study coming from one of the biggest affiliate networks in the world, Rakuten Marketing, reveals that 9 out of 10 publishers rely on two or more affiliate programs. 
(Affise)
2. Nearly a quarter of all affiliate programs are in the fashion industry.
Affiliate marketing industry trends show that fashion accounts for 23% of all affiliate programs and is the leader in the industry. Sports and outdoor are ranked second with 18%, followed by health and beauty with 14%. For influencers or bloggers planning to expand or start a new niche blog, it is good to know that other industries with good rankings include travel (10.47%), home and garden (8.7%), and computers and electronics (6.65%).
(AM Navigator)
3. 40% of online marketers consider affiliate marketing a crucial skill.
Affiliate marketing facts and stats reveal that nearly half of online marketers believe that affiliate marketing skills are a must-have for anyone hoping to build any sort of online career today. Next on the list of essential abilities comes mobile marketing, followed by digital strategy, and integration planning.
(BloggingX)
4. 79% of marketers use affiliate marketing to engage existing customers.
Affiliate marketing statistics further show that 83% also use it to increase overall brand awareness. In other words, the industry is the go-to place for marketers looking for ways to not only boost online purchases but also improve their conversion rates and work on customer relationship management.
(Get Cake)
5. More than 80% of brands have affiliate programs.
Since it requires little to no investment, affiliate marketing is incredibly popular among branding agencies and publishers alike. Advertisers only pay for what they get, as it is a form of marketing based on performance. Brands around the world have become so dependent on affiliate marketing that 8 in 10 brands run such programs.
(Influencer Marketing Hub)
6. 64.48% of affiliate marketers generate traffic by blogging.
Affiliate marketers are not necessarily bloggers, but seeing how effective blogging is, 64.48% of them rely on good content to boost their campaigns, as blogging stats reveal. Plus, content creates three times more leads than ads and costs 62% less. Blogging affiliate marketing statistics further show blogs have become an integrated part of affiliate marketing strategies which is why their usage has grown by 175%. Successful affiliate marketers further report a 240% revenue increase thanks to content marketing. 
(Awin, BlogginX)
7. Affiliate programs are the top customer acquisition channel for 40% of US merchants.
Global affiliate marketing statistics show the US as the cradle of affiliate marketing. More than 40% of marketers in the country say affiliate programs are their top customer acquisition channel. Additionally, a BI Intelligence study has found affiliate marketing is one of the fastest-growing sources of revenue for online retailers.
(Inc.) 
8. With 18.15%, product or service relevancy is the leading factor for marketers to choose a program.
Before choosing a program to work with, top affiliate marketers consider many factors. Affiliate marketing industry statistics show that service and product relevance is the first thing marketers like to consider. The reputation of the affiliate marketing program influences their decision with 15.97%, the tracking platform with 11.58%, while merchant reputation has a 10.14% impact on the final decision.  
(Social Media Today)
9. 50% of affiliate-referred traffic comes from mobile devices.
Mobile devices are bringing an ever-increasing amount of affiliate-referred traffic, according to mobile affiliate marketing statistics. More than 50% of it comes from mobile platforms, on the back of the rapid and continuous development of digital technologies and smartphones. Obviously, with the widespread use of mobile devices, the pool of people ready to use them to purchase goods and services is also rising. 
(Call Hippo)
10. Just under 68% of affiliate marketers connect with customers on social media. 
Social media offers a unique opportunity for affiliate marketers to promote products and services in niche-specific groups by including photos, delivering quality content, and promoting catchy offers through which they build lasting relationships with customers. Affiliate marketing trends reveal that although at present 67.32% of affiliate marketers already use social media such as Facebook, Instagram, or Twitter to connect on a more personal basis with their prospects, in the upcoming years this percentage is expected to increase.
(Enterprise Apps Today)
11. 74% of US online shoppers check multiple affiliate websites prior to deciding on a purchase.
Affiliate marketing research indicates that the majority of online shoppers in the US check several different affiliate websites before they make the final decision to purchase a product or a service. It seems that American consumers like to play it safe by diversifying the risk of overpaying for any product or service. 
(Cyber Cash Worldwide)
Affiliate Marketing Industry Statistics 
12. In 2019, affiliate marketing reached $6.4 billion in turnover.
Revenue from affiliate marketing is increasing year after year, and according to the affiliate marketing industry report, it reached $6.4 billion in turnover in 2019 alone. Since 2010, this number has been increasing gradually and it amounted to just $1.6 billion in 2010.
(Statista)
13. Affiliate marketing is estimated to be worth $12 billion globally. 
Global affiliate marketing statistics show that the industry is currently estimated to be worth $12 billion. Another proof that affiliate marketing is becoming a massive global industry is that digital media have no problem allocating 15% of their revenue for it.
(BloggingX)
14. America is the biggest player in the global affiliate marketing industry with a 39% share.
If we look at the affiliate marketing industry by country, the US holds the largest share of the global market. The UK comes in second with 15%, and Germany completes the top three with 11%. 
(First Site Guide)
15. ShareASale holds the largest share (55.7%) of the global affiliate marketing market.
The top affiliate marketers show strong favoritism towards ShareASale which leads the market share with 55.7%. Affiliate marketing statistics further point to Rakuten LinkShare as the second-favorite affiliate network for marketers with a 40.64% market share, followed by Avangate with a 31.08% share, and eBay Network with 30.32%.
(Webinar Care)
16. The affiliate industry is responsible for a total of 16% of online orders. 
The percentage might seem insignificant but if you compare it to the rates of other marketing techniques, the number is quite solid. Paid searches, for example, drive 20% of online orders which is nearly the same as orders delivered by other techniques such as email marketing.
(Uniquodo)
17. Affiliate marketing is responsible for 16% of global ecommerce sales.
Affiliate marketing statistics show that the industry generates around 16% of all ecommerce sales globally. So 1 out of 10 ecommerce sales in the world happen because of the good practices of successful affiliate marketers. 
(Fetch Profits)
Affiliate Marketing Revenue & Earnings Statistics 
18. Affiliate marketing statistics show 73% of merchants believe affiliate marketing programs meet their revenue expectations.
Data shows that the vast majority of merchants are more than happy with the results of the affiliate marketing programs they invested in. This marks more than double the publishers who are satisfied with the revenue generated through affiliate marketing. 
(Fetch Profits)
19. 65% of merchants report an annual affiliate marketing revenue of between 5% and 20%. 
Affiliates have become a convenience for merchants. Around 65% report they are happy with the fruits of their investment while affiliate marketing stats reveal the size of their annual revenue ranges from 5% to 20%. More good news is that 60% of large merchants generated affiliate marketing earnings amounting to $5 million or more by investing smartly in the right affiliates. And all this happened after dedicating 5 years to this type of marketing.
(BloggingX)
20. 86% of publishers expect their affiliate marketing revenue to stay consistent or increase in the future. 
Affiliate marketing facts suggest that nearly 90% of publishers expect to see a steady flow or a significant increase in their affiliate revenue further emphasizing the effectiveness and reliability of affiliate marketing. Meanwhile, a whopping 91% of merchants plan to keep or increase their affiliate marketing budgets, according to a report by Viglink.
(Fetch Profits)
21. Affiliate marketers make $89,162 a year on average.
There is a significant difference in affiliate marketing earnings in this profession. Those who make the least, make $58K annually, according to affiliate marketing stats. On the other hand, affiliate marketers who earn the most, make $155K per year. As the Glassdoor's data indicate, it's even possible to make $284K per year, which sounds almost impossible.
(Glassdoor)
Conclusion
Affiliate marketing is a great way to earn some money by promoting other people's services and products. Compared to other marketing methods, this process is far less time-consuming. The best part about it is that you can relax in the comfort of your own home and watch as your paycheck gets bigger. Breaking into new markets and boosting traffic are just some of the advantages of affiliate programs, as our list of affiliate marketing statistics confirms. And given that, unless the desired action has taken place, you won't need to pay a dime, it becomes all the more clear why the future of affiliate marketing is bright. 
Sources: Influencer Marketing Hub, Software Findr, Awin, BlogginX, Affise, Fetch Profits, AM Navigator, Get Cake, Inc., Social Media Today, Call Hippo, Enterprise Apps Today, Cyber Cash Worldwide, Statista, First Site Guide, Webinar Care, Uniquodo, Glassdoor