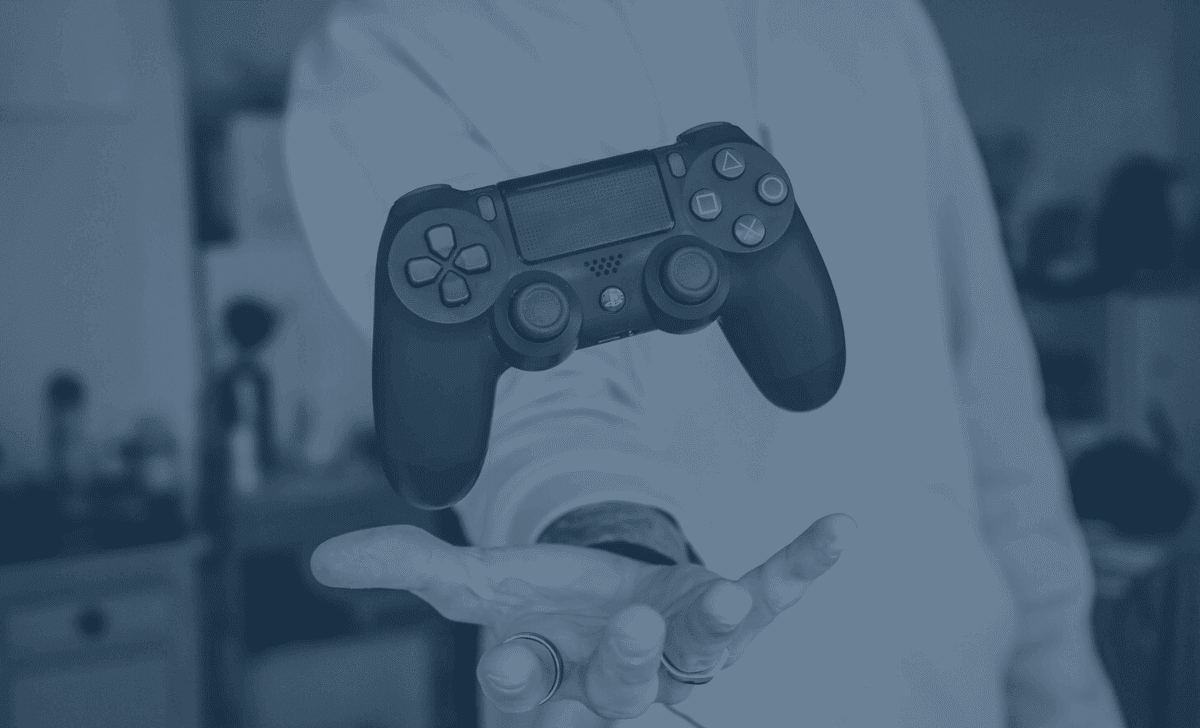 Gaming Statistics
Last updated: 04.01.2022
•
With a worth of around $300 billion, the gaming industry is on a winning streak. The biggest share of this is mainly due to the advent of mobile games and, lately, the COVID-19 pandemic. Aside from the sheer industry size, its effects are helping shape up entertainment and culture. So, if you want to work in the industry or are simply passionate about games, check out these gaming statistics. They might help you define your next steps or learn more about this exciting field.
Gaming Statistics (Editor's Choice)
Approximately

3 billion people worldwide play video games.

Today, 83% of video game sales happen in the digital world.

In 2020, the value of the video gaming sector was $159.3 billion.

Around 85% of all gaming revenue comes from free-to-play games.

There were around 80 billion mobile game downloads in 2020.

By 2022, the PC gaming sector alone will accumulate $39.5 billion.

People between 21 and 35 comprise 35% of gamers globally.
General Statistics on Gaming
1. About 3 billion people worldwide play video games.
Whether building an empire or catching Pokemons, many of us have downloaded or played some video games in our lifetime. Around 38% of the world's population plays video games. In 2018, players in the US comprised 66% of the general population.
(Newzoo, Nielsen)
2. Six in 10 gamers played online multiplayer games more frequently during the pandemic.
According to gaming statistics during Covid, the share of new gamers multiplied quickly. For example, in Europe, the Covid lockdown sparked a feeling that gaming could replace some social activities. As a result, many gamers felt happier and less isolated. Because of this, indie titles such as Fall Guys: Ultimate Knockout and Among Us became extremely popular. Similarly, a platform for digital gaming, Roblox, attracted many young gamers craving a spot for digital hangout.
(Statista)
3. Online gaming audiences will surpass 1.3 billion people by 2025.
This would mark a surge from around one billion currently. China, Japan, and South Korea are leaders in this category, with the highest segment of gamers out of the entire population. Despite the recent trends of growth of online gaming, statistics confirm it was there all along, evolving over the course of years. From PC and consoles, we came to the intersection where MMOs are taking over. MMO stands for massively multiplayer online games, and its boom has been happening since the 2010s. Right about that time, large multiplayer online battle arena games, like Dota2, LoL reached high levels of popularity.
(Statista)
4. There are over 30,000 games available on Steam.
When it started, the platform allowed developers to publish their games on the website for a certain fee and a profit share. Although useful for bigger game companies, indie game developers didn't like it as much. Then the company introduced Steam Greenlight. which served as a polling station. Statistics on video gaming show that the community chose the games they wanted to play until eventually Steam Greenlight was replaced with Steam Direct.
(CS Agents)
5. Today, 83% of video game sales happen in the digital world.
Unlike now, back in the 2000s, when you wanted to purchase a video game, you had to go to a retail shop. Today, big publishers like Ubisoft, Electronic Arts, and Activision Blizzard benefit from digital distribution in many ways. The exponential gaming industry growth is partially due to the fact that these companies don't have to deal with manufacturing, packaging, shipping, and wholesale. Now it's sufficient to post your game through online channels, like Steam or Apple Store.
(Global X ETFs)
6. Over 227 million people in the US play video games one to a few hours per week.
Approximately 74% of US households consist of at least one member who plays video games. According to video gaming statistics, roughly 76% of Americans under 18 and 67% of adults play games. Even 7% of people older than 65 play video games. The average age of a video game player in the US is 31 years.
(ESA)
7. Around 58% of developers are creating games for PC.
PC remains one of the most popular platforms for developers to make games for. Sony, however, is leading over Microsoft in the console field. For reference, 22% of developers create games for PS4, and over 21% do it for Xbox One. Gaming stats further show that 27% are working on games for PS5 in the context of the next-generation consoles. Alternatively, 24% are working on Xbox Series X games. For users, however, mobile gaming is the most popular segment, with 48% of players engaging regularly.
(WePC)
8. SurfShark is rated as the best gaming VPN, with over 3,200 servers in 65 countries.
Other popular VPNs for gaming include CyberGhost or NordVPN. But you probably wonder why you need one. Well, these can benefit gamers in several ways. First, they can make it more difficult for rivals to use DDoS to attack other players. This service also provides a security layer.
(SurfShark)
Interesting Gaming Industry Statistics
9. In 2020, gamers were projected to spend $159.3 billion on games.
This implies a 9.3% increase year on year. Mobile gaming, meanwhile, was slated to deliver $77.2 billion in revenue or 13.3% growth. Console gaming, meanwhile, was forecast to grow 6.8%, while PC was set for a 4.8% surge. Finally, forecasts for the near future show that the gaming industry worth might reach $200 billion by 2023.
(Newzoo)
10. APAC and Latin America were on track for the largest growth of the video gaming industry in 2020.
The first region was set to rise by 10.3%, while Latin America was to follow with 9.9%. APAC's worth in 2020, based on statistics on video games, was projected at $78 billion. With its 49.2% value share in the industry, this region was big in this particular field. Next on the list with the highest share was North America with 25.1%. Europe was third with an 18.6% share.
(WePC)
11. The gaming industry is forecast to grow at a CAGR of 12% between 2020 and 2025.
Although people have been talking about VR for some time now, it's only now gaining prominence in the industry. Video gaming industry statistics indicate that in 2020, immersive gaming generated $4.5 billion. This, however, is just one of the drivers of the field. For instance, blockchain technology will also boost the growth of the industry. Its value lies in providing a useful tool to gamers for the decentralized asset exchanges, verifiable scarcity of collectibles and virtual objects, and secure payment networks.
(GlobeNewswire)
12. Online game revenues will reach nearly $23.8 billion in 2021.
As a matter of fact, this field will experience rapid growth, with a CAGR of 7.77% between 2021 and 2025. Online gaming industry statistics show that this will result in a market worth of over $32 billion by 2025. The average revenue per user will climb to $21.6. With that in mind and the fact that user penetration will probably reach 16.4% by 2025, we can say that the video game industry revenue growth is inevitable. China will lead the way with the most revenue generated there (over $5.5 billion in 2021).
(Statista)
13. Around 85% of all revenue in the digital game industry comes from free-to-play games.
This segment has been a leader in the industry for some time now. The digital market generated $109.8 billion back in 2018, sending a very good signal to Activision-Blizzard, Ubisoft, Tencent that their strategies are working.
(WePC, TweakTown)
Daunting Gaming Addiction Statistics
14. About 22% of gamers spend around 61-80% of their time playing multiplayer online games.
Multiplayer online games, or commonly known MMOs, or similarly role-playing games (RPGs), are some of the most addictive ones out there. One of the main reasons for this would probably be their inherent social element. To illustrate, players often interact with many people, compete in different challenges, and create new roles in which they can be someone else. According to video gaming addiction statistics, one of the most "hooking" games is Fortnite, with over 200 million players.
(The Recovery Village)
15. Between 1% and 10% of the population in North America and Europe suffer from Internet gaming disorder.
This figure varies across countries. For example, around 0.3% to 1% of adults in the UK, US, Germany, and Canada receive the diagnosis of IGD. Game addiction is common in many other parts of the globe, gaming addiction stats show. For instance, South Korea declared this issue a public health crisis, with over 600,000 children suffering from it. With 22.8%, Iran, however, has the highest game addiction rate. Age-wise, 8.4% of children and teens have problems with game addiction. And while gaming is considered a male-dominated domain, research indicates that women are more susceptible to addiction to mobile games than men.
(Healthy Gamer)
Mobile Gaming Statistics & Facts
16. There were around 80 billion mobile game downloads in 2020.
Gaming was an absolute leader when it comes to mobile downloads in 2020. For reference, about 36% of all mobile apps downloaded in 2020 were games. In total, 80 billion out of 218 billion of all apps. The mobile game industry will supposedly generate $120 billion from consumers in 2021, marking a 20% increase from 2020 and 50% more than PC, Mac, handheld, and console altogether. Finally, users played mobile games for 296 billion hours in 2020, which is a 35% increase year on year, as confirmed by apps statistics.
(App Annie)
17. By 2025, the mobile games industry will most probably reach $138 billion.
The figure above includes mobile gaming industry statistics for Apple Store and Google Play. The adoption of mobile gaming has accelerated at a significant level since the first smartphones. At one point, we had Angry Birds, and now, we have more advanced play-style games, like Pokemon GO and Fortnite taking over the world.
(Sensor Tower)
18. In the US, people usually have around eight games installed per device.
On a global level, people play two to five games monthly. The hours these users spend on games grow at a rate of 10% per year. In 2019, mobile gaming accounted for 10% of all user spending on apps. Mobile and video game usage statistics show that mobile games were on track to account for 60% of consumer spending by the end of 2019.
(TechCrunch)
19. In 2020, players spent 4.2 hours per day on Android mobile games.
This translates to 3.5 trillion hours, up 20% from 2019. For comparison purposes, people spent 3.7 hours watching TV at the same time. Despite the stereotype that only young people spend time on mobile games, it's not quite like that. For instance, in the US, Gen Z, Millennials, and Gen X/Baby Boomers spent 16%, 18%, and 30% more time in their most-used apps, respectively, than a year before. In line with the mobile gaming stats, core games accounted for 55% of the time spent on games.
(App Annie)
20. The most popular Android game app in the US is Clash of Clans.
For reference, it has nearly two million active users each day, making it one of the most "populous" games. Subway Surfers comes in second with around 1.95 million daily active users. Number three on the list is the well-known Candy Crush Saga with its 1.4 million active daily users. In fourth and fifth place, we have 8 Ball Pool and Temple Run 2, with 1.36 and 1.34 million DAUs, according to mobile gaming market statistics.
(Statista)
21. About 74% of American mobile gamers prefer to watch in-game ads if they get perks.
70% of Android users don't like mobile ads on websites and stores, but games are an entirely different story. 82% of mobile gamers in the US would rather play free games with ads than pay for mobile games to join. This doesn't mean that free games can't generate revenue; in fact, most of them rely on in-app purchases, which account for 95% of spending among mobile gamers.
(Business of Apps)
PC Gaming vs Console Gaming Statistics
22. Sony has sold approximately one million PlayStation 4 consoles in the Q4 of 2020.
Nonetheless, it didn't beat its 2019 figure, especially if we look at the total 2020 results when Sony sold around 5.8 million PS4 consoles, marking an all-time low. However, the biggest reason behind this was the launch of its latest generation, PS5, at the end of 2020. Sony's PS line of consoles ranks among the best in the industry. It is sufficient to say that five of its products rank on the list of top 10 highest selling consoles ever. An interesting fact is that PS2 ranks as the number one on the list, with 157 million units sold worldwide.
(Statista)
23. By 2022, the PC gaming industry alone will accumulate $39.5 billion.
Even in 2020, it was already quite popular among gamers. Not to mention the continuous appeal PC gaming has to gamers despite the increased popularity of mobile and console platforms. Its worth in 2020 was about $36.9 billion. PC gaming industry statistics further reveal that Steam is the most common platform for consumers.
(WePC)
24. The best-selling PC game of all time is PlayerUnknown's Battleground, with over 70 million copies sold worldwide.
PUBG has managed to acquire up to $10 million in sales at the turn of the year. On top of that, it sold over 10 million in the second half of 2018, reaching 50 million by the end of 2019. Apart from this success, people downloaded PUBG Mobile 600 million times. Likewise, it was about to surpass $1 billion in revenue (China excluded).
(PCGamesN)
Statistics on Video Gamers
25. The ratio of women to men owning consoles is 42% against 37%.
Despite existing gender stereotypes about gamers, more women than men have confirmed that they had Xbox or PSP in their household. However, this doesn't necessarily tell us a lot, since consoles are typically used by the entire family. Despite this vague data, gender gaming statistics still suggest that the number of females among gamers has been on the rise, meaning developers need to consider this when building a game by introducing strong female characters.
(GameSparks)
26. People between 21 and 35 comprise 35% of gamers globally.
Many gamers are older than that despite widespread perceptions. The diversification of games has impacted the shift in audiences as well. If we look at the figures, we notice that 22% of gamers worldwide are between 10 and 20, video gamers statistics show. On the other hand, 15% are older than 50.
(Statista)
27. About 74% of parents in the US played video games with their children on a weekly basis.
There are no conclusive facts about parents who are actual video game players. Still, the growth is evident, as, in 2020, 55% of parents played video games with their children. Compared to 2021, that is an increase of nearly 35%.
(ESA)
Gaming Statistics Worldwide
28. Around 40% of US gamers make in-app purchases.
Americans seem to be quite big on spending on the content in the games, which are typically free. In most cases, these in-app add ons help players pass some levels. Users further spent $35.8 billion on video gaming content in 2018. Likewise, consumers forked out about $6 billion on hardware and accessories.
(Statista)
29. The UK video game market reached over £7 billion in 2020.
Representing an increase of 29.9% year on year, this was a new record, beating the one from 2018. Gaming statistics for the UK show that the biggest winner of this year was Nintendo Switch. Namely, during the lockdown, Switch software registered an increase in sales of nearly 215%.
(Ukie)
30. The most popular strategy game in Malaysia was Mobile Legends: Bang Bang, with 35% of the urban population playing it in 2020.
Aside from being the most popular game in the strategy section, this category is also one of the most popular among the online urban population. The developer of the game, Moonton, is originally Chinese and represents a prime example of great market penetration in Southeast Asia, gaming statistics for Malaysia show. Similarly, all top five most sought-after franchises included games from foreign developers. For instance, over a third (36%) of people played the Mario franchise.
(Newzoo)
31. Over two-thirds of Australians play video games.
That makes up 62% of all adults of working age. As many as 78% of gamers are, in fact, over 18 years old. For reference, in 2005, the average age of game players was 24 years, and in 2015, the bar was raised to 34 years. Gaming statistics for Australia further show that the gender gap, meanwhile, has narrowed, reaching nearly a 50/50 ratio.
(Sydney Morning Herald)
32. In 2019, Filipino players won five medals in the eSports category at Southeast Asia Games.
As the industry gains strong momentum, eSports is becoming popular for online gamers. The sector accumulated $24 million in revenues in the Philippines during 2020. However, according to gaming statistics, the Philippines face a challenge — low internet speed. In comparison, average mobile and fixed internet download speeds globally were 33.71 Mbps and 76.94 Mbps, respectively. In the Philippines, by contrast, these numbers stood at only 31.44 Mbps and 22.5 Mbps.
(Statista)
33. Canada's video games industry is set to surpass $1 billion in revenue in 2021.
More specifically, video games in Canada are projected at $1.31 billion by the end of 2021. Mobile games are set to account for $658 million, 2021 gaming statistics for Canada show.
(Statista)
The Bottom Line
Gaming is one of the fastest-growing as well as the largest segments of the entertainment industry. With the growing online presence and increased digital literacy, many people will soon become gamers of some sort. However, the chances are that games are already everywhere around us. Or you know someone who doesn't have any games on their phone, right there in their pocket? Because gaming statistics show, that's very unlikely.
Sources: Newzoo, Nielsen, Statista, CS Agents, Global X ETFs, ESA, WePC, SurfShark, Newzoo, GlobeNewswire, Statista, TweakTown, The Recovery Village, Healthy Gamer, App Annie, Sensor Tower, TechCrunch, App Annie, Statista, Business of Apps, Statista, WePC, PCGamesN, GameSparks, Statista, Statista, Ukie, Newzoo, Sydney Morning Herald, Statista, Statista, Statista, Statista, Statista