Ever since 2004, Facebook has been gaining more and more popularity on a daily basis, with data showing that the number of Facebook users active every second stands at 20,000. While our beloved social media platform continues to grow, there is one thing that seems unlikely to change anytime soon, and that is its impact on our everyday lives. For this reason, we'll dig into some interesting Facebook statistics, covering both the personal and business aspects of the social network.
Facebook Statistics (Editor's Choice)
The number of

Facebook users

in the US is expected to reach 324.76 million by 2026. (

Statista

)

The

average time spent on Facebook

in 2020 was estimated at 37 minutes. (

eMarketer

)

Posts on Facebook get an organic reach of 6.4% likes. (

SocialMediaToday

)

CPC of Facebook ads currently stands at $0.986. (

Revealbot

)

350 million photos are uploaded on Facebook every day. (

WishPond

)

20 billion business-related messages are exchanged on Messenger monthly. (

Messenger News

,

Hootsuite

,

Facebook IQ

)
Must-Know Facebook Stats & Facts
1. Facebook is the most downloaded app of the last decade.
Seeing as how the Facebook family rules our digital platforms, it is no surprise that four of its apps are on the list of the most downloaded apps of all time. Facebook is additionally the most downloaded app of this decade.
(App Annie)
2. Facebook is in the top three most popular websites in the world.
Facebook statistics reveal that, with an average of 8.68 website page views per visit, the platform is ranked third and belongs to the holy trinity of the World Wide Web. As you might have guessed, with 8.68 website pages viewed per visit, Google is first and is the number one site in the world, followed by YouTube as the second most visited platform.
(Similarweb)
3. Facebook Inc. paid out $65 million to settle a lawsuit.
One of the many Facebook facts and controversies related to the origins and conception of the platform is the payout of a fat lawsuit. The story goes that after four long years, Mark Zuckerberg lost the case against Divya Narendra and the Winklevoss brothers, ex-classmates, and founders of the company ConnectU Inc. and was charged by the court to pay an incredible $65 million because he allegedly stole their idea.
(The Guardian)
4. Facebook facts and numbers show its data storage capacity is around 300 petabytes.
In the real world, this amount of storage would be equal to a physical cube of books of about 75,000,000,000 copies. Stacking these books in height from end to end would cover over 11,835.00 miles. Just imagine, 1 petabyte worth of data is equal to taking more than 4,000 digital photos every day of your life. And just for comparison, the Library of Congress has only 20 petabytes of storage.
(Tech25, Cobalt Iron)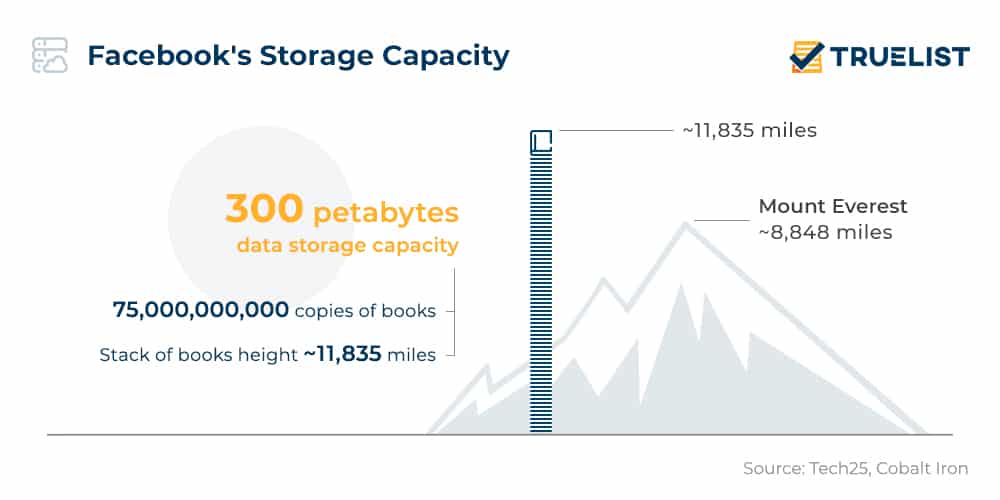 5. Facebook Marketplace is used by one out of three people in the US.
According to Mark Zuckerberg himself, Facebook Marketplace is used by 800 million people worldwide every month. Not only that, but the platform's monthly users are located in 70 different countries, according to Facebook Marketplace statistics. While the global audience is definitely something to brag about, he also pointed out that the Marketplace is used on average by one out of three Americans.
(CNet)
6. 350 million photos are uploaded on Facebook every day.
When you think about it, that's up to 15 million photo uploads every hour, 250,000 photos every minute, and over 4,000 photos every second. This statistics isn't really surprising, given the fact that the number of people who use Facebook has been gradually increasing throughout the years.
(WishPond)
7. Facebook Messenger ranks third among the most used social media platforms.
Did you know that WhatsApp is the most-used messaging app in 60 countries? And not only that, but according to recent Facebook stats based on Android App data, Facebook Messenger reigns supreme in 13 countries, which means that the Facebook app family takes the crown.
(Similarweb, We Are Social)
8. Messenger's audience in the US is expected to reach 138.1 million users by 2022.
In the US alone, there are 135.9 million Facebook Messenger users at the moment. The latest projections state the audience would grow by 2.2 million users by 2022, supporting constant Facebook growth. You also have to remember that Messenger is just a small piece of the cake when speaking about messaging apps as many Facebook statistics point out. 
(Statista)
9. 20 billion business-related messages are exchanged on Messenger monthly.
Over 20 billion messages are exchanged on Messenger each month between businesses and their prospective customers. On the other hand, if you don't always have the time to respond to them, you can always set up a bot to do the work for you. There are actually more than 300,000 active bots set up as we speak. Facebook traffic stats further confirm Messenger is used by 40 million businesses to communicate with their customers. It appears Facebook Marketplace is not the only channel marketers can use to engage with their customers.
(Messenger News, Hootsuite, Facebook IQ)
10. Increased Facebook usage leads to up to a 4.32% increase in divorces.
Psychologists have discovered a close correlation between social media and marriage problems. Experts say that extensive social media use can lead to relationship instability and sometimes even infidelity. And as Facebook and marriage problems statistics confirm, couples can sometimes get lost in the world of social media, often resulting in detachment from each other and leading to an increase in divorces by 4.32%. Computers in Human Behavior published a study that compared divorce rates to per-capita Facebook accounts, which showed that a 20% annual increase in Facebook usage was correlated to the rise in divorces of between 2.18% to 4.32%.
(CNBC)
Facebook User Statistics & Facts
11. The current number of monthly active users on Facebook is 2,936 million.
Given that ever since Facebook was founded, the number of users has been growing steadily and has been breaking records along the way, the number of users could soon reach an incredible 3 billion. Back in 2008, there were around 100 million users. That number jumped to 1 billion by the end of 2012, making Facebook the first social network to ever reach such jaw-dropping numbers.
(Statista)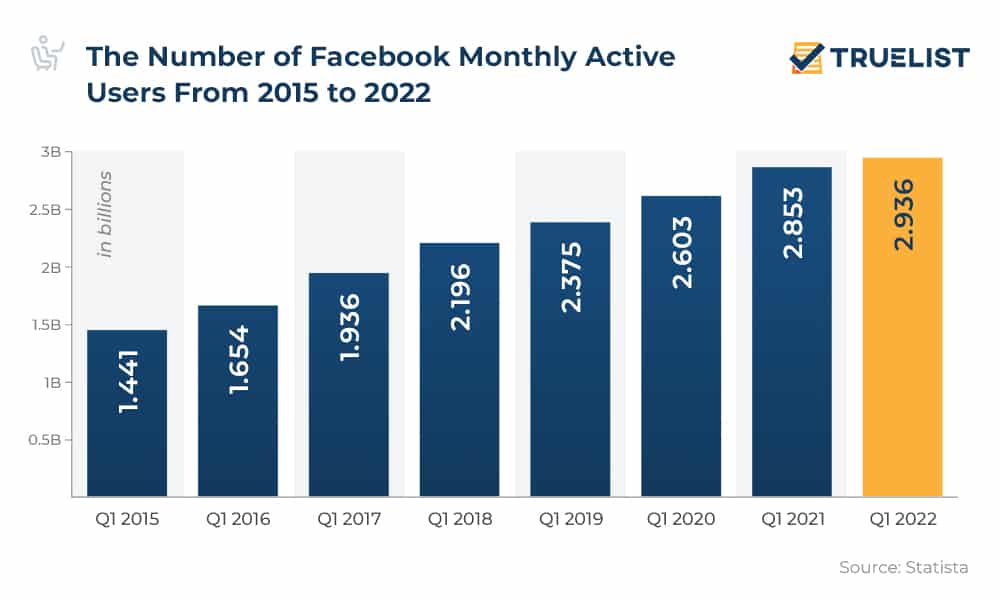 12. Nearly 1.9 billion people were daily Facebook users in March 2021.
Some Facebook statistics show that an incredible 1.88 billion were daily Facebook users in March 2021. So it's not just the number of monthly users that is high but daily too. And while the primary purpose of the notorious platform's use differs from one user to another, it is safe to say that people tend to use it to connect to others, right?
(Facebook)
13. With 329.65 million monthly users, India leads the pack of Facebookers.
The number of Facebook users by country shows the platform has the largest user base in India. Facebook usage statistics further reveal that over 300 million people use it there. By contrast, the US ranks second, with a significantly lower number of users, standing at 179.65 million. Regarding Facebook popularity and audience size, it appears this platform is very much used in countries such as Indonesia, Brazil, Mexico, and the Philippines.
(Statista)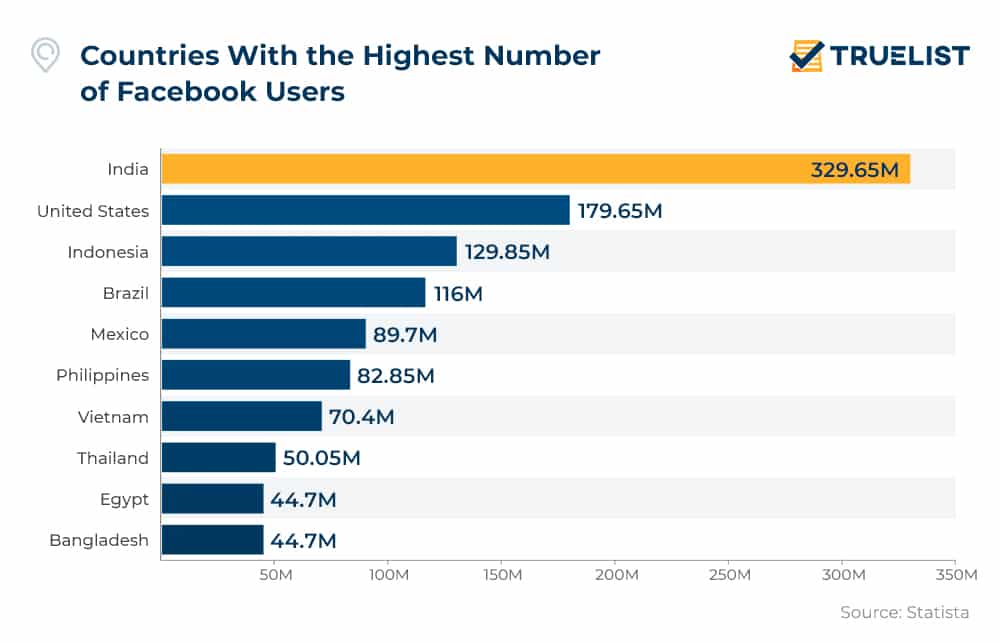 14. 16% of Facebook accounts are fake or duplicates.
Like every other social media platform, Facebook has been facing a lot of issues with fake accounts. Facebook usage statistics reveal that 11% of the accounts are duplicates while 5% are fake. And compared to 2015, when only 5% were duplicates and less than 2% were fake, it appears the percentage of fake Facebook users by year has been growing. According to the most recent estimates, around 275 million user profiles are fake or duplicates.
(Statista)
15. 98.5% percent of active global users accessed Facebook via any kind of mobile phone.
And another 81.8% access it only via mobile phone. According to Facebook stats, it looks like phones and tablets are definitely taking over desktops this year. The vast majority of users access Facebook using their mobile devices. Only 1.5% accessed it via laptop or desktop.
(Statista)
16. The number of Facebook users in the US is expected to reach 324.76 million by 2026.
Throughout 2020 the number of American Facebook active users hovered around 290 million, up from 282 million in 2017. The number has been growing exponentially over the years. According to projections and Facebook user stats, the number of users should reach an incredible 324.76 million by 2026.
(Statista)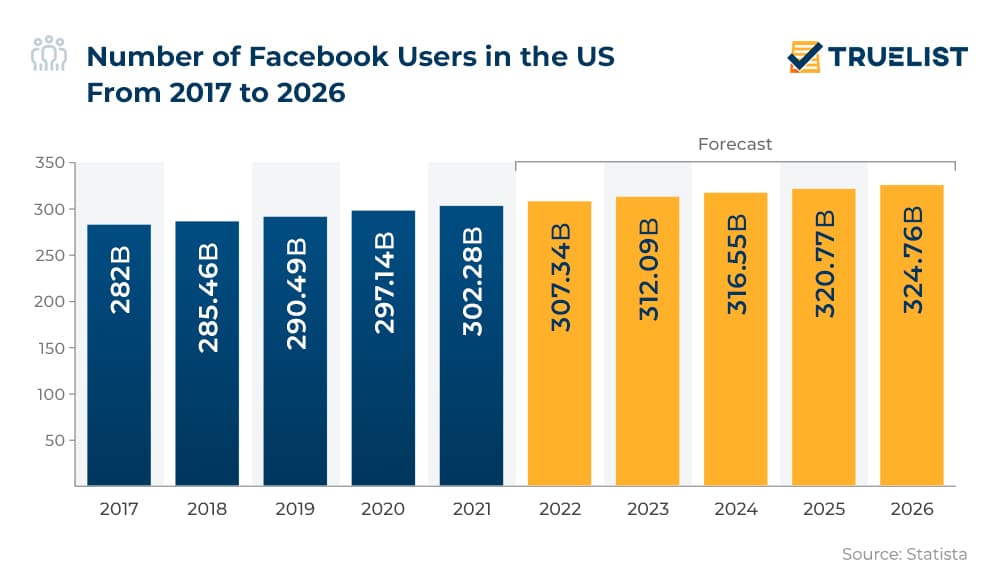 17. Facebook users by state show California has over 2.5 million active users.
And as such, according to a breakdown of US users, California wins by a long shot with the highest number of daily active users, followed by New York with a total of 2,204,280. The state with the lowest number of Facebook daily active users is Wyoming, with a user base of an underwhelming 31,420 people.
(Infogram)
18. Users prefer video streams to recorded videos.
Now, as far as Facebook video statistics go, you'll be surprised to hear that users watch up to 100 million hours of video content on the social network every day. Research, however, has shown that live stream videos have 3x longer watch times than prerecorded videos.
(TechCrunch, Wowza)
19. In the US, the average time spent on Facebook in 2020 was estimated at 37 minutes. 
The average US adult spent approximately 37 minutes on Facebook every day in 2020. Meanwhile, the average time spent on Facebook has been slowly decreasing, compared to 2017, when this figure stood at 41 minutes per day.
(eMarketer)
20. The average number of Facebook friends is 338.
Facebook statistics reveal users have an average of 338 friends on Facebook. While this number may seem higher than expected, you should also keep in mind that the median point is at 200. If we were looking for an average number of Facebook friends by age, this figure would change. For example, a person from 18 to 29 years old in Australia has an average of 400 friends, whereas users in the 65+ age group have just under 70 friends on average.
(Pew Research Center, Statista)
Facebook Demographics & Stats
21. With 1.45 billion female users, women dominate Facebook in the US.
This is yet another women-dominated sphere, which is in line with many studies that found females are more inclined to use social media than men. With 55%, women comprise the largest percentage of Americans on Facebook in the US. On the global level, the situation is somewhat different, with the majority of Facebook users, i.e., 56.3%, being male.
(NapoloenCat, Statista)
22. Demographics of Facebook users in the US show it is used by seven in 10 adults.
With a percentage as high as 69%, Facebook popularity, it appears, is the highest among adult US audiences. And since we are discussing the percentage of Americans on Facebook, it is also important to mention that 82% of college graduates are on Facebook, meaning Zuckerberg's idea about the platform was set to succeed from the very beginning. Another astonishing fact is that seniors aged 65+ or the Silent generation are the smallest demographic group on Facebook, represented with only 4.8%.
(Pew Research Center, Omnicore Agency)
23. Facebook user demographics show 51% of 13 to 17-year-olds use the social network.
The figure is down from 71% in 2015 when Facebook was truly popular among teenagers. Nowadays, 85% of teenagers say they prefer to use YouTube, while 72% say they enjoy spending time on Instagram. Snapchat statistics further reveal that for 69% of teenagers, this platform is the third most visited by this generation.
(Pew Research Center)
24. Data on Facebook users by age show American adults between the ages of 25 and 29 are the platform's biggest fans.
This percentage is also high for 18 to 24-year-olds, where 76% of US adults use Facebook, jumping to 84% for the 25-30 age group, which according to Facebook age demographics, is the highest percentage of active users for any age group. Then again, since 79% of 30 – 49-year-olds also use Facebook regularly, they're giving the younger generation a run for their money. Surprisingly, 68% of Americans from the 50 – 64 age group are also on Facebook.
(MarketingCharts)
25. The average age of Facebook users in the US is 40.5.
While the breakdown differs from one country to another, the average age of Facebook active users in the US is 40.5. In comparison, the average user's age in Lebanon is 29 years old.
(Chron)
26. Facebook group statistics show 70% of fundraisers on Facebook are created by women.
It appears female users take Facebook usage more seriously. Data shows that women are 40% more inclined than men to create groups that become meaningful to people. This claim is further supported by the stat that seven out of 10 fundraisers on Facebook are created by women.
(FB Investor Relations)
27. 66% of US adult Facebook users live in rural areas.
A recent survey shows three in four adult users of the social network in the US live in the city. Facebook demographics and user stats, however, point to a nearly equal distribution of Americans living in suburban and rural areas. In fact, 66% of US adults living in rural areas use Facebook. Compared to the extent to which they use other platforms such as YouTube (64%) and Pinterest (26%), it turns out that rural Americans are among the biggest Facebook fans.
(MarketingCharts)
28. 86% of households with an annual income of over $100,000 are active Facebook users.
From users with less than $30,000 to users with an income of over $100,000, Facebook statistics reveal this platform is used by workers and CEOs nearly equally. The percentage of people with an annual income between $30k and $60k and those earning between $70k and $80k is the highest at 88%. The lowest usage is among families with yearly $60k-$70k income — 81%.
(Khoros)
29. 36% of American users get their daily news from Facebook.
A recent survey exploring why people use Facebook has shown that one-third of adult users stateside get their daily dose of information from Facebook. Statistics say that women tend to look for information on the platform more than men. 63% of women use Facebook as their primary news source, compared to 35% for men.
(Pew Research Center)
Facebook Advertising Statistics
30. 93% of social media marketers use paid Facebook ads.
Facebook Ads reigns supreme among social media advertisers, but, given the Facebook popularity, it's no surprise. Since the launch of Facebook Ads, many social media marketing companies and millions of marketers and businesses have started using the platform as a primary means of advertisement. 
(The Social Shepherd)
31. Facebook brought in approximately $25.43 billion in ad revenue in Q1 2021.
Facebook advertising facts and figures show that the platform's ad revenue amounted to a massive $25.43 billion in the first quarter of 2021. Other revenue streams meanwhile managed to generate about $730 million. Another thing to keep in mind is that the largest share of Facebook's ad revenue is generated via mobile devices.
(Facebook)
32. Facebook's ad revenue in the US is projected to reach $202.94 billion by 2026.
The platform's ad revenue for 2022 is estimated at $135.94 billion in the US alone. Facebook ad statistics show that in addition to this, another good news for marketers is that everyone's favorite social network is set to generate $170.82 billion in global ad revenue in 2024 and $202.94 in 2026.
(Statista)
33. The average CPC of Facebook ads currently stands at $0.986.
Speaking of Facebook advertising statistics, there haven't been any significant changes in the past 12 months. In July of 2020, the average CPC on Facebook stood at $0.94, reaching a peak in November during the same year. From there, the price has been gradually declining, currently standing at $1.05.
(Revealbot)
34. The Facebook cost per click is highest in the finance and insurance industry at $3.77.
Facebook advertising ROI statistics wouldn't be complete without this piece of information which is in line with the latest Google search stats: the terms "Insurance," "Loans," and "Mortgage" are the three most expensive keywords ($50 per click). The second priciest is the customer service industry, while the lowest rates are available for the apparel ($0.45), travel and hospitality ($0.63), and other retailers ($0.70) industries.
(WordStream)
35.  Posts on Facebook get an organic reach equal to 6.4% of the total page likes.
According to Facebook Ads statistics, your regular post on the social network is expected to get an organic reach of 6.4% of your page's likes. What this means is, if you want your business to get some recognition it deserves, you better start thinking about starting a Facebook Ads campaign soon. It's the best way to boost your reach. 
(SocialMediaToday)
36. The perfect headline length is five words.
According to Facebook Ads stats and a study that analyzed exactly 752,626 Facebook Ads, the perfect length of your ad's headline should be five words. The optimal ad text word count, however, has gradually increased. While it used to be 14 in 2015, the recommended ad text should be 19 words long now.
(AdEspresso)
37. Facebook got 94% of its advertising revenue through mobile devices in Q3 of 2019.
Because most of us are Facebook mobile users using the platform on the go, this stat may not come as a surprise. However, as Facebook marketing statistics show, if you reverse the numbers, you'll realize that only 6% of the revenue came from desktop devices in the third quarter of 2019. This is not only an important statistic to keep in mind when thinking about how your prospective visitors/customers use the platform — it can also serve as an indicator of your marketing campaign's priorities.
(Statista)
38. With 14.29%, fitness studios have the highest conversion rate.
While they can squat and sweat all they want, Facebook marketing statistics show their work is done for them. Facebook Ads for fitness studios have the highest conversion rate, followed by the education sector (13.58%), employment and job training (11.73%), healthcare (11.00%), and real estate (10.68%). Industries such as retail, travel and hospitality, and technology have much lower conversion rates of around 3%. Luckily for these marketers, Facebook's retargeting data and numbers offer some optimistic tactics that prove this type of marketing significantly improves conversion rates.
(WordStream)
Facebook Statistics FAQ
When are Facebook users most active?
Facebook user statistics reveal the highest traffic on the platform usually happens on Tuesdays, Wednesdays, and Fridays. Meanwhile, when it comes to daily traffic, if you want to get the highest level of audience engagement, you'll want to post between 9 AM and 1 PM. These have proven to be the peak posting times!
(Sprout Social)
What is the fastest-growing demographic group on Facebook?
Facebook user demographics point out that Facebook users aged 65 years and older are this platform's fastest-growing demographic. 
(The Social Shepherd)
How many businesses use Facebook?
According to the latest statistics, there are over 200 million small businesses all around the world using the tools that Facebook has to offer. 
(Oberlo)
How often do people check Facebook?
According to facts about Facebook, the average user checks the platform's website 13.8 times a day.
(Biz Journals)
Why do people use Facebook?
Most people use Facebook to stay in touch with other users and to receive up-to-date information. Other than that, users also use the platform to launch marketing campaigns, shop, share content and ideas, etc.
(Research Gate)
How many Facebook accounts are there?
Based on the data from April 2022, there are over 2.936 billion Facebook monthly active user accounts.
(Data Reportal)
Conclusion
After going through some of the most important Facebook statistics, there is no denying that the social network's app family has taken the world by storm. Facebook, Facebook Messenger, Instagram, and WhatsApp are the chief platforms and apps for the most versatile purposes. From being one of the most important advertisement platforms out there to serving as one of the leading global means of communication, it looks like there's not much that Facebook can't do for us. The stats don't lie.
Sources: App Annie, Similarweb, The Guardian, Tech25, Cobalt Iron, CNet, WishPond, Similarweb, We Are Social, Statista, Messenger News, Hootsuite, Facebook IQ, CNBC, Statista, Facebook, Statista, Statista, Statista, Statista, Infogram, TechCrunch, Wowza, eMarketer, Pew Research Center, Statista, NapoloenCat, Statista, Pew Research Center, Omnicore Agency, Pew Research Center, MarketingCharts, Chron, FB Investor Relations, Khoros, Pew Research Center, The Social Shepherd, Facebook, Statista, Revealbot, WordStream, SocialMediaToday, AdEspresso, Statista, Sprout Social, Oberlo, Biz Journals, Research Gate, Data Reportal