While Zoom had been growing steadily since its launch, its popularity really took off as the Covid-19 pandemic spread, with millions of people using it to stay in touch and work with others. Zoom statistics show that this might just as well be the world's most popular video conferencing app anymore. That's why we prepared these essential stats and facts to keep you in the Zoom loop so you can know what's going on in 2022. Tune in and stay with us. 
Zoom Statistics (Editor's Choice)
Zoom registered 200 million daily users in May 2020. (

Recode

)

Half of the active

Zoom users

are coming from the US. (

Finances Online

)

Zoom has more than 1,500 applications on the Zoom App Marketplace. (

Backlinko

)

Zoom is dominating the market in 44 countries worldwide. (

EmailToolTester

)

Half of the Zoom Cloud Meetings app users are under 35 years old. (

Appfigures

)

Zoom's Net Promoter Score (NPS) is over 70. (

Nira

)
General Zoom Stats
1. Zoom was downloaded nearly half a billion times in 2020.
Zoom was the most-downloaded iPhone and iPad app during the pandemic, beating the likes of YouTube and Instagram. In 2020, the Zoom mobile app was downloaded more than 485 million times, compared to 16 million downloads in 2019. 
(App Figures)
2. Zoom has more than 1,500 applications available for download.
According to the most recent Zoom statistics, the app distribution platform Zoom App Marketplace is populated with more than 1,500 Zoom applications developed to improve Zoom Meetings, Zoom Chat, Zoom Rooms, Zoom Video Webinars, and Zoom Phone. The number has grown by over 650% since January 2020, when the marketplace featured only 200 applications. 
(Backlinko)
3. In September 2021, the Zoom mobile app was downloaded 23 million times.
Sensor Tower and Appfigures Zoom usage statistics show that 17 million downloads from these are from the Google Play Store while the other six million installs come from the App Store. The Zoom mobile app was also the 8th most popular non-gaming application on these app downloading platforms in August 2021.
(Backlinko)
4. Zoom statistics show that most of the Zoom Cloud Meetings app users are between 18 and 24 years old.
Zoom Cloud Meetings app users tend to be relatively young. 27% of iOS app consumers are aged between 18 and 24. These are followed by 25 to 34-year-old users with 23% and the age group of 35 to 49 at 22%.
(Backlinko)
5. Zoom statistics show that Zoom has 300 million daily meeting participants.
As of April 2021, Zoom had 300 million paid and free daily participants on its application. That's tremendous growth and an increase of 2,900% since December 31, 2019, when the app was used by 10 million consumers daily.
(Business Insider)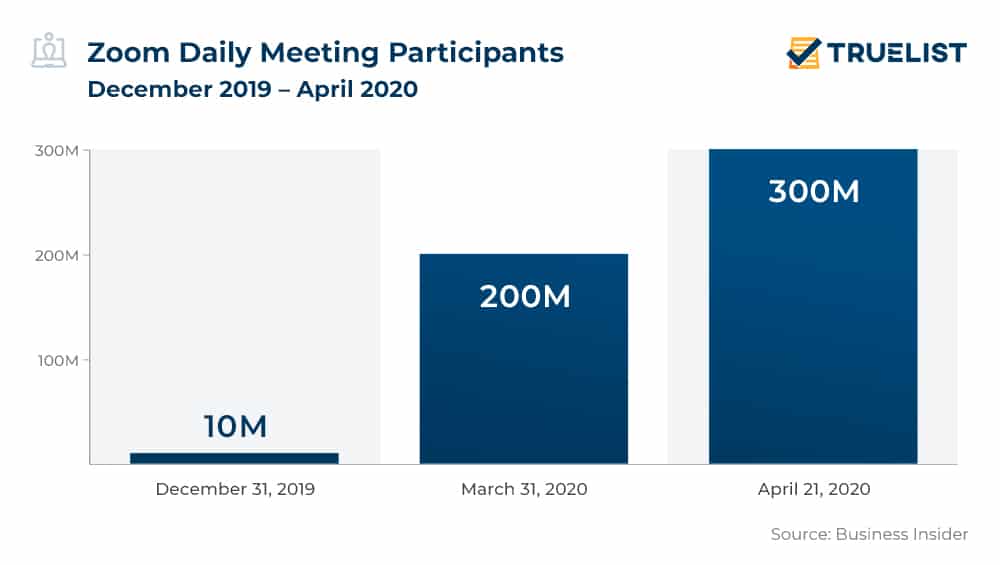 6. Zoom generated over $882 million in Q4 2021.
Zoom stats show that since the first quarter of FY 2018, Zoom has reported a revenue increase in every single quarter. According to the company earnings release, Zoom made $882.5 million in revenue in Q4 FY 2021. That's an increase of a massive 369% in the Zoom revenue over the prior-year period.
(Zoom)
7. 64% of Zoom's earnings are derived from clients with 10+ employees.
In July 2021, the company reported approximately 504,900 clients with more than 10 employees. Zoom stats indicate that this is around 36% higher than the same quarter last fiscal year. Zoom's business client base grew by nearly 470.33% and the company gave 385,200 new licenses during 2020 alone.
(Backlinko)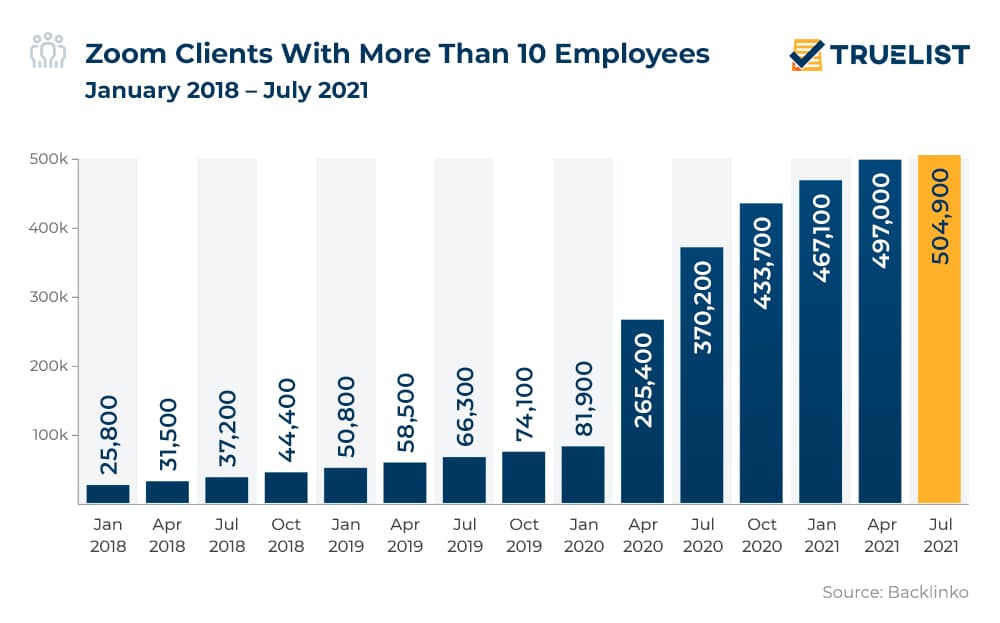 8. 73.46% of Zoom's traffic is direct.
When it comes to traffic to Zoom's official website, the most usual source according to the latest Zoom stats is direct with 73.46% followed by referrals with 11.45% and search with 9.79%. Other noteworthy traffic sources for Zoom are social with 3.17%, email with 1.42%, and display ads with 0.71%. As much as 34.15% of Zoom's traffic comes from online visitors from the United States.
(WallStreetZen)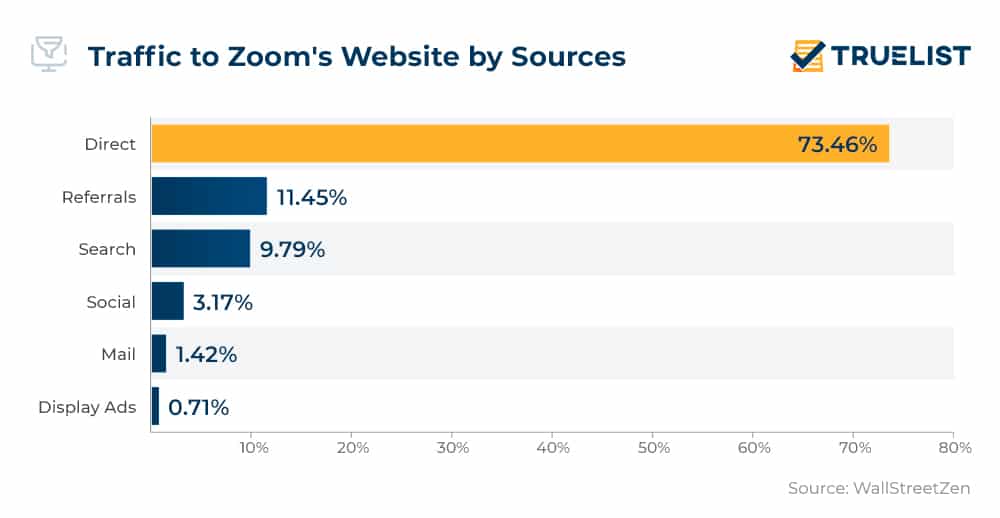 9. Zoom meeting stats show that only 20% of professionals are listening and providing live feedback during Zoom meetings.
These were the 2020 results of a poll conducted by Blind, that had 4,666 responses. A fifth of them said that they are listening and providing live feedback, while 27% say they only listen about being mentioned by name. 
(Team Blind)
10. More than half of the highest-spending Zoom clients started using the app by an employee free trial.
As reported by Forbes, 55% of $100,000 and higher revenue Zoom customers have started using the world-renowned video conferencing app by a single employee's free trial. This means that the first Zoom user naturally converts others by inviting more people to a conference just by sending the link.
(Forbes)
11. Zoom user statistics reveal that over 30% of consumers would be very disappointed if they could no longer use the app.
According to Zoom research covering a sample of more than 1,000 customers, it's very likely that users would feel somewhat disappointed if they couldn't use the application again. When asked "How would you feel if you could no longer use Zoom?", 30.3% of them answered they would be very disappointed if they couldn't take advantage of Zoom's features and functionalities, 48.6% said they would be somewhat disappointed, while the remaining 21.1% stated they wouldn't be disappointed at all.
(Nira)
12. Zoom customers have up to 10 meetings per day.
Unlike before the pandemic when users attended just a couple of conferences weekly, Zoom facts now show that users attend up to nine or 10 video meetings daily. This, however, is not limited to Zoom but rather, refers to other popular video conferencing software as well. 
(CNBC)
13. As of July 2021, Zoom had 156 clients who delivered over $1 million in annual recurring revenue.
This marks an increase of 77% from the corresponding month in 2020. At the time, the company had 88 business clients who were contributing a minimum of $1 million to the company's annual revenue.
(Backlinko)
Zoom Statistics Worldwide
14. Zoom saw 1.3 million downloads in Poland in March 2020. 
With millions of people being forced to stay home to help stop the spread of Covid-19, Zoom took Europe by storm, with Poland seeing one of the most impressive surges. Zoom's traffic hit 262.57 thousand in Hungary and 472,51 thousand in Romania at the end of April 2020. According to a survey of Swedish Zoom users, 30% of the respondents use the video conferencing app. Video conferencing statistics show 60% of those using this platform are students, 30% of them are workers, and 13% of Swedish users are retired.
(Finances Online)
15. Zoom stats indicate that India accounted for six million downloads of the app by March 2020.
Amid the Covid-19 lockdown, many people have started working from home everywhere and India was no exception. As a result, the number of Zoom users in India went from only 100,000 at the beginning of 2020 to an incredible amount of six million in just two months. Zoom further emerged as the most downloaded app in the country in Q1 2020. 
(Tech Circle)
16. The number of Zoom DAU in the UK reached a peak of approximately 1.7 million at the end of November 2020.
Zoom statistics during Covid 19 indicate that the video communication application saw the beginning of a huge rise in daily active users about the same period when the coronavirus outbreak hit the United Kingdom and most of the people started working from home. By the end of November 2020, Zoom had reached 1.7 million daily users.
(Statista)
17. Zoom is the most popular video conferencing platform in Canada.
Zoom usage statistics found that Zoom is the most popular application for video conference meetings in Canada, holding 53.67% of the market share. The runners-up, Microsoft Teams and Google Meet hold 10.97% each, much smaller than the Zoom market share.
(EmailToolTester)
18. Zoom is dominating the market in 44 countries around the world.
According to the newest Zoom user statistics, this video conferencing app is dominating the market in 44 countries worldwide including the United States and the United Kingdom. The company has an average of 51% of the video conferencing market in the countries it leads in, underscoring the Zoom popularity globally.
(EmailToolTester)
19. Zoom is ranked as the No.1 app for downloads in the business category in Europe.
Zoom statistics register that the company has accumulated 124.7 million downloads in Europe in 2020, up a massive 2,670% from the previous year. The video conferencing app is also rated no.1 in the business category for installs.
(Sensor Tower)
20. The Zoom app is restricted in five countries. 
Cuba, North Korea, Syria, Iran, and Ukraine's Crimea region are restricted from using the world-renowned application. The company officially restricts its services because these countries are on the US government's list of sanctioned nations.
(Finances Online)
Zoom Webinar Stats
21. Zoom webinar provides access for up to 100 panelists.
The Covid-19 pandemic and lockdowns worldwide sparked a large increase in webinars which became possible with a host of webinar software and Zoom delivered there as well. Depending on the size of the license, Zoom's webinar solution provides access for up to 10,000 participants. 
(Owl Labs)
22. Zoom meeting statistics confirm that only a fifth of users are actively listening to webinars.
According to the most recent webinar statistics, 20% of Zoom users are actively listening and giving live feedback during video conferences or meetings on the app. 27% are engaged in other activities while waiting for their turn, 27% of people are listening carefully but prefer to stay silent during the meeting, while the remaining 26% are trying to listen but often zone out, Zoom webinar stats show.
(Wall Street Zen)
23. Zoom registers over 45 billion webinar minutes each year.
This number, recorded in October 2020, marks an increase of 7.14% compared to the quarter ended July 2020 when annual webinar minutes were estimated at 42 billion.
(Backlinko)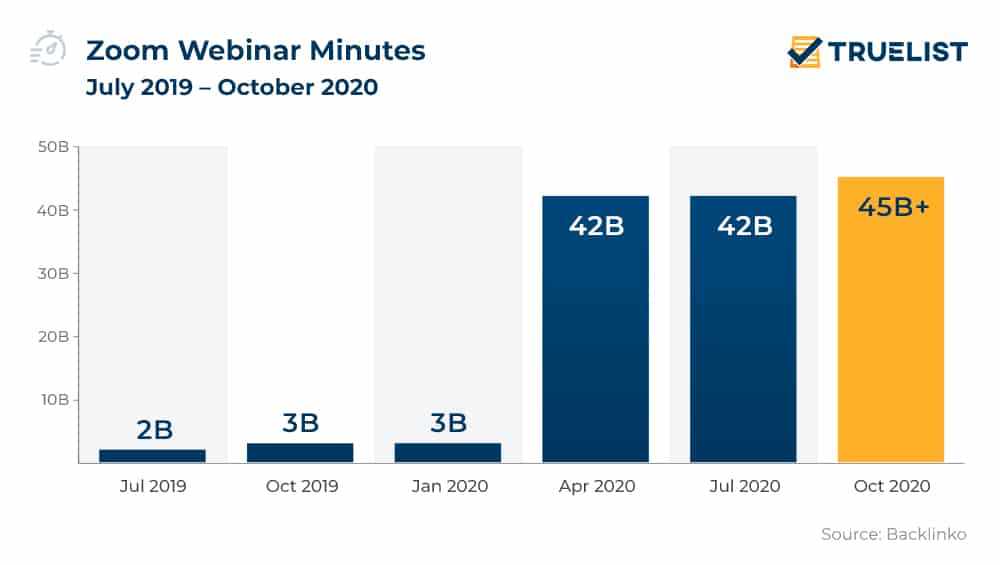 Zoom Call Stats
24. In just two and a half years, Zoom's Phone reached 47 countries.
In September 2021, the company announced that they have surpassed 2 million Zoom phone seats sold worldwide. This happened in just two and a half years, with the solution launched in 2019. The two-million license was purchased by Bickford Senior Living, a care provider for seniors in the US. 
(Zoom)
25. Zoom Phone customers with 10+ employees have surged by 70% in two quarters.
According to the latest Zoom stats, there are approximately 180,100 Zoom Phone clients worldwide that employ more than 10 people. 26 of these business clients pay for over 10,000 seats each. The number of Zoom users with more than 10 employees has grown by about 70% over the last two quarters in 2021, rising from 2,900 in January 2021.
(Backlinko)
Zoom FAQs
How many schools are using Zoom?
Zoom has become an important tool for the new way of communication between teachers and their students at all levels of education. There are over 100,000 schools in 25 countries worldwide that are using the app, Zoom statistics show.
(EdSurge)
When was Zoom created?
Eric Yuan, a former Cisco engineer, and executive founded the company back in 2011 and released a beta version of the video conferencing software in 2012. The real launch of the Zoom platform, however, happened a year later. 
(Dispatch)
How many employees does Zoom have?
Zoom had a total of 1,702 employees back in 2019. The following year when the Covid-19 pandemic started and the Zoom growth skyrocketed, it grew in size to 2,532 employees or a 48.77% increase YoY. At the moment the company employs 6,787 people.
(Macro Trends, Craft)
How many people use Zoom?
During the Covid-19 pandemic, this organization grew from 10 million users to more than 200 million users in a period of just a few months. By the end of the year 2020, Zoom had seen 350 million daily active users (including free and premium users), Zoom statistics show.
(Recode)
Sources: Recode, Finances Online, Backlinko, EmailToolTester, Appfigures, Nira, App Figures, Business Insider, Zoom, WallStreetZen, Team Blind, Forbes, Nira, CNBC, Tech Circle, Statista, Sensor Tower, Owl Labs, Zoom, EdSurge, Dispatch, Macro Trends, Craft