Over the years, podcasts have seen a constant growth in popularity since not everyone has time to read a 5,000-word blog post. Unlike written or visual content, podcasts are great to listen to when you're at the gym, during your morning walk, or pretty much anywhere you want. Podcast statistics indicate that they are an efficient, portable, and intimate way to deliver and create content. The following figures and facts about the growing popularity of podcasts speak more loudly than anything else.
Podcast Statistics (Editor's Choice)
South Korea has the highest number of listeners globally. (

Statista

)

Spotify and Apple Podcasts are the most commonly used platforms. (

Statista

)

Comedy is the most popular podcast genre in the United States. (

Statista

)

Most podcast episodes are 20-40 minutes long. (

Buzzsprout

)

50 billion podcast episodes have been downloaded or streamed from Apple. (

Fast Company

)
General Podcast Stats
1. The most used platforms for listening to podcasts are Spotify and Apple Podcasts.
The most commonly used applications and platforms for listening to podcasts in the United States are Spotify with a total of 25% of listeners, followed by Apple Podcasts with 20%, down from 21% from in 2019. Google Podcasts comes in third with 16% of listeners, up from 9%. The least used apps are CastBox (5% of listeners) and Pocket Casts (6% of listeners).
(Statista)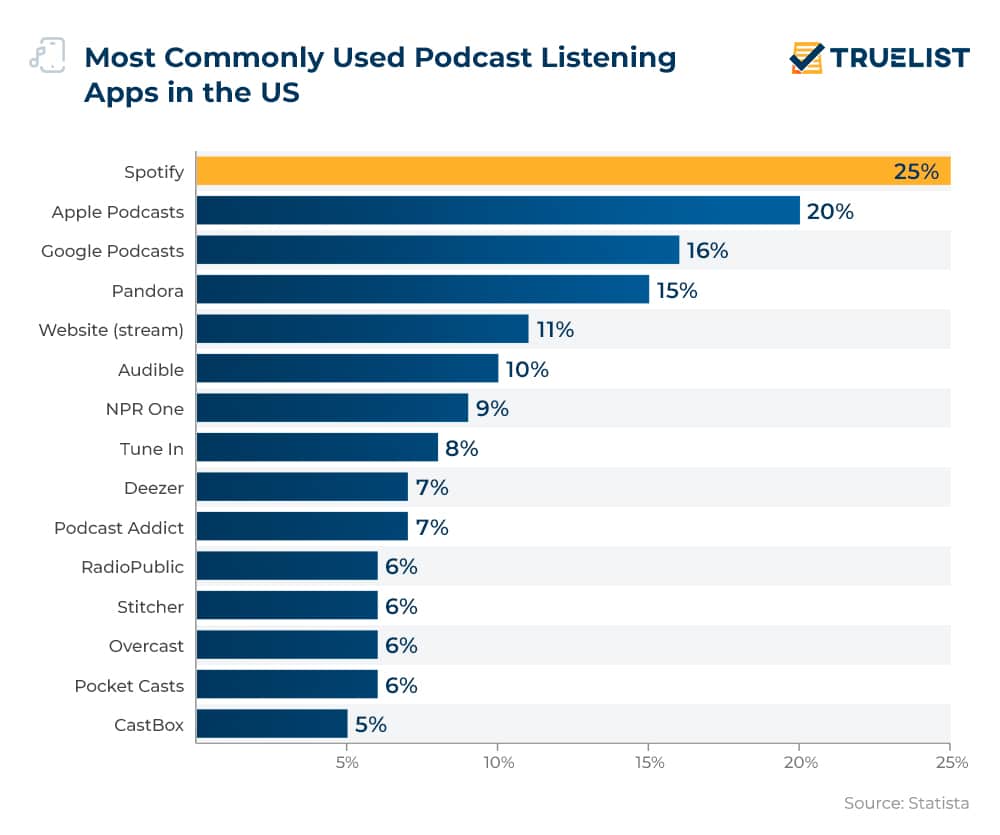 2. Most podcast listeners tune in to learn new things.
Podcast listeners statistics for the US indicate that 74% of all listeners tune in to learn new things. Other common reasons include entertainment (71%), staying up-to-date with the latest topics (60%), and relaxing (51%).  On the other hand, it's equally important why people don't listen to podcasts. As many as 75% of non-listeners think that podcasts just aren't for them, 51% don't have enough time, while 49% don't think podcasts offer something they can't find elsewhere.
(Edison Research)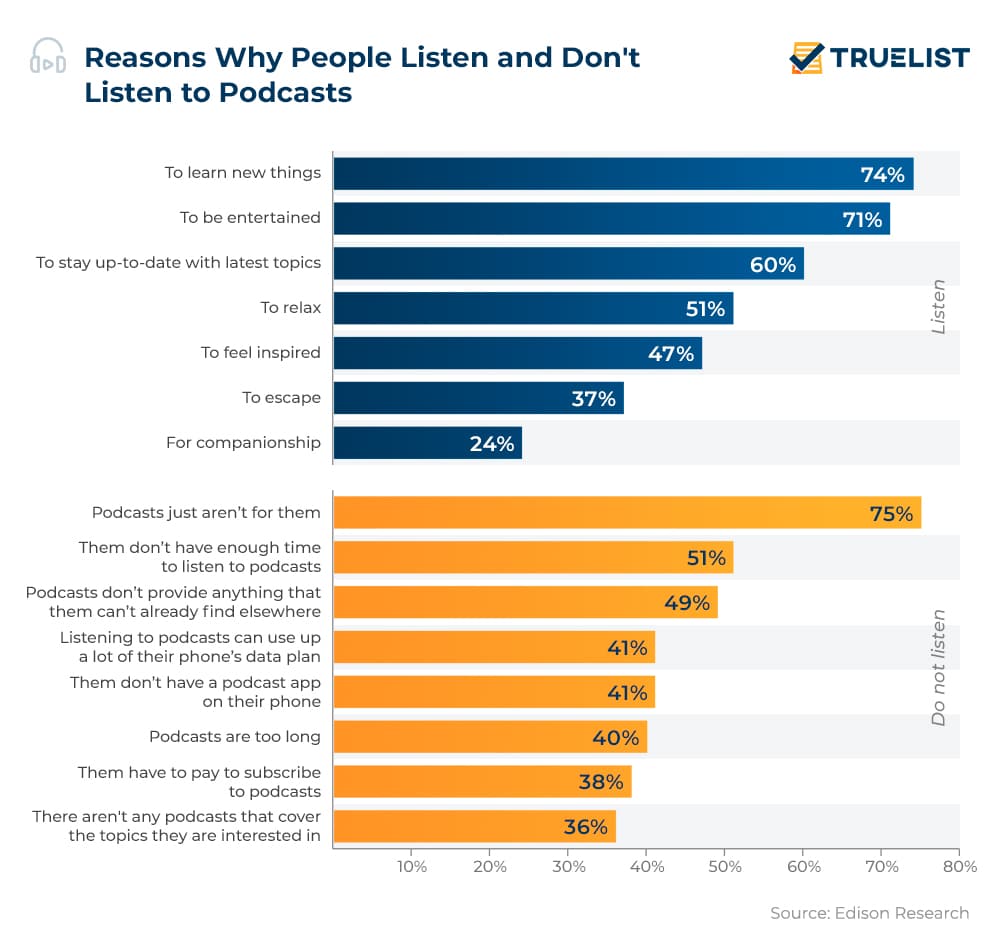 3. The most popular podcast genre is Comedy. 
In Statista's 2020 podcast popularity stats, it was found that the most popular podcast genre in the US is Comedy with 22% of listeners saying that they were interested in podcasts created to make them laugh. News is the next most popular genre followed by True Crime with 21% and Sport with 18%.
(Statista)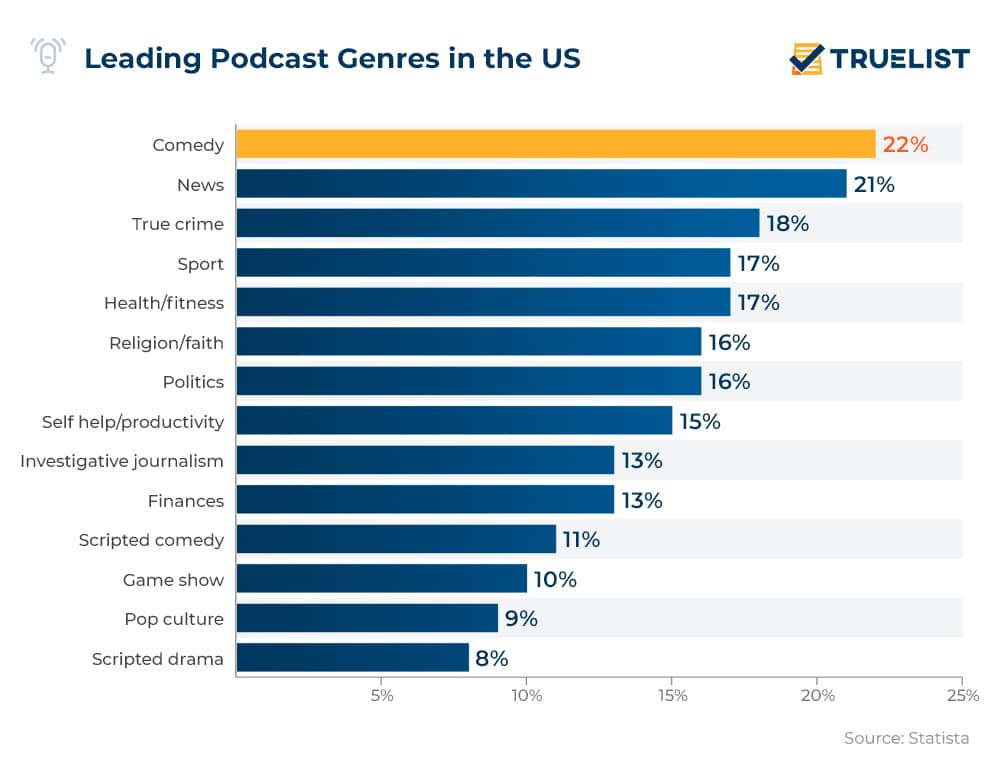 4. Portable gadgets are by far the most popular devices for listening to podcasts.
The latest podcasting stats published by Edison Research indicate that approximately 65% of all listeners are receiving their podcasts on smartphones and tablets while laptops and desktop computers are used by just one-quarter of all podcast users. Smart speakers meanwhile account for 10%.
(Edison Research)
5. Podcast statistics show that 82.4% of podcast listeners spend more than seven hours weekly listening to podcasts.
More than eight out of every 10 listeners spend over seven hours weekly listening to their favorite podcasts, as stated by Discover Pods. That's approximately more than an hour daily for most of the listeners, which for some of them is even more than the time they spend on social media or watching TV.
(Discover Pods)
6. Podcast stats indicate that 226 million people in the US have heard of podcasts.
As many as 79% of Americans are aware that podcasts exist, and are familiar with the concept of podcasting. This, however, was not always the case, as back in 2006, just 22% of adults in America were familiar with podcasts.
(Edison Research)
7. Slightly over half of listeners say they listen to the complete podcast.
Just 52% of all American podcast consumers have listened to an entire podcast. As many as 48% admit they don't stay tuned until the end of the episode. Still, 41% listen to most of the podcast, and only 2% tune out right after the beginning.
(Edison Research)
8. The most profitable podcast made $30 million in 2019.
Podcast popularity statistics show that The Joe Rogan Experience was the highest-earning podcast in 2019, grossing $30 million. Karen Kilgariff and Georgia Hardstark's My Favorite Murder came in second place with $15 million, while The Dave Ramsey Show earned $10 million.
(Statista)
9. 20-40 minutes is the largest podcast category.
Under a third (31%) of podcasts last between 20 and 40 minutes and 30% are shorter then that (14% last between 10 and 20 minutes and 15% last less than 15 minutes). Also, 21% of podcasts are 40-60 minutes long, while 17% of podcasts last 60+ minutes. It's also worth mentioning that most podcasts publish episodes every 8 to 14 days.
(Buzzsprout)
10. Podcast download numbers show that 50 billion episodes were downloaded or streamed from Apple in 2018 alone.
According to iTunes podcast statistics in March 2018, Apple Podcasts passed 50 billion all-time podcast episode downloads and streams. With 525,000 active podcast shows, more than 18.5 million episodes available including content in more than 100 languages, it's no wonder why Apple Podcasts is the most commonly used podcast platform alongside Spotify.
(Fast Company)
11. 40% of listeners discover new podcasts on their listening apps.
According to podcast research covering a sample of 780 people to find out how exactly podcast consumers discover new content to listen to. The podcasting research shows that 40% of listeners discover new podcasts on their listening apps, while other consumers ask someone for recommendations (18.3%). Podcast statistics further show that some people turn to social media (15.2%), search for podcasts on Google (13.6%), or browse through a podcast chart or 'featured' section.
(The Podcast Host)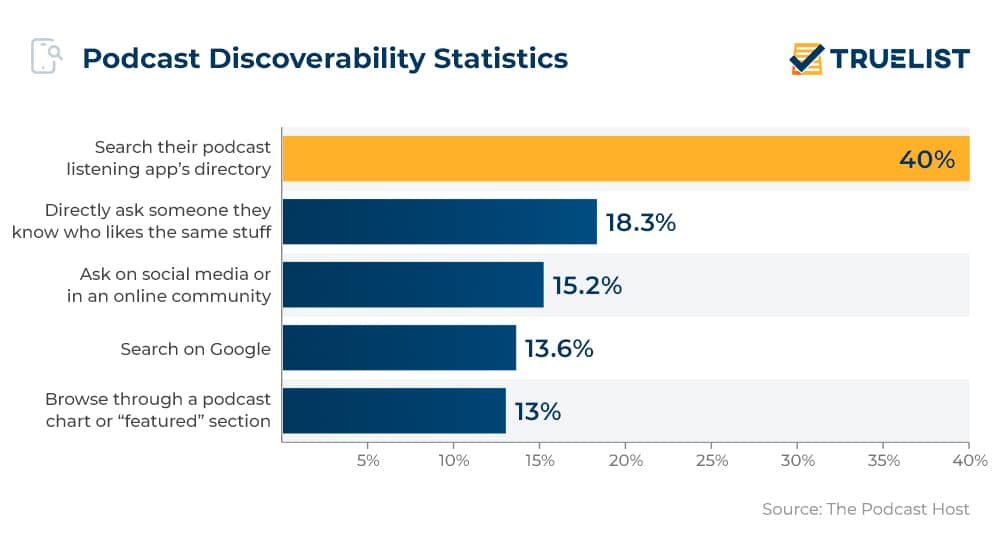 12. 51.1% of podcast consumers prefer listening to podcasts with professional audio quality.
Over half of listeners in a recent podcast study prefer the sound quality to be similar to professional radio, which usually requires excellent audio editing software. On the other hand, the other 49% don't mind it and are happy to listen to amateur quality as long as the podcast's story is good. 
(The Podcast Host)
Podcast Audience Statistics
13. 73% of weekly podcast listeners in America use smartphones to listen to podcasts.
According to Edison Research's new report, 73% of those who listen to podcasts used smartphones in the last quarter of 2021, while 13% listened to podcasts on their desktops or laptops during the same period. This data also reveals that the number of people who use smartphones to listen to podcasts has been gradually increasing since the first quarter of 2021.
(Edison Research)
14. Podcast listener statistics confirm that 46% of people in the US who listen to podcasts are women.
The amount of female podcast users is constantly rising in the US. According to the latest Statista's podcast-listening statistics, 53% of the podcast audience in the US is male, 46% female, and 1% non-binary/other. 
(Statista)
15. 47% of the monthly listeners in the US are aged 12-34.
Audience-related podcasting facts show that people aged 12-34 make up 47% of those who enjoy podcasts on a monthly basis. The next age group is the 35-54-year-olds with 33%. Those aged 55 and above constitute 20%. If we compare this data to the previous information, we can conclude that the number of podcast listeners aged 55 and above has been steadily increasing since 2012. 
(Edison Research)
16. The majority of people in the US who are listening to podcasts are white (59%).
According to the most recent podcast listener demographics, 59% of listeners in the US are white, compared to 68% in 2012. That means that podcast audiences have become much more diverse. In addition, 16% are African-American (vs 14% in 2012), 16% are Hispanic (vs 10% in 2012), and 3% are Asian. The percentage of Asian listeners is relatively steady. 
(Edison Research)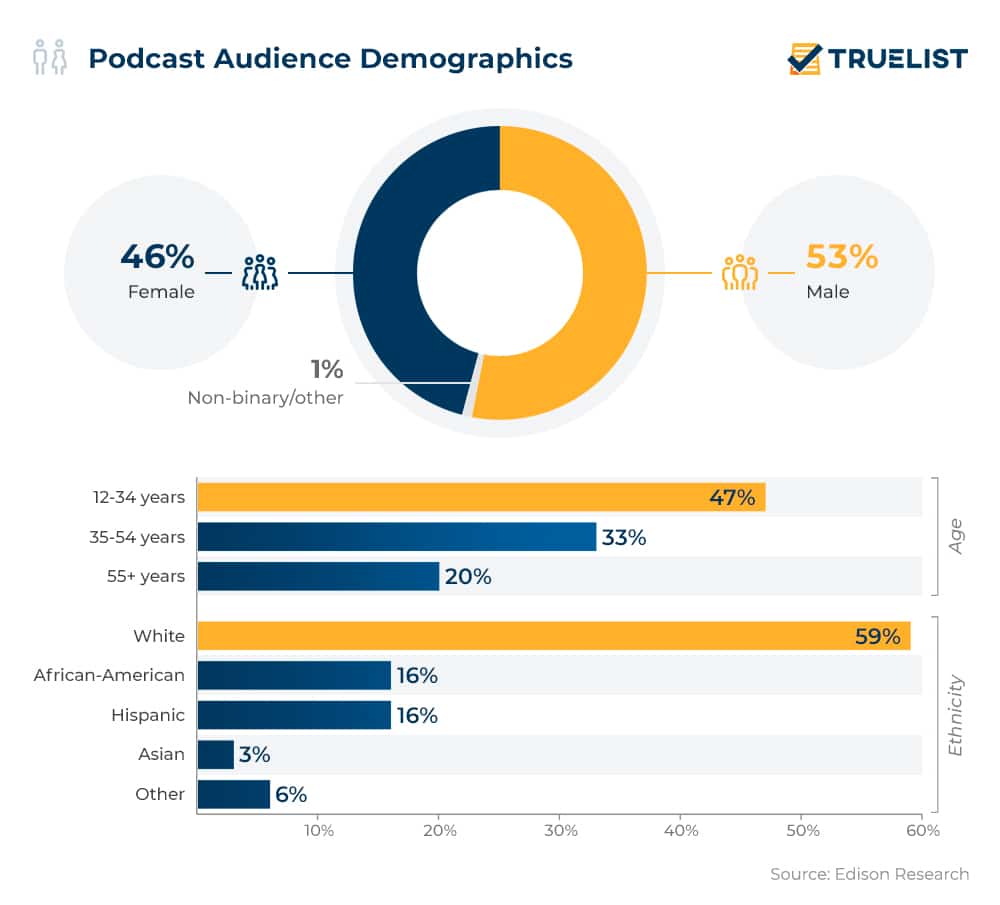 Podcast Advertising Statistics
17. More than half of listeners have bought some product after hearing about it during a podcast.
As many as 55.6% of listeners stateside have purchased an item after hearing it advertised on a podcast and just under 89.8% think that podcast advertisements are useful. 86.5% meanwhile admit to listening to podcast ads. Apparently, 
(Discover Pods)
18. Podcast ad revenues in America are expected to surpass $2 billion by 2023.
Podcasts statistics show that ad revenue from podcasts climbed 19% in 2020 alone, to reach $842 million. Brand advertising gained ground, accounting for 54% of ad spending, and closing the gap with direct response marketers at 51%.
(Marketing Dive)
19. Health and Wellness businesses spend the most on podcast ads in the US. 
Podcasts are becoming a gold mine for businesses of all sizes. That's why companies from all over the nation are spending a lot of money to promote their organization through the most popular podcasts at the moment. 22% of overall ad revenue back in 2019 was spent by health and wellness brands, home and appliance came in second place with 19%, while food & beverage brands made up 13%.
(IAB)
Podcasting Statistics Worldwide
20. The US isn't the country with the highest podcast audience numbers.
South Korea boasts the biggest podcast listenership globally with 53% of the population listening to podcasts on a monthly basis, followed by Spain with 39%, Ireland with 37%. Sweden and the US have the same podcast listener numbers — 35%.
(Statista)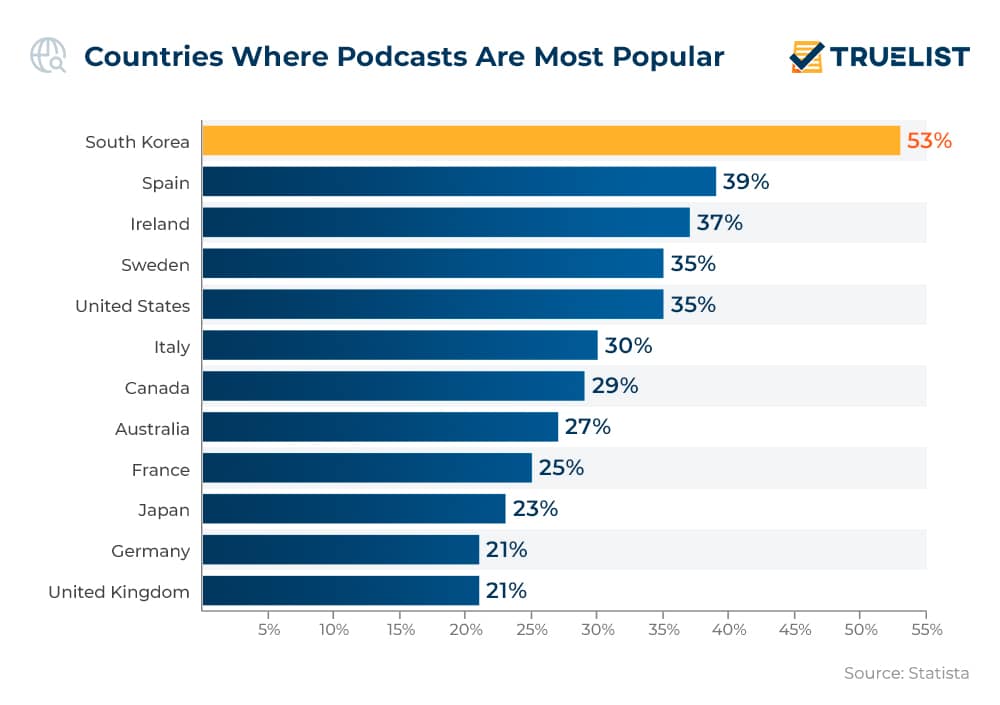 21. More than 90% of Australians have heard of podcasts.
Approximately 91% of Australians are familiar with the concept of podcasting, which is significantly higher than the 78% of Americans, underscoring the growing podcast popularity Down Under. That said, only 37% of Australians aged 12+ are monthly podcast consumers compared to 41% for the US, podcast statistics for Australia show.
(Edison Research)
22. Over half of listeners Down Under enjoy the entire podcast.
A study done in 2019 by Triton Digital reveals that 54% of the Aussie listeners go through to the complete podcast, 35% of them admit they listen to most of the podcast, 9% consume less than half of the episode, while only 2% of the listeners in Australia don't know how much time they spend on a podcast.
(Triton Digital)
23. Podcast statistics for Canada reveal that over 11 million Canadian adults listened to podcasts in 2020.
The number of podcast consumers in Canada is constantly growing. More than 11 million Canadians or 36% of the adult population have listened to podcasts in 2020. 
(The Podcast Exchange)
24. In 2020, there were more than 15 million podcast consumers in the United Kingdom.
Over the past 10 years, podcasts have become one of the most popular forms of audio entertainment in the United Kingdom, so it's no wonder why the British podcast audience is rapidly growing. The latest podcast statistics for the UK point out that there were over 15 million podcast auditors in 2020, with forecasts predicting nearly 20 million listeners by the year 2024.
(Statista)
Podcast FAQs
Do podcasters make money?
Some do. The world's best podcasters are getting an abundance of listeners and a tremendous amount of ad revenue in return. For example, back in 2018, The Ringer had about 420 million downloads earning $15 million.
(Podcast Insights)
How many downloads make a successful podcast?
If you are considering diving into podcasting, you're probably wondering how many downloads equals a successful podcast. According to the latest podcast download numbers, the most successful podcast episode had about 50,000 downloads 30 days post-publishing. Podcast industry statistics show that an episode with 9,000 downloads across multiple streaming platforms earns a place in the top 5% of podcasts. To make it into the top 10% of podcasts, an episode should gain approximately 3,400 downloads. The average podcast, however, earns 141 downloads in the first month. 
(Income School)
Are podcasts prerecorded?
If you are a podcaster, you have the opportunity to choose if you want to go live or use pre recorded content for your podcast, with both options having advantages and disadvantages.
(Helium Radio)
Why are podcasts better than radio?
With a podcast, your fans can stream or download the episodes whenever they choose, unlike radio where the listeners have to abide by the station's schedule. Podcasts give consumers control of what they want, and sometimes even without ads, depending on the platform.
(Bunny Studio) 
How many podcasts are there?
There are more than two million active podcasts and over 48 million podcast episodes, podcast statistics show.
(Podcast Insights)
Sources: Statista, Statista, Statista, Buzzsprout, Fast Company, Edison Research, Discover Pods, Edison Research, Statista, The Podcast Host, Statista, Marketing Dive, IAB, Edison Research, Triton Digital, The Podcast Exchange, Statista, Podcast Insights, Income School, Helium Radio, Bunny Studio, Podcast Insights