If you're new to Pinterest, you may find figuring out its purpose and target users somewhat complicated at first. Compared to this social network, LinkedIn, Twitter, Instagram, and Facebook seem pretty straightforward. Pinterest statistics below indicate the right strategy on the platform designed to nurture user creativity and promote the exchange of ideas can be very profitable.
Pinterest Statistics (Editor's Choice)
Pinterest has 433 million active monthly users worldwide. (

Statista

)

32% of pins are posted on Mondays and Tuesdays. (

Social Champ

,

Oberlo

)

Users spend about 14 minutes on the platform daily. (

Broad Band Search

)

There is a $2 return for every $1 spent on

Pinterest ads.

(

Influencer Marketing Hub

) 

Most Pinterest subscribers are aged 30 to 49. (

Pew Research Center

) 

63% of Millennials use Pinterest as a visual discovery engine. (

Pinterest

)
General Pinterest Stats
1.  Pinterest had 433 million active monthly users worldwide in Q1 of 2022.
An incredible 459 million Pinners were registered by the company by Q4 2020. The platform has been rapidly expanding its international pool of users, who have helped the company grow despite the threefold decline in US Pinterest users. Much of this success has to do with Pinterest's decision to boost shoppable products and video content, as well as improve search recommendations altogether.
(Statista) 
2. Pinterest's revenue grew by 18%.
Pinterest statistics show that the platform's growing popularity has not only boosted its user base but has also improved the company's revenue. This equals a 18% Pinterest growth and is mainly due to the spike that happened between the second and third quarter when revenue saw a boost from 574,885 million in the preceding quarter.
(Pinterest)
3. Pinterest is ranked the 10th most relevant brand in the US.
Some facts about Pinterest should come as no surprise with last year's Prophet Brand Relevance Index ranking the platform as the 10th most relevant in the US. It was further rated as the #1 brand in the categories "Makes me feel inspired" and "Engages with me in new and creative ways". In the same survey, a staggering 85% of Pinterest users said this platform is where they go to start a new project as they can choose among the 200 billion available ideas. 
(Prophet)
4. The total number of Pinterest pins to date exceeds 200 billion.
The latest reports show that there are 240 billion pins on the platform to date, which makes roughly 670 pins per user. Pinterest statistics meanwhile show that 99% of these pins contain some sort of image. By contrast, only 0.3% contain video despite the growing popularity of video content across all forms of social media. The point is that you need to come up with an excellent marketing strategy to ensure your content stands out in the ocean of over 14 million articles that platform users pin every single day.
(Social Champ, Omnicore Agency)
5. 32% of pins are posted on Mondays and Tuesdays.
But as Pinterest facts mention, it doesn't really mean that these are the best days of the week to post. Data shows that even though the lowest percentage of pins are posted on weekends (only 7%), Saturdays and Sundays are actually the best days to post your brand's content. 
(Social Champ, Oberlo)
6. Users spend an average of 14.2 minutes on the platform daily.
Pinterest stats reveal that the average daily time users spend on the platform is 14.2 minutes. This is much shorter than the average time users spend across various other social media networks. For example, YouTube users typically spend 19 minutes on the platform; for Snapchat, it's 31 minutes; Instagram takes 29 minutes; Facebook is in the lead with 33 minutes daily.
(Broad Band Search)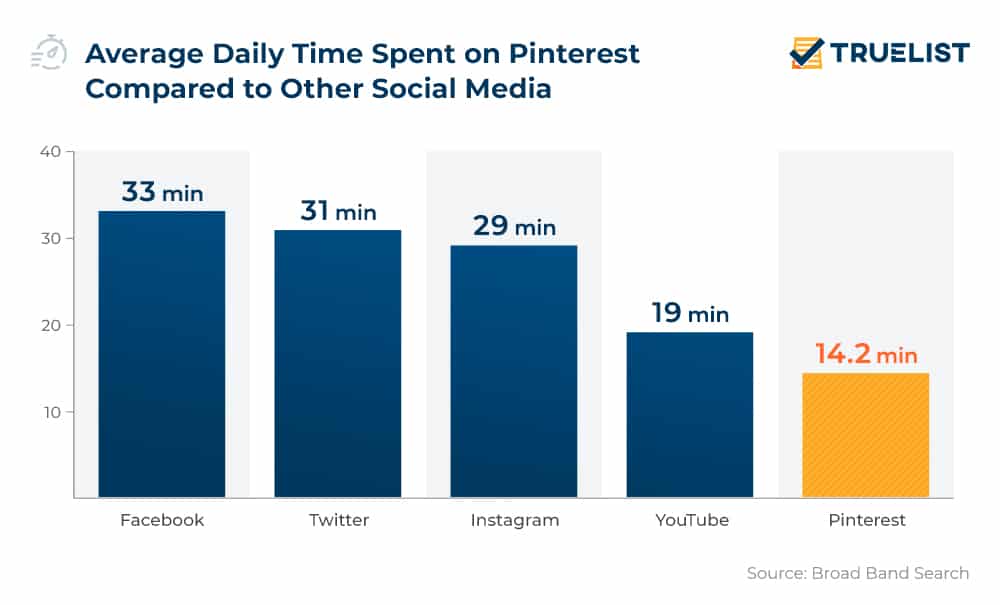 Who Uses Pinterest? 
7. Pinterest is the fourth most popular social media site in the US.
This platform is the fourth most popular social media in the US with almost one-third (28%) of Americans using it. Data shows that since 2012, when only 10% of US Pinners enjoyed the platform's features, the number of users has increased by a staggering 18%. However, in the period between 2018 and 2019, the Pinterest user base in the US dropped by an insignificant 1%.
(Pew Research Center)
8. Pinterest user demographics show only 15.3% of Pinners are men.
It's no secret that men on Pinterest are a minority. The numbers are so much in favor of the fairer sex that females make up more than 76.7% of all Pinners to date. 8% are unspecified. It seems women are also highly engaged with this visual discovery platform which is why they've ranked it 19th in the industry as one of the most used intimate platforms/apps.
(Statista)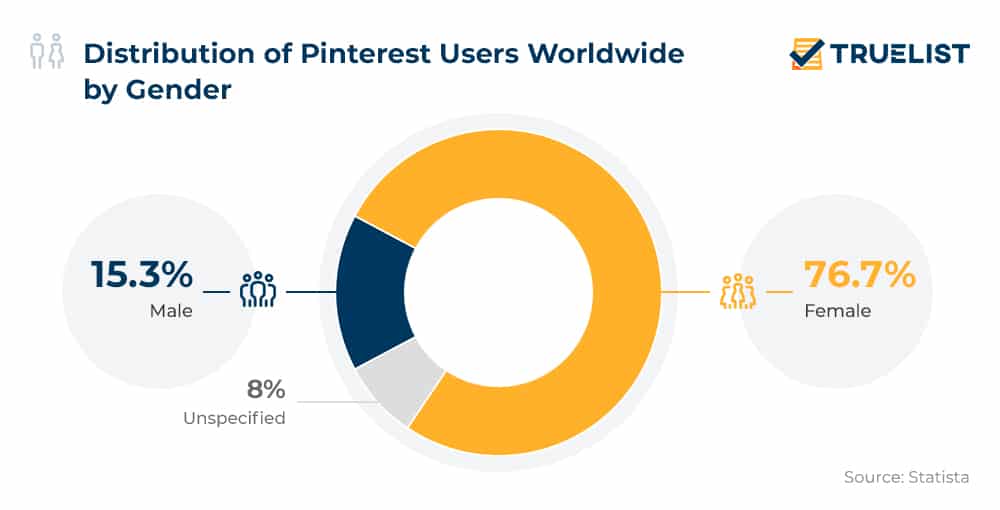 9. 48.6% of US Pinners describe themselves as light users.
Recent Pinterest user stats indicate that more people in the US are turning to this platform for various activities, but are light users. On the contrary, only 7.3% are heavy Pinterest users, while 10.1% see themselves as middle users. Also, the percentage of inactive users stands at 33.8%. 
(Sprout Social)
10. Pinterest age demographics indicate most subscribers are aged 30–49.
According to the Pew Research Center, more than one-third of the Pinterest user base (35%) is between 30 and 49 years old. Coming in at a close second, 34% are users between the ages of 18 and 29. Pinterest also sets an age limit, much like other social media networks. Users, therefore, must be 13 or older to create an account.
(Pew Research Center) 
11. 38% of people aged 50 to 64 use Pinterest.
The latest Pinterest stats further reveal a whopping 38% of the US adult population aged 50 to 64 use this platform. Even people aged 65+ use Pinterest (18% of them do). Plus, stats about millennials and their spending habits say the ones who use Pinterest are more likely to make a purchase than the ones who don't. It seems that Pinterest is a great platform for a bit older age groups, like millennials and Generation X.
(Statista) 
12. Eight out of ten moms in the US are Pinners. 
A recent Comscore study on Pinterest demographics mentions that US mothers (age 18-64) make up 80% of unique Pinterest visitors. This is an extremely valuable stat for people who use Pinterest for business as moms are the primary decision-makers in most households, and they have full jurisdiction over the purchasing power in the family. 
(Hootsuite) 
13. 85% of women use Pinterest to plan their "life moments".
With the vast majority of subscribers being female, Pinterest usage statistics indicate that women feel a deeper emotional connection with the platform and tend to use it for inspiration in their creative endeavors. A study by the platform covering US female users aged 25-54 revealed planning 'life moments' such as decorating a new home, going on vacation, meals, party planning, and gym routines is the most popular reason why ladies turn to the platform. 
(Social Media Today) 
Pinterest Statistics for Business 
14. More than 60% of pins represent brands and products.
Similar to other social media networks, Pinterest provides users, brands, and marketers alike with a great opportunity to connect and increase their revenue. An Omnicore report reveals that products and brands on the platform account for more than two-thirds of all pins. Pinterest popularity is higher than ever, and there are no signs of it slowing down. In other words, if your business is not on the platform yet, it's high time you did something about it.
(Omnicore Agency) 
15. Pinterest statistics indicate "road trip routes" queries have increased by 248%.
Although 2020 was a rough year for the travel industry, Pinterest travel-related searches indicate people's interest in adventure did not disappear. In August 2020, Pinterest saw an increase of "RV camping tips" searches by an incredible 1257% and another 60% for "national parks". The most optimistic stat for those considering to use Pinterest for business is that although air travel suffered most because of the COVID-19 crisis, searches for "airplane essentials" also spiked by a total of 173%. 
(Pinterest)
16. Pinterest facts show that mobile is the access platform of choice for eight in every ten Pinners worldwide.
A vast majority of users of any social media platform choose mobile over desktop. After all, mobile platforms offer unprecedented convenience, ease of use, mobility, and practicality that desktop platforms just can't match. Consequently, 85% of  Pinners prefer to access the platform on their smartphones and with the Mobile Ad Tool Pinterest introduced in 2019, marketers too can manage their campaigns on mobile. 
(Sprout Social) 
17. There is a $2 return for every $1 spent on Pinterest ads.
Pinterest traffic statistics and shopping data show that a massive 55% of subscribers use this platform to find and ultimately purchase products. Compared to the rates of other social media this figure is four times higher. A recent survey conducted by Analytic Partners discovered that Pinterest delivers $2 in profit for every dollar spent on ads for packaged goods and retail.
(Influencer Marketing Hub) 
18. 85% of people have discovered a brand or product on this platform.
Even though the 1,000 most popular Pinterest searches are not branded, some of the most recent Pinterest statistics show that this platform could be ideal for businesses that are aiming to be discovered. 85% of Pinterest users confirm that they not only store but also discover new content and products, and this figure has gone up since 2018 when it stood at 68%. 
(Profit From Tech) 
19. 63% of Millennials use Pinterest as a visual discovery engine. 
Pinterest is like a guiding star on the customer journey of half of Millennials with an annual income of $75k. Pinterest stats indicate 86% of Millennials use it to plan big or small life moments, while 63% say that it helps them find and discover new products and brands to buy. Moreover, 50% say they will spend more on food because, as 43% confirm, Pinterest helped them easily find new ways to use old ingredients. 
(Pinterest)
Frequently Asked Questions
How old is Pinterest?
Founded by Ben Silbermann, Paul Sciarra, and Evan Sharp in San Francisco in December 2009, Pinterest is 12 years old. The platform was officially launched in January 2010 as a photo-bookmarking site where people could save and share collections of images, GIFs, and videos found on the web, something which had never been done before.
(Wikipedia)
How many users does Pinterest have?
Pinterest has 433 million monthly active users (MAUs) in the world. 
(Statista)
Who has the most followers on Pinterest?
Pinterest user statistics show that Joy Cho/Oh Joy! is the champion Pinner with the highest number of followers in 2020 so far. Trackalytics data shows that this user currently has nearly 12 million followers, more than 30,000 pins, and 70+ boards. Joy Cho is a designer, food enthusiast, and blogger. Her pins feature everything from breathtaking architecture to mouth-watering recipes, gardening, hairstyles, etc. 
(Wordstream)
Which country uses Pinterest the most? 
As of January 2022, there were a little over 86 million Pinterest users (86.35, to be exact) in the US, making it the country where there are most Pinterest users. The Pinterest statistics by country clearly show that Europe is where Pinterest's popularity is on the rise.
(Statista)
How much is Pinterest worth?
This year, Pinterest net worth as of June 27 stands at $14.25 billion.
(Macro Trends)
When is the best time to post on Pinterest?
8 PM and 11 PM, with the peak being at 9 PM, are the hours that indicate the highest engagement rates, the biggest numbers of likes, and the most replies per pin. Research also shows the middle of the night between 2 AM and 4 AM are the second-best-suited timeframes for Pinterest posting. 
(Sigrid)
Final Remarks
The average Pinterest engagement rate continues to grow steadily and is currently 7X higher than Facebook's. Providing a fertile ground for its users to share ideas and creativity in unique ways, Pinterest is one of the great coups of the digital age and a perfect tool for budding websites and startups with limited budgets. Even if you feel skeptical about the benefits of this platform, it's worth giving it a try. After all, the only investment you will need to make is a bit of your own time. And the benefits could be enormous, as demonstrated by our selection of Pinterest statistics. 
Sources: Statista, Pinterest, Prophet, Social Champ, Omnicore Agency, Oberlo, Broad Band Search, Pew Research Center, Statista, Sprout Social, Statista, Hootsuite, Social Media Today, Pinterest, Influencer Marketing Hub, Profit From Tech, Pinterest, Wikipedia, Wordstream, Statista, Macro Trends, Sigrid