Google Chrome Statistics
Last updated: 10.01.2022
•
The story of Google Chrome is one of the relatively fast conquering of the web browser market. Since its release back in 2008, it took only a few years for it to dominate the web browser field. Although originally only accessible on Microsoft Windows, soon new upgrades for other systems followed, and the rest, as they say, is history. That's why we prepared some essential Google Chrome statistics to tell you more about the world's most popular browser. So, let's browse together.
Google Chrome Statistics (Editor's Choice)
Worldwide, Google Chrome holds 65.21% of the market.

In 2020, approximately 2.65 billion internet users accessed the web through Chrome as their primary browser.

In 2019, Chrome achieved 5 billion downloads from Google Play Store.

About 6% of Americans cite Chrome as the app they could least do without.

Chrome accounts for 40.32% of the mobile user market share in the US.

Google prevents approximately 1,800 malicious uploads to Chrome monthly.

Google Chrome has at least 176,608 extensions.

Only 13 extensions have managed to reach over 10 million users.
Google Chrome Market Share Statistics
1. Google Chrome accounts for approximately 50% of the internet browser market share in the US, Google Chrome statistics show.
Based on the most recent data, its only real competitor at this moment is Apple's Safari, which holds nearly 34.7% of the market. No other browsers, meanwhile, have surpassed the 6% market share. For instance, Edge has 5.96%, while Firefox holds as little as 3.47% of the market in the US.
(Statista)
2. Worldwide, Google Chrome owns 65.21% of the market share.
This makes it by far the most popular browser, with over three times bigger share than the runner-up. For reference, second on the list is Apple's Safari, with 18.42%. Aside from Safari and Google Chrome, statistics indicate that no other browser has over 4% of the market share globally. So, we have Firefox, Edge, and Samsung Internet with 3.67%, 3.77%, and 2.9%, respectively.
(Statista)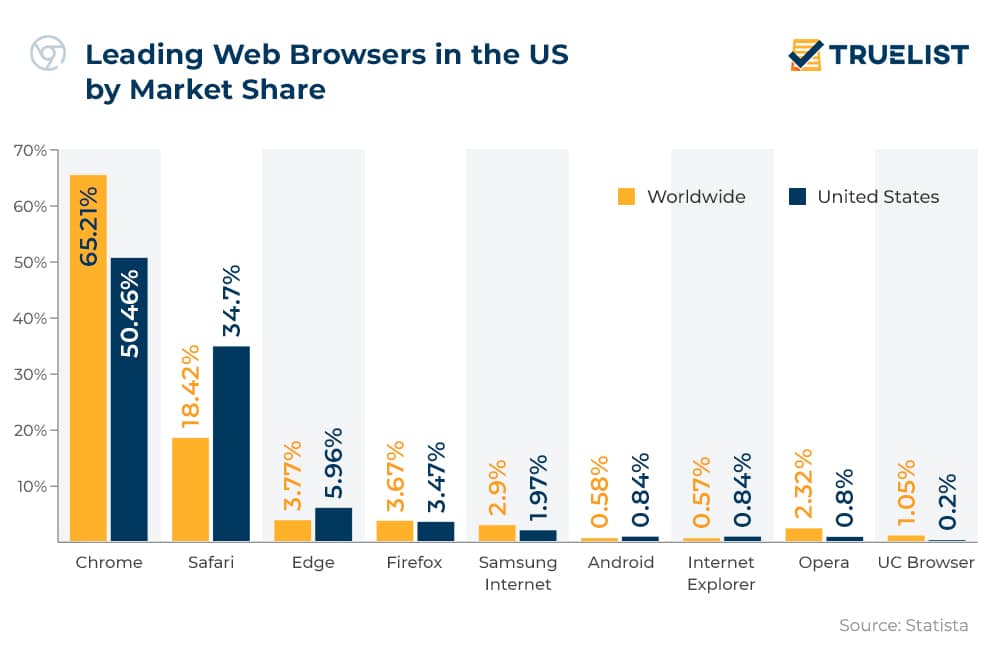 3. Chrome has a 62.48% market share of mobile device users.
It's slightly smaller than the share it has across all devices. However, it's important to emphasize the speed at which it reached this size. For instance, in 2012, the Google Chrome browser market share stood at a measly 0.35%. In nearly a decade, it grew so significantly to achieve today's figures.We see the importance of its growth best in the percentage increase it reached in just three years, i.e., between 2012 and 2014 (20.9%).
(Backlinko)
4. Chrome's usage on tablets is the lowest among all devices, with a market share of 42.5%.
That's not even low per se, but rather, it's not enough to make it number one. Based on the Google Chrome usage statistics, it's still close to the top list of popular browsers (second place, trailing behind Safari, which has a margin of 1.2% on it).
(Backlinko)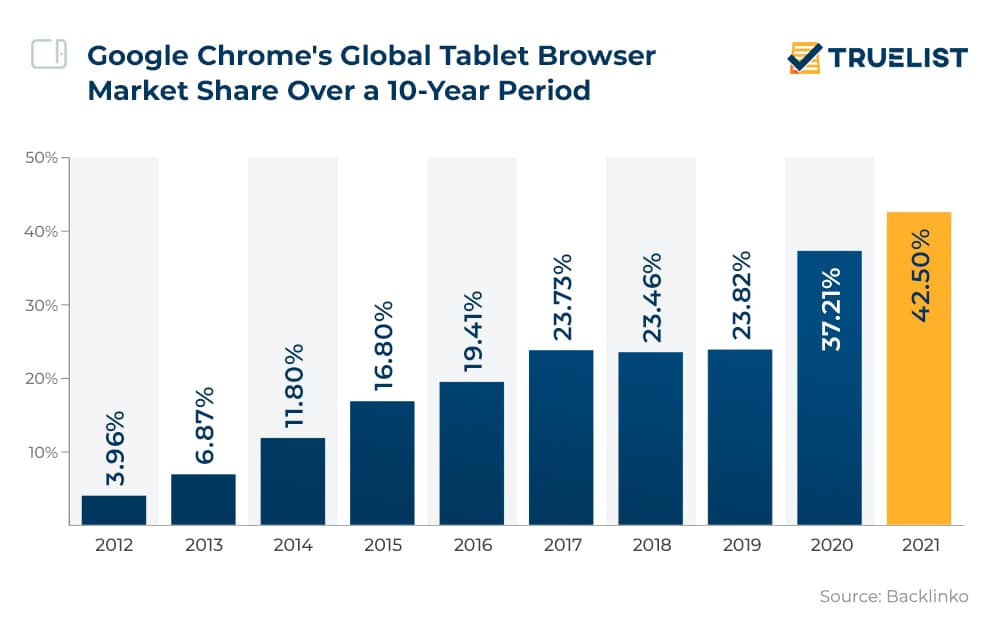 5. Chrome dominates the browser market in Europe with a 60.48% share.
It has held a relatively stable position over time in Europe, similar to the rest of the world. Apart from Google Chrome, the browser share of Safari is significant in Europe. Namely, it has a 19.33% share. All other relevant browsers have somewhat small percentages. For example, Firefox and Edge have 6.46% and 4.95%, respectively.
(StatCounter)
Google Chrome Usage Statistics
6. In 2020, approximately 2.65 billion internet users accessed the web through Chrome as their primary browser.
Compared to 2019, this marks a slight increase of below 0.5%. Meanwhile, in the last six years, the browser added 1.36  billion users, doubling its market share. Comparing data from 2014 and 2020, we can see that the number quickly rose from 1.29 billion to 2.65 billion.
(Backlinko)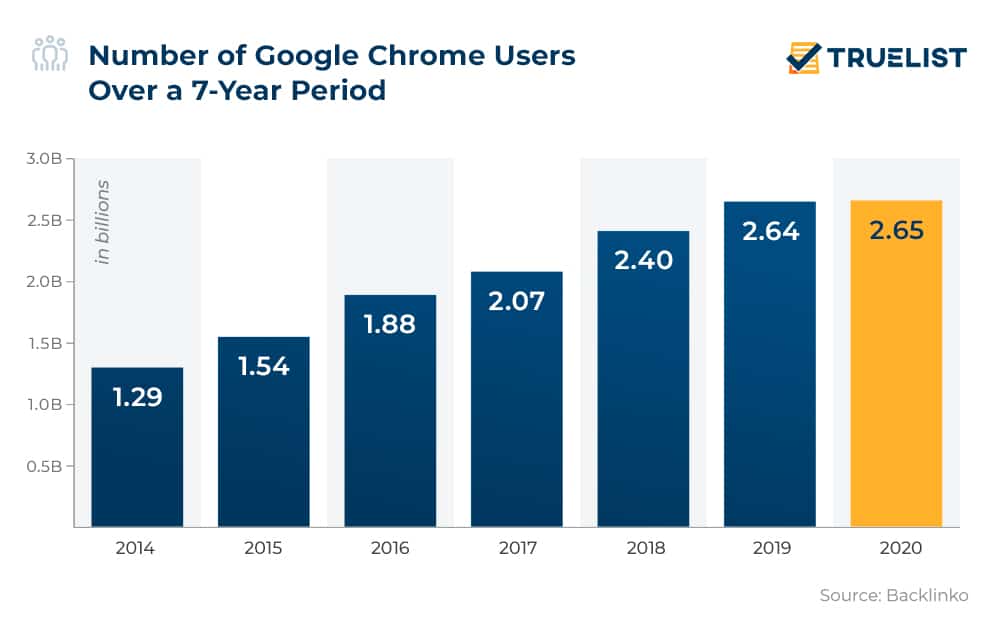 7. In 2019, Chrome achieved 5 billion downloads on the Google Play Store.
Google Chrome user statistics show that this makes it one of the few apps to have reached this momentous milestone. Before it, only four apps had managed to achieve this point: YouTube, Gmail, Google Maps, and Google Search. Its rival Firefox had reached around 100 million downloads at the same time, which means it has quite a lot of catching up to do. Downloading Chrome from the app market is sometimes unnecessary since the browser usually comes pre-installed on Android phones.
(The Geek Herald)
8. Google Chrome warns users about malicious websites some 250 million times monthly.
Chrome comes with default security measures. Meanwhile, Google has invested $3.5 million in security research, identifying issues that may provoke security challenges. According to Google Chrome statistics, the company used Google Safe Browsing to show warnings about websites that might include some deceptive info or dangers. In fact, it launched Safe Browsing to safeguard people from phishing sites. Considering phishing attacks account for nearly a third of cybercrimes, the tech giant's efforts in this field are more than welcome.
(Google)
9. Google Safe Browsing protects over four billion devices daily.
If you wonder how it does it, it's simply by showing warnings to users about entering dangerous websites or downloading extremely corrupted and harmful files. Safe Browsing notifies people when they have been compromised by malicious activities. Similarly, it helps them troubleshoot a problem and mitigate it.
(Safe Browsing)
10. About 6% of Americans confirmed Chrome is the app they could least do without.
According to Chrome usage statistics, the browser ranked as the number six on the list of most essential apps for American users. To paint a clearer picture, Facebook was the number one on the list, with 17% of respondents of the particular survey saying it was the most important app for them. Twitter, meanwhile, ranked right above Chrome. Finding this social media platform on the list of the apps Americans can't live without isn't surprising, taking into account Twitter users send 9, 596 tweets per second.
(AudienceProject)
11. In 2020, Google launched its standalone VPN for Chrome as part of its $100 annual bundle for Google One.
So, this is one option if you need to choose a VPN for Chrome. Keep in mind, however, that Google tends to collect data from its users before allowing them to use its products. Their VPN can still be an extra layer of protection when using the public internet, and it can help you secure your data this way.
(CNET)
Google Chrome Mobile Statistics
12. Chrome accounts for 40.32% of the mobile user market share in the US.
This makes it second in this category when it comes to the US. Only Safari has a bigger share at 53.05%. The list of the most popular browsers also includes Samsung Internet, with 4.26%.
(StatCounter)
13. In 2019, users accessed websites using Chrome on mobile devices about 74.3% of the time.
Despite that, the percentage of mobile users opening websites in Chrome varies based on the country and region. For instance, according to Google Chrome user statistics, Africa had the largest mobile penetration rate (nearly 85%). North and South America, Oceania, and Asia had an average of approximately 75%. European users browsed using Chrome on mobile devices the least, at little under 75% at the peak of usage.
(Onely)
14. Only in Wyoming, among the US states, Chrome has a larger share than Safari or 65.94% as a mobile browser.
When it comes to interesting Google Chrome usage statistics, in 49 out of 50 US states, Safari is the dominant mobile browser. Only in Wyoming, it comes in second, after Google Chrome. Other states that have a significant share of users in this browser (although not higher than Safari) are Florida (37.15%), New Mexico, Connecticut, and Alabama (all three around 36% respectively).
(Mixpanel)
Chrome Extension Statistics
15. Google prevents approximately 1,800 malicious uploads to Chrome monthly.
Protections implemented to stop malware from stealing personal info from users while using Chrome are multiple. For example, it includes developing new program protections, as well as manual reviewers. On top of that, Google plans to modify Chrome's ability to handle ad blocks. This issue became especially relevant to the company after the incident in 2018 when they discovered that 100,000 computers got infected from browser extensions that stole user credentials and mined cryptocurrencies.
(Wired)
16. Chrome was the most vulnerable browser in 2021, with 274 vulnerabilities discovered.
One of the most common types of issues was the denial of service, according to Google Chrome statistics. The runner-up was a buffer overflow while bypassing something took the third spot. Despite all this, it remains the most popular browser worldwide. The second most vulnerable browser in the same period was Firefox, with 121 detected vulnerabilities.
(CVE Details)
17. Google Chrome has between 176,608 and 188,620 extensions.
It's no wonder that it's by far the most popular browser in the world. Out of this total, based on Chrome extension statistics, 137,345 are actual extensions, and 39,263 are themes. The results from Extension Monitor are similar, with 188,620 items on the list. But the difference may lie in the fact that not all Chrome extensions are public or available in all countries.
(DebugBear)
18. Over 87% of Chrome extensions have fewer than 1,000 installs.
To put it in perspective, about 50% of all extensions for Chrome have fewer than 16 installs, making the entire extension complex a ghost town. Further, some Chrome users are the only ones using the particular extension. For instance, 25,540 of them (13%) have one user. Similarly, 19,379 have none (over 10%).
(ZDNet)
19. Only 13 extensions have managed to reach the 10-million user mark.
Based on Chrome usage statistics, these 13 extensions are Adobe Acrobat, Avast Online Security, Adblock Plus, Adblock, Google Translate, Tampermonkey, uBlock Origin, Pinterest Save Button, Cisco Webex, Grammarly for Chrome, Skype, Honey, and Avast SafePrice. Alternatively, some extensions are approaching this mark, but the list of extensions with several million users and more remains small.
(ZDNet)
20. Nearly a quarter of Google Chrome extensions (24.9%) are productivity-related.
Other bigger categories include fun and photo-related extensions, with 22.4% and 19.1%, respectively. Developer tools (7.2%) and social and communications (6.9%) extensions come in next. Finally, some smaller shares fall off to accessibility (5.9%), search tools (5.8%), shopping (3.6%), news and weather (1.7%), and blogging (1.2%).
(DebugBear)
21. The median rating for Chrome's extensions is 4.1 out of 5.
Nonetheless, it varies across categories. So, for example, for the photo category, it's almost five. On top of that, in line with Chrome extension statistics, the ratio of installs to ratings is around 140. To put in simple words, 1,000 installs result in about 7 ratings. However, these numbers aren't set in stone, considering that Chrome doesn't report strict numbers of installs. The news and weather category has the highest ratio of ratings to installs. So per 1,000 installs, it sees over 20 ratings.
(DebugBear)
22. About 4.7% of extensions are paid.
Typically, Chrome extensions don't require payment. For those that do, it's usually a one-off fee (86.4%). Other than that, we have the following pricing for Google Chrome extensions: in-app payments (6.3%), those with monthly (5.7%), and annual subscriptions (1.6%).
(DebugBear)
Conclusion
It seems that the Chrome market share isn't getting any smaller. In fact, it's still the most popular browser by far. Other browsers seem to be just fighting to stay in the loop for users without any significant rise on the ladder. Or that's what the Google Chrome user statistics indicate. At this point, Chrome's popularity won't be changing any time soon.
Google Chrome FAQ
How many people use Google Chrome?
Currently, there are around 2.65 billion users globally who use Chrome as a default browser. Moreover, the base has grown by less than 0.5% between 2020 and 2021. If we look further back, its market share has nearly tripled since 2014.
How many Chrome extensions are there?
Chrome is the browser with the highest number of extensions among its competitors. Depending on the source, there are between 176,608 and 188,620 extensions available on the Chrome Web Store. But according to Google Chrome statistics, not all of them have the same number of users. Namely, about 50% have fewer than 16 installs. Another 19,379 extensions have no installations, and 25,540 have a single user. Finally, only 13 extensions have over 10 million installs.
Sources: Statista, Backlinko, StatCounter, The Geek Herald, Google, Safe Browsing, AudienceProject, CNET, StatCounter, Onely, Mixpanel, Wired, CVE Details, CVE Details, DebugBear, ZDNet