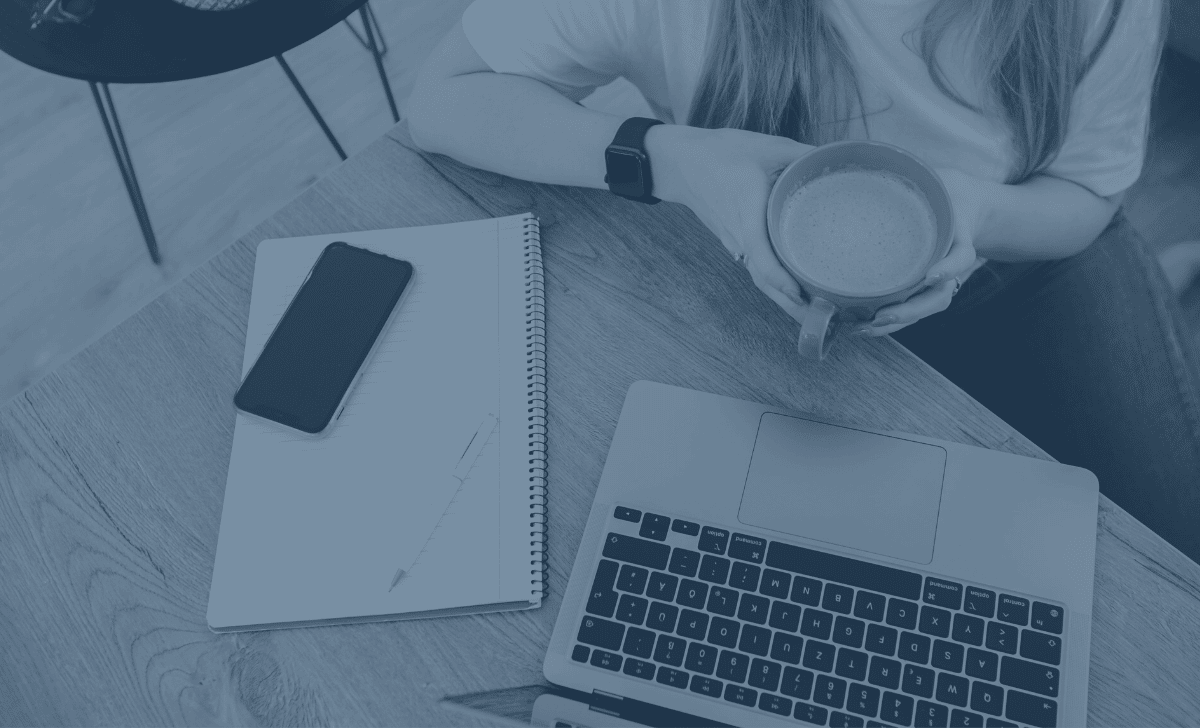 Remote Work Statistics – 2023
Last updated: 07.01.2023
•
While prior to Covid-19, working from home was largely a prerogative of freelancers and the occasional perk for the rest, it has now become the norm. Enabled by technological advancements and fast-tracked by the pandemic, remote work has completely reshaped the way we go about doing our job. That's why we prepared these essential remote work statistics to keep you in the loop. Let's take a look!
Remote Work Statistics (Editor's Choice)
Nearly 90% of businesses have encouraged staff to work remotely during the pandemic. (

Gartner

)

The number of remote workers has more than doubled since 2017. (

Global Workplace Analytics

)

5.7 million US employees were telecommuting before the pandemic. (

Global Workplace Analytics

)

Remote employees are found to be 35-40% more productive. (

Global Workplace Analytics

)

55% of remote employees work more hours at home than at the office.

(

Owl Labs

)

60% of US companies use time tracking software for remote workers. (

Digital

)
Essential Remote Working Statistics
1. Since 2017, the number of employees who work from home has risen by 159%.
Thanks to the rise of technology, the number of employees who work from home has been rising quickly since 2017 and has witnessed a near 160% growth, underscoring a trend that accelerated amid the Covid-19 pandemic. Research further shows that three out of four employees would choose one job over another on account of flexible/virtual work arrangements. 
(Inc.com)
2. Top US-based industries represented by remote workers are healthcare, financial services, and technology.
According to remote work stats in a recent Owl Labs report, healthcare is surprisingly the American industry with the highest percentage of remote workers (15%), followed by internet and technology (10%), financial services (9%), education (8%), manufacturing (7%) and professional services with (6%).
(Owl Labs)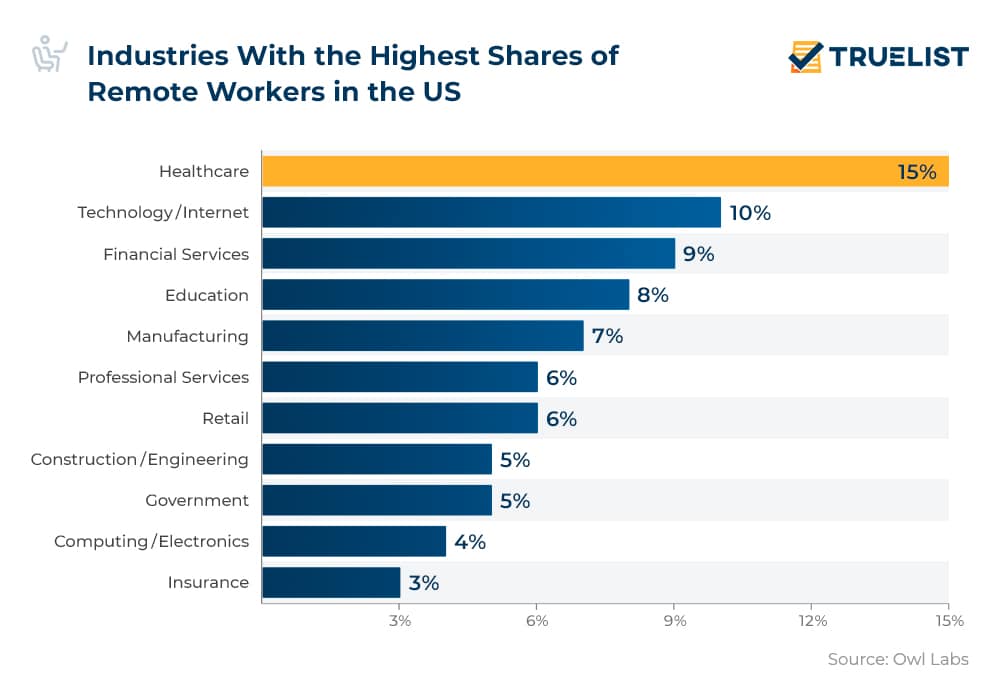 3. Remote work statistics during Covid show that 88% of companies around the world encouraged their workers to do their jobs from home throughout the pandemic.
According to a survey by Gartner conducted on 800 worldwide human resource executives, nearly 90% of companies moved to encourage their employees to work from home regardless of whether they exhibited any coronavirus-related symptoms or not. Even a larger number (97%) of employers scrapped work-related travel at the time.
(Gartner)
4. 4.7 million US employees were already working from home before the pandemic, remote work statistics before and after Covid indicate. 
According to 2019 statistics from Global Workplace Analytics, 5.7 million American workers — (4.1%) of the total workforce — were already working remotely at least half of the time before the Covid–19 pandemic got into full swing. This is a noteworthy increase from 3.9 million back in 2015.
(Global Workplace Analytics)
5. 73% of all departments were expected to have remote employees by 2028.
Even prior to the pandemic, telecommuting was considered the future of work, as evidenced by an Upwork report from 2019. Work from home statistics in the report further show that younger-generation managers were 28% more likely to use remote workers compared to Baby Boomer executives, and 50% more likely to turn to freelancers to fill in gaps within their workforce.
(Upwork)
6. 77% of workers said that after the pandemic being able to work from home would make them happier.
These were the 2020 results of a survey conducted by Owl Labs that had 2,025 responses by full-time employees in America between the ages of 21 and 65 at organizations with more than 10 workers. Remote working stats further revealed that 66% of respondents would stay on with the company but would be less happy if not allowed to work remotely.
(Owl Labs)
7. 65% of American remote workers would be willing to take a 5% pay cut if they can work remotely full-time.
It seems like the workers in the United States are desperate to continue working remotely even after the Covid-19 pandemic. An online survey conducted by Breeze found that 65% of respondents who claimed their job can be done completely remotely would be willing to take a 5% reduction in order to stay and work at home. 15% went even further and said they are ready to take a 25% reduction of their salary to continue working from home.
(Breeze)
8. Remote work and mental health statistics reveal that 33% of remote workers during the pandemic were concerned about their mental health.
Despite the undisputed convenience of telecommuting, working from home has a dark side, with an online survey from 2020 found that a third of employees who worked from home during the pandemic suffered from depression and anxiety. Then, 43% of remote employees were worried about gaining weight whilst teleworking, while 32% were worried about the level of stress experienced during their working time. Other concerns of remote workers include pressure on relationships, blurring the line between home and work life, and long working hours. 
(Aetna)
Remote Work Productivity Statistics
9. Remote employees were working 26 extra hours on a monthly basis during the pandemic.
This equals about an extra day every week, signaling that the time saved from commuting is spent on the job. This stat, however, also underscores the concern of some employees that working from home makes it harder to separate home from work life as the lines between the two get blurred.
(Owl Labs)
10. Working from home statistics show that 84% of workers think they don't need an office to be productive.
84% of workers believe they don't need to work from their company office place to be inventive, creative, and productive, according to a survey performed by Fuze on 6,000 workers across nine countries.
(Fuze)
11. Remote working and productivity statistics show that employees are more productive whilst working from home.
When it comes to productivity while working from home, it appears that remote work is actually good for business. Research reveals that remote employees are 35-40% more productive than their colleagues who work in an office setting. Businesses are further found to be losing approximately $600 billion annually to workplace distractions.
(Global Workplace Analytics)
12. People are saving close to 500 dollars monthly by working remotely, telecommuting productivity statistics reveal.
It appears that working from home can save you a lot of money. A recent survey by Owl Labs revealed that employees in the United States are saving approximately $500 every month on additional costs during the pandemic just by working remotely, resulting in savings close to $6000 annually.
(Owl Labs)
13. Working from home productivity statistics reveal that 55% of remote employees work more hours at home than at the office.
If you're wondering how much remote employees really work at home, the 2021 study by Owl Labs found that more than half work more hours at home than at their company office, followed by 33% who say they work the same as they do at their office, while the remaining 12% of employees work fewer hours than at the office.
(Owl Labs)
14. Remote workforce statistics show that some of the biggest difficulties while working remotely is having children at home. 
Owl Labs' most recent survey about remote work reveals that 28% of the US-based respondents have admitted that their biggest problem while telecommuting was having children at home, followed by 28%% not having worked this way before (either at home or remotely), and more meetings than usual (26%).
(Owl Labs)
Global Statistics on Remote Work
15. 30.3% of UK-based remote employees said they worked more hours than usual.
Amid the coronavirus lockdown, many people started working from home and the UK was no exception. 34.4% of these remote employees across the pond have stated they worked fewer hours at home than at the company office. 30.03% have said they worked more hours than usual, while the remaining 35.2% of them spent as much time working as they would under normal circumstances.
(ONS)
16. 60% of the UK population worked remotely throughout the first Covid-19 lockdown.
According to recent research by Finder, at the height of the pandemic, 60% of the UK's population worked from home, and 26% of them plan to work this way permanently or at least occasionally. Remote work statistics for the UK show that these remote workers will save approximately £44.78 (~$53) on a weekly basis just by working from their homes.
(Finder)
17. Two-thirds of Australian employees work from home.
Working from home is the new normal in Australia just like in many other countries around the world as a result of the Covid-19 outbreak. Capeterra's 2020 survey conducted on 1,400 Australian workers revealed that as of November 2020, 64% of employees Down Under are working remotely. 21% of these employees have always been remote workers, while the remaining 43% of them started working from home in 2020.
(Capeterra)

18. Remote office statistics reveal that 70% of Australian employees who worked at home during the pandemic would like to continue doing so.
Melbourne Institute's most recent study about telecommuting found that most of the people who were working remotely because of the pandemic would like their teleworking to continue. About 50% of employees meanwhile are continuing to work from home despite the easing of lockdowns. 
(Melbourne Institute)
19. Telecommuting in Australia is highest among 25-34 year-olds.
There are different tendencies according to the age and sex of employees when it comes to teleworking. Remote work statistics for Australia indicate that working remotely is highest among 25-24 year-olds, while more men than women are working from home. In addition, 55% of younger Australian workers — the 18-24 age group are still working from their company office, compared to 45% of them who chose to work from home.
(Melbourne Institute)
20. 90% of "new remote workers" in Canada reported being at least as productive at home as they were at their workplace.
Remote work statistics for Canada show that 90% of "new remote workers" in the Great White North, i.e employees who did not usually work this way before the pandemic spread across the country, reported being at least as productive as they would under normal conditions working from their company office. 
(StatCan)
Remote Work Software Statistics
21. 60% of US-based companies with remote employees use a remote desktop program.
A survey of 1,250 employers stateside conducted by Digital has found that most organizations with employees who are working from home are using time tracking platforms to record employee activity and productivity during working hours. As many as 81% of companies that have such platforms have seen a rise in employee productivity. 
(Digital)
22. Only 5% of respondents agree 100% with the practice of employers monitoring employees, remote workers statistics show.
When asked what they think about the practice of employers monitoring remote employees through some kind of remote desktop software, 5% of the respondents to NashNews' survey answered that they agree 100% with this method, and another 5% said they were unsure how they feel about it, 11% totally disagree with the practice, while 21% agree with an employer's right to track their activity but admitted it makes them feel uncomfortable. The remaining 58% of the respondents think that while blocking certain content and applications is fine, they find other monitoring intrusive.
(Nashnews)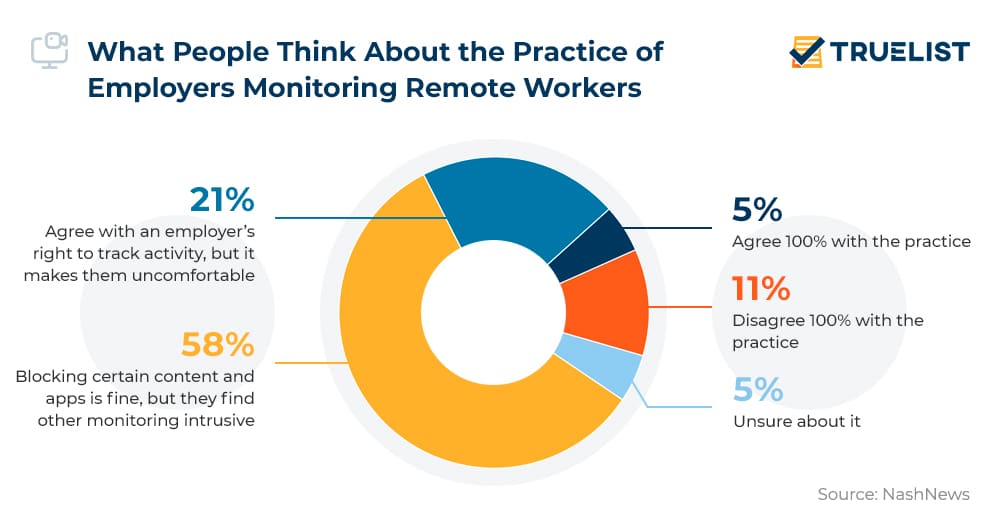 Conclusion
We've gone through some of the most essential remote work statistics and we can agree that teleworking has a bright future. That's because working from home saves a lot of time in commuting, increases productivity, and gives employees more family time. The only thing left is to mitigate the negative sides such as blurring the line between home and work life, which could be achieved with a more flexible schedule or a mix of office and remote hours.
Sources: Inc.com, Owl Labs, Gartner, Global Workplace Analytics, Upwork, Owl Labs, Breeze, Aetna, Fuze, Global Workplace Analytics, Owl Labs, Owl Labs, ONS, Finder, Capeterra, Melbourne Institute, Melbourne Institute, StatCan, Digital, Nashnews