Everything revolves around smartphones and tablets these days, and emails are no exception. To build an email marketing strategy that will deliver results, you need to optimize it for mobile too. To aid you with that, we've prepared the most essential mobile email statistics. With email still regarded as a valuable tool for communication with customers and generating new leads, these stats will hopefully give you some ideas on how to craft a successful, mobile-friendly email marketing campaign. 
Mobile Email Statistics (Editor's Choice)
There were more than 4 billion email users in 2020. (

Statista

)

Four out of ten emails are opened through mobile applications. (

Statista

)

50% of consumers prefer email communication with a brand. (

Adobe

)

At least 50% of emails were opened on mobile in 2018. (

Email Blaster UK

)

Mobile emails have a 65% higher likelihood of bringing customers to your website. (

Campaign Monitor

,

OuterBoxDesign

)

Over a third of business professionals open their

emails on mobile

. (

HubSpot

)
Mobile Email Stats Rundown
1. There were more than 4 billion email users in 2020.
The global population is more than 7 billion, and nearly half of them have an email account. Statista's email statistics show that almost half of the world's population use their email actively. Projections meanwhile show that the number of email users will increase to more than 4.59 billion by 2025.
(Statista)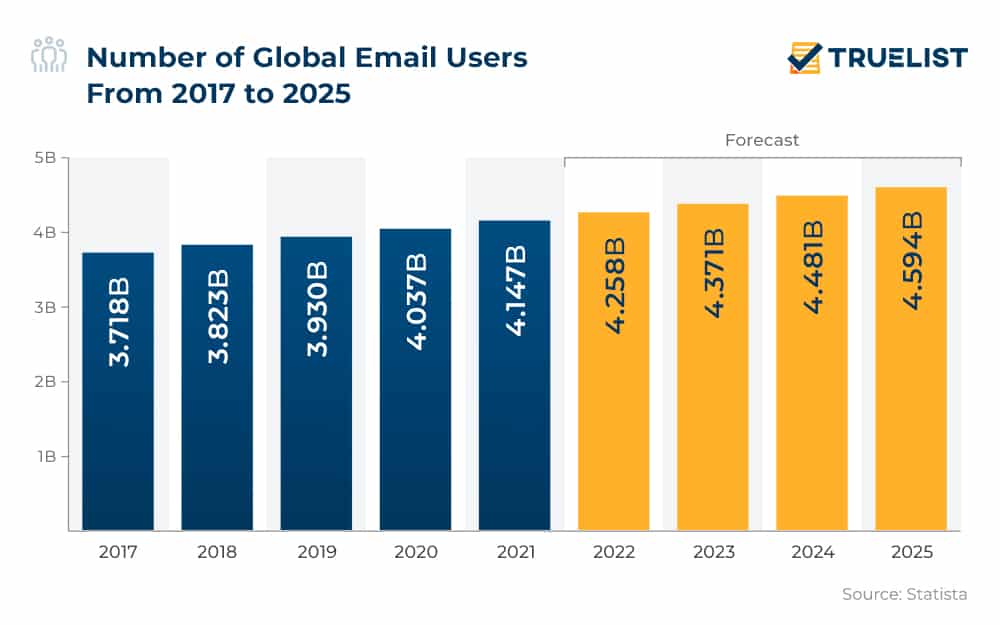 2. Four out of ten emails are opened through mobile applications.
The most recent mobile email statistics reveal that mobile is gaining traction at the expense of webmail. According to Statista, the percentage of emails opened on mobile rose to 43% in 2018, with email desktop opens dropping by 18% to 39%. To see things from a different perspective, nearly 281 billion emails had been sent and received on a daily basis in 2018, and projections are that by 2023 the number will top 372 billion daily emails, most of which will be opened on mobile.
(Statista) 
3. US email usage stats show that the average email open rate is 21.33%.
According to MailChimp's extensive research, the average email open rate across all industries is 21.33%. Also, it indicates that Personalized emails increase open rates for most of them. However, government-related emails are shown to have the highest open rate (28.77%), which isn't surprising.
(MailChimp)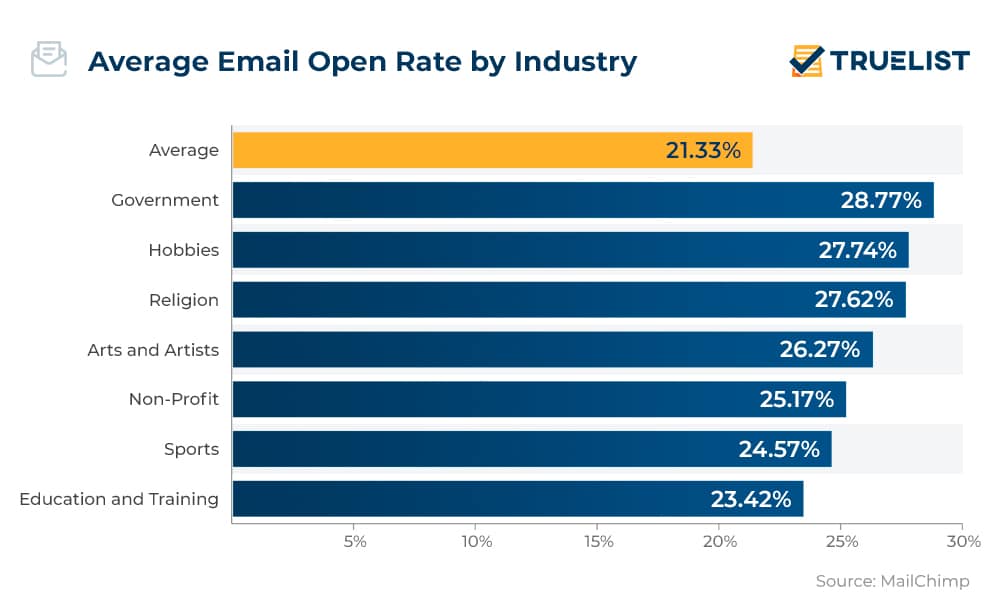 4. Emails are the first thing 58% of people check in the morning.
Mobile usage statistics confirm that instead of checking Facebook or their favorite influencers' Instagram stories, almost 60% of people check their emails first thing in the morning, while 20% like to search the world wide web. Surprisingly, the same research reveals that only 14% of individuals check social media when they wake up.
(OptinMonster)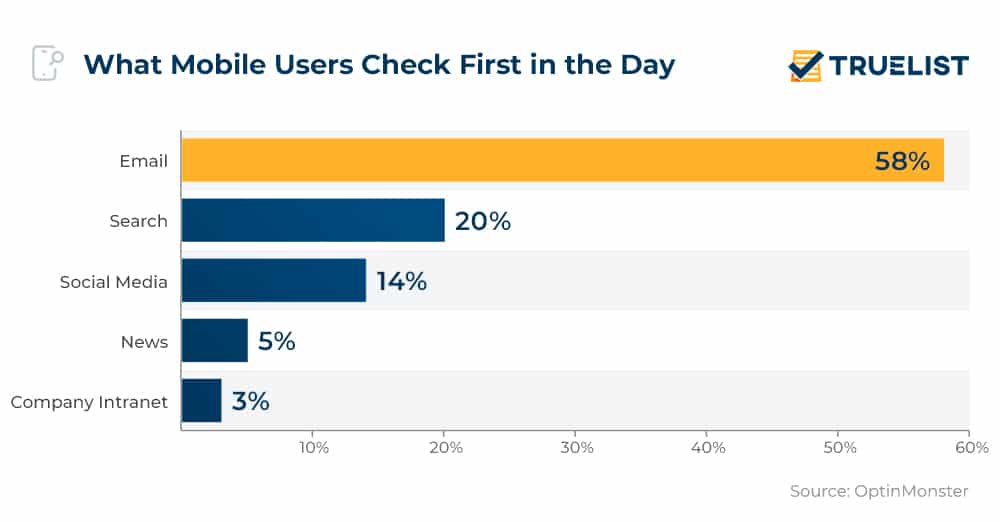 5. 92% of email users are Gen Xers.
In case you were wondering which age group to target with your next email campaign, email usage stats confirm Gen Xers are your 'bullseye'. Email usage by age indicates millennials follow close, with 89% using emails as a means of communication. There are plenty of email users among the younger generation too, with a whopping 85% of Gen Zers saying they've used various emailing devices in the past month to check or reply to an email. In fact, nearly half of Generation Zers claim their email use has increased in the past few years. 
(Marketing Proofs) 
6. Email client statistics confirm Apple is the #1 most used email client in the world.
After being on top for almost one year, Gmail lost its position to the Apple iPhone that has been crowned the king of the email client market share in May 2022, with 57.97%. The currently most popular email client beats Gmail, which currently holds 28.13% of the share. They are followed by Outlook who is ranked third with only 4.21%, Yahoo! Mail, and Google Android.
(Litmus)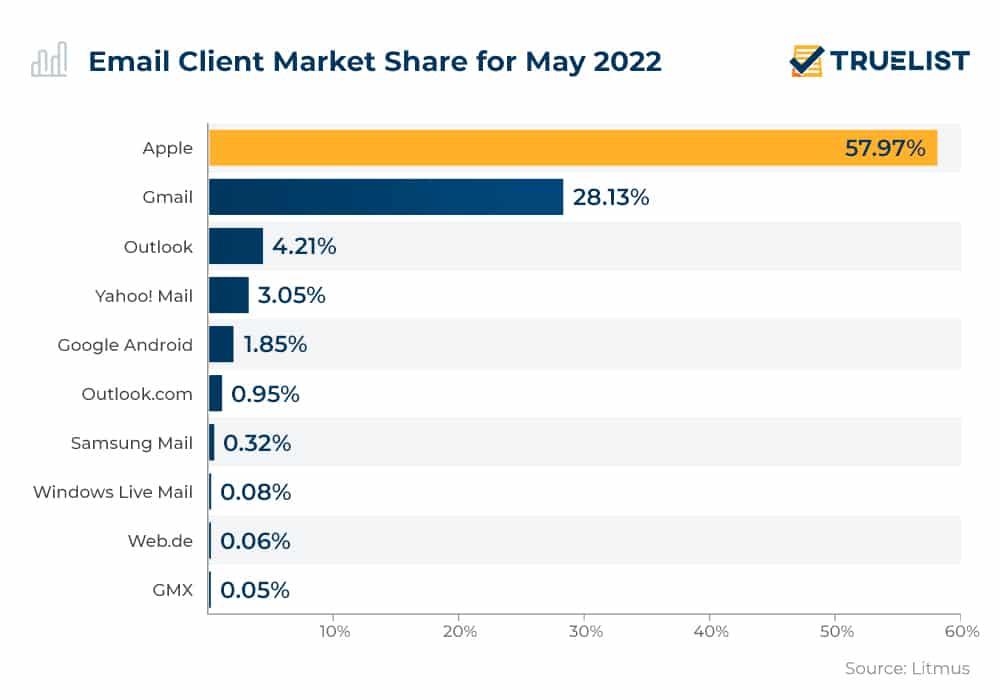 7. 50% of consumers prefer email communication with a brand.  
And the rate is highest at 55% among 35+ people but equally high among younger generations. Mobile and tablet usage statistics also pinpoint a brand's mobile app as the primary choice and preferred communication trail for around 7% of consumers, while the least favorite communication method is chatbots (liked by only 3% of consumers). While email marketing stats confirm that email remains a top communication technique for both brands and users, if by any chance it fails you as a marketer, just remember that investing in a mobile app as a means to promote your brand, pays off big time. 
(Adobe) 
8. Seven in ten users delete emails that don't display correctly on phones.
That's a pretty alarming number of users that would just delete an email that doesn't load properly. To add to that, 15% of email users will unsubscribe. That stat further underscores the need for optimization for mobile.
(Reinvite) 
9. 73% of companies optimize their emails for mobile regularly.
Finally, a step in the right direction. As confirmed by mobile email statistics, for many years in a row, companies would lose potential clients just because they didn't pay enough attention to mobile email optimization. The situation is now different with many businesses working on developing an optimization strategy, although many report they are struggling to find the necessary resources. 
(Smart Insights) 
10. At least 50% of emails were viewed on mobile in 2018. 
With mobile email statistics confirming 60% of email campaigns are read on mobile, 29% on webmail, and only 10% on desktops, optimizing emails and newsletters is definitely worth it. And while having two designs for a newsletter can be time-consuming and expensive, it pays off in the long run. 
(Email Blaster UK)
11. Mobile emails have a 65% higher likelihood of bringing customers to your website.
With customers opening emails on smartphones and tablets six times more likely to visit a website, mobile device statistics point to yet another reason for marketers to step up their mobile game. A total of 79% of consumers have made a purchase in the past 6 months with the use of their smartphone. 
(Campaign Monitor, OuterBoxDesign)
12. Mobile devices show up to 30 characters from an email's subject line. 
Looking at mobile vs desktop email opens it's important to note that desktops show 60 characters of an email's subject line. On the other hand, mobile email usage statistics show that subscribers using smartphones get to see between 25 and 30 characters, so make sure you put the most essential information there to make the most of it. When venturing on an email marketing campaign, in addition to deciding which tool to use, email marketing companies should keep in mind the length of the email subject line so your message can be read right by the respective audience.
(Campaign Monitor) 
13. The iPhone is the most used device to open emails. 
On a semi-related note, mobile email stats declare Apple as the undisputed ruler of the mobile email world. 28.4% of all email opens on mobile devices come from iPhones, while iPads account for 9.3%. At the start of the year, Google's Android was ranked third with 2.3%. 
(Litmus) 
14. 35% of business professionals open their email on mobile.
Many people think that it's not appropriate to open business emails on a phone because there is always a chance that sensitive information is included in the mail. Mobile usage statistics, however, reveal that more than a third of professionals do not care about this. 
(HubSpot)
15. Click rates grow by 30% with responsive email design. 
Responsive email design can scale usability, deliver better read rates, as well as improve performance and click-through rates. In addition, the initial link with a responsive design on mobile is three times more likely to get clicks than one with a non-responsive design. But it's not just that; mobile email facts confirm responsive email design increases unique clicks from 2.7% to 3.3%.
(EmailMonday) 
16. One-third of users read their email on more than one device.
Unsurprisingly, many people own both a desktop and a mobile device. Those who check their email on both devices are called hybrid users. It appears 23% of people open their emails for the second time on the same device, 70% do it for the third time, and 30% tend to do it on a different device. Mobile device statistics show that most users don't feel committed to one over the other device and use both to check their email. 
(Campaign Monitor) 
17. Automated emails might increase revenues by 320%.
Automated emails lead to a massive surge in revenues. Also, shopping cart abandonment stats indicate subscribers receiving automated emails as a reminder are almost three times more likely to make a purchase. A total of 78% of marketers meanwhile say that email list segmentation is their all-time favorite feature. Transactional emails, on the other hand, as email usage statistics pinpoint, generate six times higher revenues, and scale up opens and clicks by up to eight times. 
(Campaign Monitor) 
18. 68% of Americans say they decide to read an email based on the "From" name.
Optimizing the email "From" name can do wonders. More precisely, a shocking 68% of Americans say they decide on whether to open an email or not based on how distinctive the "From" name appears, as revealed by desktop and mobile email facts.
(Campaign Monitor) 
19. People spend an average of 51 seconds reading a newsletter.
Studies provide evidence that human beings process images 60,000 times faster than text. Perhaps this is why the average person spends less than a minute reading a newsletter. This can be very effective for email campaigns, especially if compelling visuals are used. Mobile-wise, it is vital to make sure the image and text of the email are optimized to fit small screens.  
(WylieComm) 
20. Email replies sent from phones are 60% shorter than desktop.
EmailMonday's mobile email usage statistics reveal that people are lazier when writing a response from a phone. The primary cause of this action lies in the accessibility of a desktop — it has a bigger keyboard. Plus, users can view the whole large mail on a 22+ inch screen, which is not the case with smartphones' 5-6 inch displays. 
(Cirrus Insight) 
21. The total number of consumer and business emails sent and received a day is forecast to reach over 347 billion by the end of 2023.
Research reveals that there will be even more email users by the end of 2023. Mobile email trends also suggest that hackers will continue to produce complex and sophisticated malware that will make companies spend more on advanced anti-malware protection. The most common malware attacks on desktop and mobile are blended. These are emails that do not contain any malware attachments but instead contain a link that will take the user to a malware-infected website.
(Radicati)  
Conclusion
The age of information has brought so much innovation that it has fundamentally changed marketing. It was the email that kick-started the digital age and, even today, email marketing remains a valuable method to generate new leads for companies. New times bring new challenges, though, and mobile optimization is the key. As these mobile email statistics show, marketers need to stay up to date with the latest trends in mobile if they want to make the most out of their email campaigns. 
Sources: Statista, MailChimp, OptinMonster, Marketing Proofs, Litmus, Adobe, Reinvite, Smart Insights, Email Blaster UK, Campaign Monitor, OuterBoxDesign, Campaign Monitor, Litmus, HubSpot, EmailMonday, Campaign Monitor, Campaign Monitor, Campaign Monitor, WylieComm, Cirrus Insight, Radicati