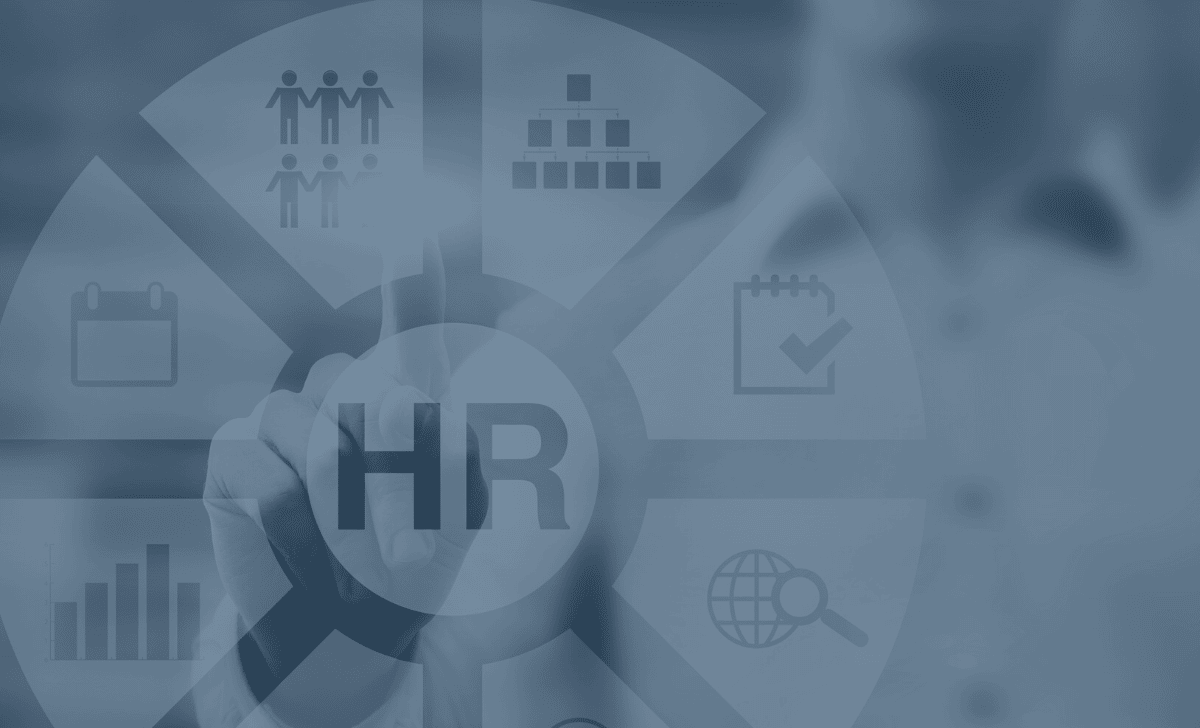 HR Statistics – 2023
Last updated: 07.01.2023
•
Many factors influence the success of businesses, but few do it to the extent of human resources. To manage people, companies need to keep pace with current trends and find modern solutions for HR challenges. To help you with that, we prepared this list of the latest HR statistics. The information and the numbers presented here will aid you in the process of hiring and retention of talented and skilled employees. 
HR Statistics (Editor's Choice) 
Burnout is a major issue for employee retention for 95% of HR leaders. (

Forbes

) 

97% of employers think about increasing investment in recruitment technology. (

Zippia

)

Bad reputation forces companies to offer 10% higher salaries. (

Harvard Business Review

)

86% of SMB employees want to continue working from home once the pandemic is over. (

Software Advice

)

Office employees are productive for around two and a half hours per day, on average. (

Apollo Technical

)
General HR Statistics 
1. With 47%, retaining employees is the biggest issue for HR managers.
Almost half of HR leaders see the retention of workers as their top challenge. Recruitment meanwhile has emerged as the second-biggest challenge for HR professionals, with just over a third (34%) citing it as a problem.
(Globoforce)
2. Low retention is the number one sign of poor HR policy.
Companies with bad HR practices find it difficult to retain their employees. When outfits struggle to keep a full staff frequently, they need to think twice about their HR policy. Also, the constant hiring and recruiting puts additional financial pressure on the business and reduces productivity, according to HR stats.
(SHRM)
3. 95% of HR managers believe that burnout has serious consequences on employee retention.
HR takes burnout seriously in recent times. In fact, 95% of HR managers see burnout as sabotaging the workforce, according to a study by Kronos Incorporated. Unfair pay (41%), excessive workload (32%), and after-work hours (32%) are cited as the main reasons for burnout. To that end, flexible scheduling is one of the tools companies can use to handle burnout, according to employee retention stats and facts.    
(Forbes) 
4. 70% of HR leaders embrace value-based recognition programs. 
Programs where employees are recognized for showing values that exemplify the essence of the company are very popular among HR managers. These programs are more likely to aim at strengthening business goals. 
(Globoforce)
5. Eight in 10 HR managers claim there is a recognition program in their company.
Human resources statistics confirm that recognition programs should be considered an important management practice. Most HR managers working for companies that have recognition programs confirm it helps with employee experience, their relationships, organizational culture, employee engagement, and organizational values.
(Globoforce)  
6. Just over half of HR leaders condone their current appraisal process. 
HR teams which carry out performance reviews more frequently are 1.5 times more likely to believe that they have an accurate appraisal process compared to those who do it annually. Human resources stats further show that 51% of HR managers believe that their performance appraisal is reliable.
(Globoforce)
7. Celebrating employees' life events contributes to workplace relationships.
64% of employees are satisfied with their company if their life events are marked in the workplace. Then, 35% don't think that the company is a good place to work because they are dissatisfied with the celebration of life events.
(Globoforce)   
8. Companies that often do performance reviews have more probability to use peer feedback.
Almost 40% of companies that do frequent performance reviews rely on ongoing peer feedback, whereas 27% use intermittent peer feedback. As much as 89% of HR managers believe that ongoing peer feedback brings helpful outcomes, human resource facts indicate.
(Globoforce)
9. Companies with bad reputation have to offer 10% higher salaries to make up for it.
Bad reputation can have a high cost for brands, not only in terms of customers but in terms of talent as well. When hiring new employees they have to think about their reputation and compensate for it. Still, a 10% higher pay for new employees can only convince 28% of them to start a career at companies that are not respectable.    
(Harvard Business Review)
10. One of the main goals of HR managers is to improve productivity. 
The ratio between input and output is defined as productivity. However, companies face the challenge of managing the human, cultural, moral, and other aspects in the effort of achieving the target productivity, as confirmed by statistics on HR productivity. 
(People Development Magazine)
11. Over 80% of HR managers report having made changes to performance management.
The data regarding performance management foresees that numeric and qualitative labels will soon be forgotten by some HR managers. Others think about eliminating the idea of grading and ranking employees; wondering if that will bring better performance results for both the employees and the company.    
(Gartner)
HR Technology Statistics
12. 58% believe that finding and keeping talent motivates adopting HR technologies.
Almost 60% of HR teams state that finding, attracting, and retaining talent is the main reason for using HR technologies. For 43%, one of the biggest issues for making HR technology decisions is allowing employees to reach their full potential. 
(PwC)
13. Automation and technology have brought the loss of 800,000 jobs for low-skilled workers in the UK.
According to HR automation statistics, the implementation of modern technology has resulted in the disappearance of 800,000 jobs for untrained workers. However, it has also brought the creation of 3,5 million posts for high-skilled workers.
(Deloitte)
14. Almost 50% of HR technology will prioritize talent acquisition tools in the future.
The top three future priorities for human resources technology include tools for acquiring talent (49%), employee experience (48%), and skills mapping and career pathing (46%). Also, following closely behind are intelligent recruiting (45%) and intelligent automation (45%).
(PwC)
15. 65% of small US businesses use HR software.   
Among small businesses in the US, 15% are planning to use HR software in the next one to two years and 65% have already taken that road. Facts about HR indicate that only 8% of small US businesses are without any intention to use the software and have no plans to evaluate.
(Capterra)
16. HRIS software costs about $210/month per user.
It has been calculated that the companies' budget for each user of the HRIS software is $12,625. It's worth mentioning that as a result of economies of scale, larger companies have smaller budgets for employees compared to smaller companies.
(Softwarepath)
17. Almost half of big companies claim they use a licensed HRMS.
According to human resources management statistics, 47% of large organizations possess a human resources management system. Also, businesses in Europe, the Middle East and Africa use nearly four communications methods in their organizations, on average.
(Statista)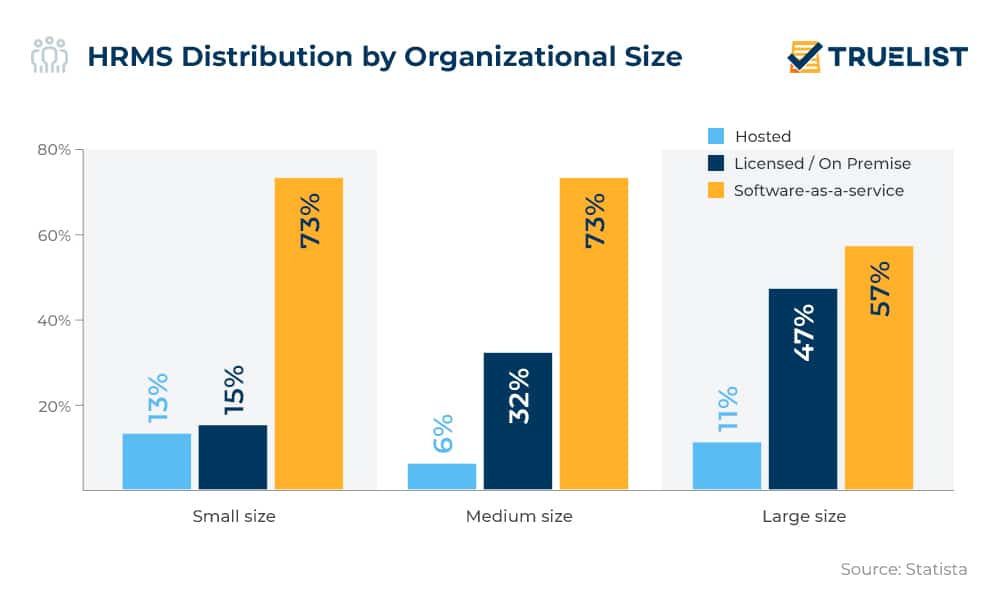 18. 97% of companies are planning bigger investments in recruitment technology.
In the near future, it is expected that 60%, 53%, and 47% of employers will invest in predictive analysis, process automation, and artificial intelligence, respectively. HR stats unveil that 6% of HR departments already use AI and 24% are planning to use it in the future.
(Zippia)
19. Virtual recruitment is the most popular hiring process.
Although virtual recruitment may be the most used routine when hiring an employee, just 16% of HR departments are confident about their adaptation to this process. Also, about 40% of HR managers feel they are ready to face new challenges and start using AI and other modern technologies.
(Zippia)
Human Resources Job Statistics 
20. HR specialists earned around $63,000 on average in 2020. 
The statistics on human resources salary show that the pay for HR managers averaged $121,220 in 2020, whereas human resources specialists made $63,490 the same year. Also, 86% of recruiters claim that now the market is candidate-driven.
(Zippia)
21. Building critical skills and competencies is the top priority for HR leaders.
According to HR stats, almost 70% of human resources managers believe that their most important objective is building critical skills and competencies. Other top priorities include organizational design and change management.
(Gartner)
22. HRCI certifications are the most common among HR professionals.
Since HRCI has been around for more than 40 years, it is not surprising to know that about 30% of professionals hold at least one HRCI certification. Stats on certified HR professionals show that 16.9% of them have the Professional in Human Resources credential which makes it a quite popular HRCI certification.
(Pay Scale)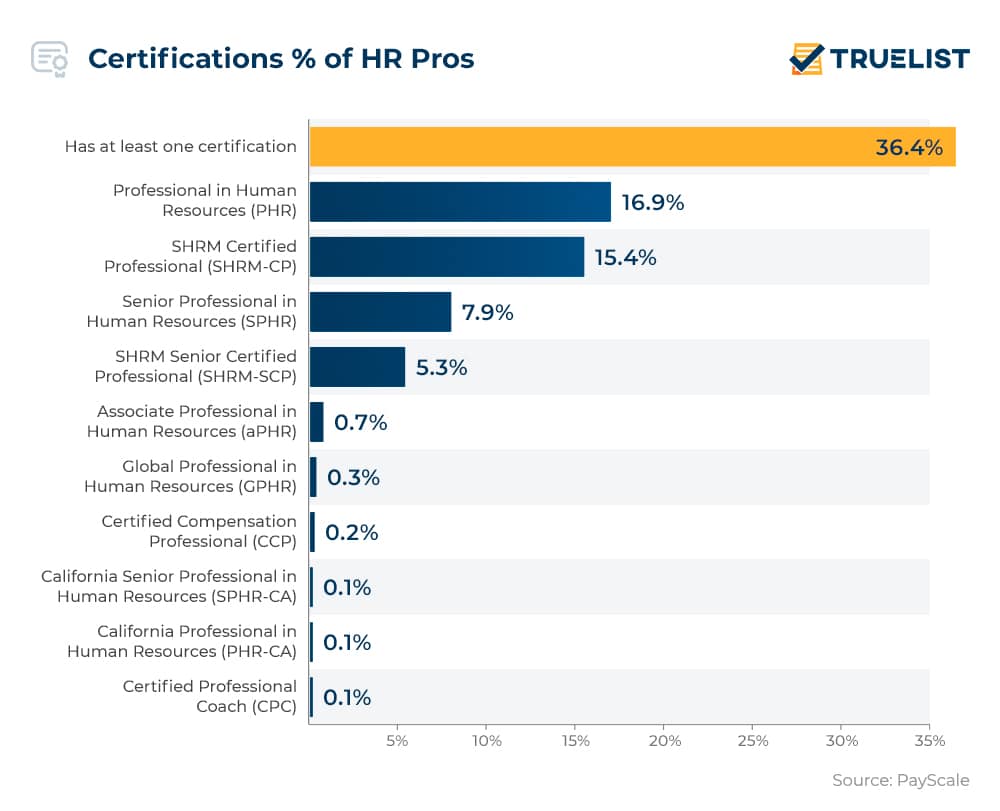 23. On average, around 73,400 jobs are created for HR professionals every year in the US.
HR specialists' employment is expected to grow by 10% in the period from 2020 to 2030 in the US. In 2020, the number of jobs occupied by human resources professionals was almost 675,000.
(U.S. Bureau of Statistics)  
24. A Bachelor's degree is usually required when applying for an HR specialist job.
Human resources labor statistics confirm that the level of education that is necessary to be considered for an HR position is a Bachelor's degree, preferably in HR, business, communication, or a related field. Some employers further require experience in positions such as HR assistants and customer service representatives. The job description includes recruiting, screening, and interviewing people as well as handling compensation and benefits, training, and employee relations.
(U.S. Bureau of Statistics)  
Post-Pandemic and Global HR Statistics and Trends
25. The engagement of US employees has gone back to pre-pandemic levels. 
Employee engagement stats reveal the level of engagement of workers in the US. before the pandemic was 35%. Recent measurements have confirmed that the level has gone back to normal or just a bit higher — 36%.  
(Gallup)
26. Around two million jobs were lost in Canada in a single month as a result of the pandemic.
COVID-19 hit the Canadian economy hard by forcing the closure of non-essential services. That had a serious impact on the labor market and unemployment rates, as evidenced by HR statistics for Canada. What's more, the pandemic emphasized the already existing inequalities in the country, leaving younger, less educated, and unmarried workers most affected by the situation.
(The Conversation)
27. The UK boasts a 75.9% employment rate as of May 2022.
Compared to the numbers before the pandemic, the employment rate in the UK has gone down by 0.7 percentage points but is up by 0.7 percentage points compared to the first quarter of 2022. HR statistics for the UK further reveal that the unemployment rate is 0.2 percentage points lower than the pre-pandemic percentage.
(Office for National Statistics)
28. About half of Australian companies lack a clear employee strategy. 
As many as 55% of companies Down Under have defined their HR policy, according to a recent study covering 1,000 local HR professionals. However, that leaves the rest without any precise plan for the people working for them. These HR statistics from Australia are worrying because businesses have great expectations from their HR functions.
(Tandem Partners)
29. There is a 41% decrease in absenteeism in highly engaged employees.
Highly engaged teams boast over a 40% reduction in absenteeism and their productivity boosts by 17%. Also, teams with a high degree of engagement see growth in their customer ratings and sales by 10% and 20%, respectively.
(Gallup)  
30. 45% of HR outsourcing organizations offer HR consulting.
HR outsourcing statistics confirm that HR consulting is on the top of the list of services offered by outsourcing organizations. The least popular services, on the other hand, are insurance – 19% and performance management — 10%.
(Extensis Hr) 
31. The average office worker is unproductive for almost six hours a day.
Surprisingly, people working in offices are productive for only two hours and 23 minutes, which means the rest of the eight-hour workday is wasted, human resources facts show. However, freelancers boast an amazing seven hours of daily productivity, or 36 hours/week, according to employee productivity statistics.
(Apollo Technical)
32. Referrals are rated as one of the best ROI sources. 
Employee referral statistics reveal that 82% of business owners are satisfied with employee referrals because of the high level of ROI they generate. Also, almost half of workers who have been employed as referrals stay in the company for more than four years. 
(Erin App)   
33. Successfully onboarded employees are 18 times more likely to be devoted to their jobs.
When the onboarding is effective, employees form relations in the company at a faster rate and the company is off to long-term success. The commitment level of employees increases with the level of effectiveness of the onboarding process, as evidenced by onboarding statistics.
(BambooHR)
34. Just 12% of workers believe in the effectiveness of their company's onboarding policy.
Human resource statistics suggest that the majority of employees are disappointed in the onboarding processes of companies. They don't keep the promises they make while recruiting new employees which affects their relationship with the company and makes employee retention harder.
(Gallup)  
Wrap-up
From the HR statistics we've compiled, it can be concluded that human resources leaders are constantly looking for ways to increase the efficiency of employees, and they also deal with recruiting and keeping experienced employees. Many take advantage of all available resources including HR tools while others are still to utilize the benefits of technology.
Sources: Globoforce, SHRM, Forbes, Harvard Business Review, People Development Magazine, Gartner, PwC, Deloitte, Capterra, Softwarepath, Statista, Zippia, Gartner, Pay Scale, U.S. Bureau of Statistics, Gallup, The Conversation, Office for National Statistics, Tandem Partners, Gallup, Extensis Hr, Apollo Technical, Erin App, BambooHR, Gallup