How Many People Use Google – 2023
Last updated: 09.01.2023
•
Google was born back in 1996 when Larry Page and Sergey Brin developed a concept for a search engine they were going to call BackRub. The rest, as they say, is history.
Today, Google is synonymous with internet search. The search engine has the biggest market share by far, and beyond being a part of our daily life (note the expression 'google it'), it serves as an instrumental marketing tool for businesses.
So, read on to learn the answers to the most frequently asked questions about the King of Search Engines, including how many people use Google, and then some! While you might expect some of the answers, others will surprise you (they surely surprised us when we did the research). 
How Many People Use Google?
The short answer would be billions. Let's dig a little deeper though; back at the turn of the millennium, Google was handling only 32.8 million searches per day or 14 billion searches per year. Just over a decade later, in 2012, Google surpassed 3.3 billion daily searches and nowadays, the number of Google searches per day is much more staggering.  
1. What percentage of searches are done on Google?
Google has been sitting on the Search throne for a long time. In July 2020, it held 91.43% of the search engine market share worldwide. This breaks down to 84.14% of the desktop market and 94.94% of the mobile search market share. The total number of google searches over the past few years has remained stable.
(Stat Counter)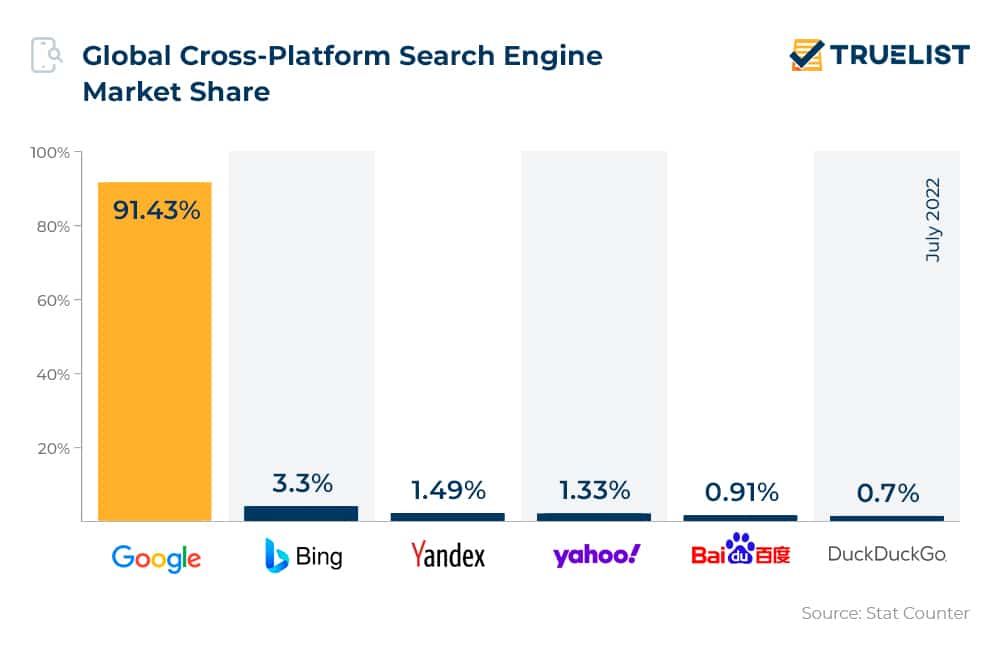 2. How many Google searches per day?
Holding the majority of the search engine market, Google processes a huge amount of queries. The average number of daily Google searches is 3.5 billion which translates into 1.2 trillion global searches per year. 
(Internet Live Stats)
3. How many Google searches per second?
With so many daily searches, one must wonder how many searches Google processes every second. According to Internet Live Stats, there are over 40,000 Google queries per second. Pretty impressive, right?
(Internet Live Stats)
4. Who uses Google the most?
As Google user statistics show, with 93.99% India is the country that generates the highest desktop traffic, followed by people from Brazil (89.1%). The distribution of global online visitors to Google is 88.54% in Italy and 86.41% in Spain. According to statistics on the number of Google users worldwide, the search engine is least popular in China. Only 8.78% of the country's desktop traffic is conducted via Google. Let's keep in mind though that in China, Baidu is king.
(Statista)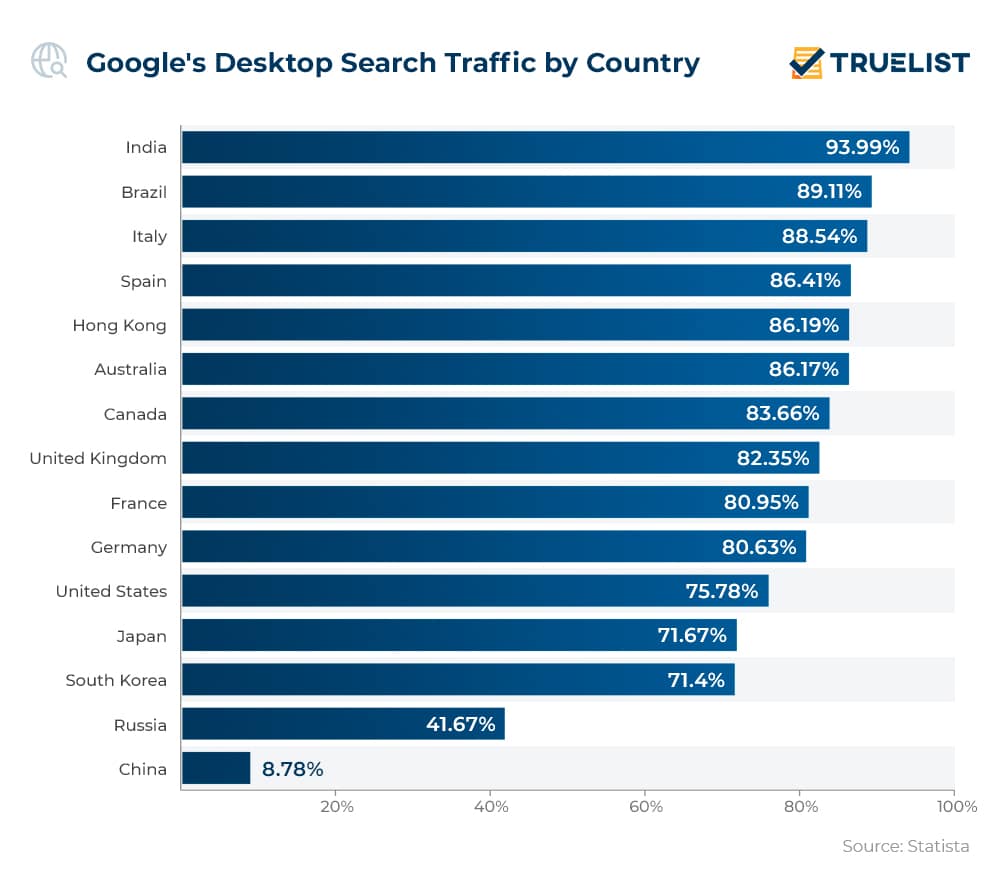 5. How many Google searches does the average person make?
We turn to Google several times a day whether it is to resolve an argument with friends, look up where to buy dog food, or just to find a tasty recipe for the day. Accordingly, an average person makes about three or four searches every day. While that doesn't seem like a lot, it translates to approximately 120 searches a month per person. 
(Earthweb)
6. How many people use Google Plus?
Google's answer to Facebook, social networking service Google Plus, had noted 395 million active users, 91% of which were empty accounts. Though it experienced exponential growth in its early years, the platform's popularity subsequently declined and was unsuccessfully redefined multiple times which eventually led to low engagement. In April 2019, Google+ was finally shut down for personal and business use. Soon after that, Google announced Currents as the rebrand and replacement of Google Plus for enterprise customers, available with GSuite. 
(WordStream, The Verge)
7. How many people use Google Chrome?
Google Chrome debuted back in 2008 and has since been reinventing the browsing game. Though the speculated number is 2 billion active installs across desktop and mobile, the latest Google search statistics reveal that an estimated 3.2 billion people worldwide used Chrome as their main browser in 2021. In the US alone, Google Chrome accounted for approximately 50.46% of the overall internet browser market share as of September 2021. 
(Statista)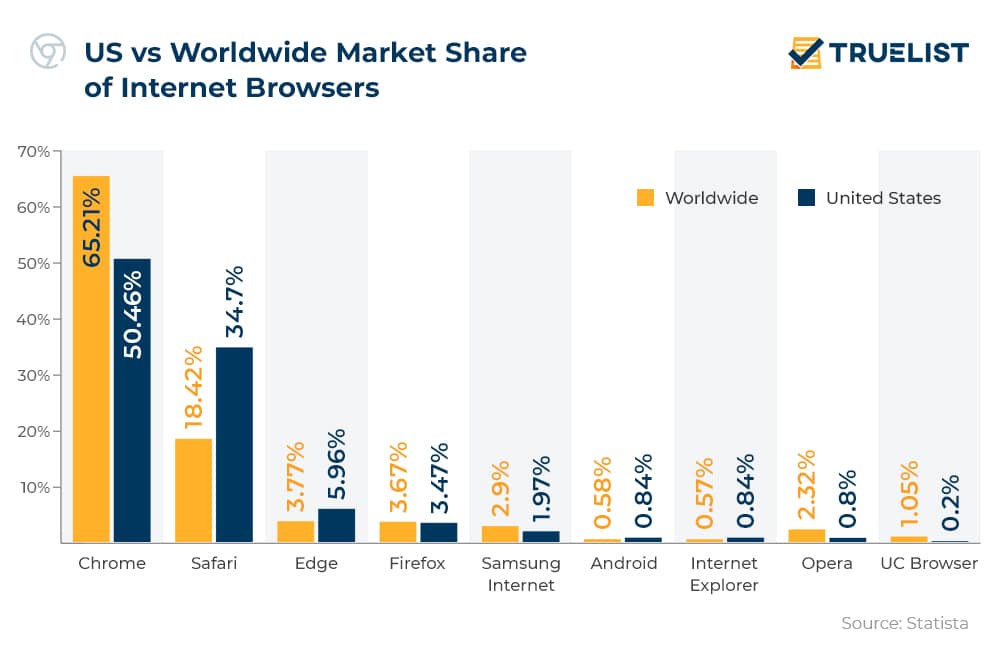 8. How many people use Google Maps?
Launched in 2008, Google Maps has become an indispensable mapping service for many of us. Today, over a billion users use Google Maps every month and send more than 20 million suggested updates daily. Given that the app provides satellite imagery, street maps, aerial photography, street view, real-time traffic condition, and route planning, one can easily understand why it's so popular.
(Wired)
9. How many results are on Google's first page?
Google's first page lists 10 results. That said, not all results get the same attention. In fact, the number-one search result gains 55% of organic click-throughs while the second dramatically drops to 14%. The click-through rate goes lower with the third-ranked results gaining 10%, fourth-ranked 7%, fifth-ranked 6%, etc. So, the higher your business ranks on Google's first page, the better.
(Blue Corona)
10. How many lines of code are there in Google's search engine?
The software needed to run all Google's services spans some 2 billion lines of code. To give you a sense of scale, that compares to about 50 million lines for Microsoft's Windows which is regarded as one of the most complicated software. What's even more fascinating is that the 2 billion lines power everything Google: Search, Maps, Google+, Gmail, Calendar, Drive, YouTube, etc. from a single repository available to all Google engineers. 
(Wired)
11. What is the most searched thing on Google ever?
With a global monthly volume of over 9 million searches, "what to watch" is the most asked question on Google. With 7.4 million global searches "where's my refund" comes as the second most asked question, and "how you like that" is third with 4 million searches. Questions like " what is my ip address", "how many ounces in a cup", "What time is it", and "how I met your mother " complete the list of the most searched questions on Google. 
(Keyword Tool)
Final Words
Hopefully, we helped you get some clarity regarding the number of Google users and just how big Google really is. In the meantime, stay tuned for everything that is yet to come for the tech giant.
Sources: Stat Counter, Internet Live Stats, Statista, Earthweb, WordStream, The Verge, Statista, Statista, Wired, Blue Corona, Wired, Keyword Tool