Blockchain Statistics
Last updated: 25.10.2022
•
Mostly associated with the advent of cryptocurrencies and bitcoin, in particular, blockchain has become so much more than that — this powerful digital ledger technology is a game-changer, with numerous applications that are no longer confined to the financial industry. That's why we prepared a list of essential blockchain statistics to give you an idea of what this technology is and what it can do for your business. Stay tuned!
Blockchain Statistics (Editor's Choice) 
The number of Blockchain.com wallet users is 81.33 million. (

Statista

)

MicroStrategy is the biggest publicly-traded crypto owner with 129,218 bitcoin. (

CoinGecko

)

Cardano is currently the sixth-largest cryptocurrency. (

Sofi

)

There are over 18 million bitcoins in circulation. (

Statista

)

Solana, in theory, allows for 65,000 transactions per second. (

Blockworks

)

7,200 LTC are mined every day. (

Coindesk

)
General Blockchain Stats 
1. Blockchain was first proposed as a research project in 1991.
While the first widespread application of blockchain — the launch of bitcoin — happened in 2009, the technology was first proposed as a research project at the start of the 1990s. In a word, it is a type of database that stores data in blocks that are connected with a chain with the help of cryptography. While blockchain technology is mostly used for cryptocurrency transactions, it can store other important data, such as legal contracts.  
(Investopedia)
2. Global blockchain solutions spending will grow to $19 billion by 2024. 
According to statistics on blockchain, back in 2021, global spending on blockchain solutions was projected to reach $6.6 billion, an increase from $4.5 billion in 2020. It is still in its early stages of market development, but the growth is expected to go through the roof in the coming years as possibilities of implementation widen beyond cryptocurrencies.
(Statista)
3. The US accounts for the bulk of global blockchain funding.
When it comes to investment in blockchain, the US leads the back, with the nation's share of funding standing at 51%. China comes in second, with 18%, followed by the UK with 4%, blockchain stats show.
(Statista)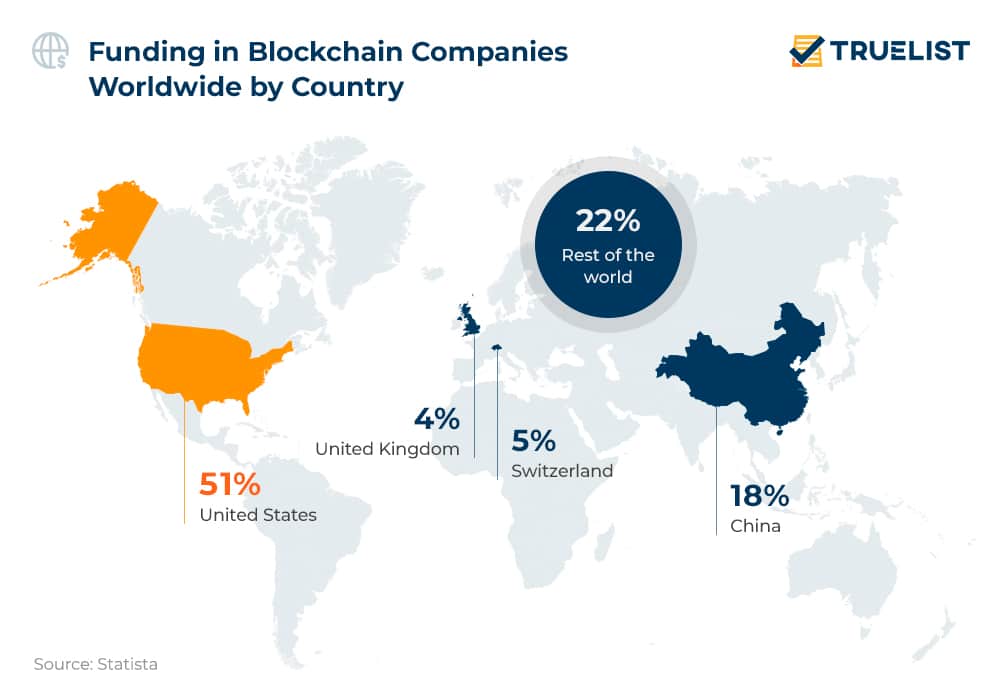 4. Up to 91% of respondents in a survey expect a return on their blockchain investments in the next five years.
People seem to be optimistic about the future of blockchain, with 86% of people in the same survey believing that blockchain technology will boost the integration of touchless business processes. This optimism is not unfounded, given that around 60% of Chief information officers in all industries are just about to include blockchain technology in their infrastructure, blockchain growth statistics show.
(Demand Sage)
5. Blockchain technology might add $1.76 trillion to the global economy by 2030.
PricewaterhouseCoopers' Time for Trust report compares the potential impact of blockchain to other transformative technologies such as the internet and artificial intelligence. It notes that blockchain has the potential to redefine trust and confidence in transactions of all types. The report goes on to suggest that blockchain could have a particularly profound impact in areas such as supply chain management, identity verification, and cross-border payments. 
(BeInCrypto)
Cryptocurrency-Related Blockchain Statistics 
6. MicroStrategy is the biggest corporate crypto holder with 129,699 bitcoin in its possession as of August 2022.
MicroStrategy is a $3.1 billion NASDAQ-listed company that tops the list of publicly-traded bitcoin holders. The number two spot is held by Marathon Digital Holdings which boasts 10,054 bitcoin. Coinbase rounds out the top three with 9,000. 
(CoinGecko)
7. The bitcoin market cap peaked at over $1,000 billion in April 2021.
To understand how much of an impact bitcoin has on the market, you have to first start with capitalization. Capitalizations are calculated by multiplying total coins in circulation times by their price. Blockchain statistics further show that the market capitalization of Bitcoin stands at $746 billion as of March 15, 2022.
(Statista)
8. Bitcoin's value stood at $39.331 in March 2022.
The bitcoin price index (the average rate at which bitcoins are changing hands across leading global exchanges) has seen significant growth since its creation, climbing from $367 in January 2016 to over 13,000 by December 2017. The amount of $61,374 was the crypto's highest value in October 2021 before it took a plunge down to sink to just over $20,000 in June 2022.
(Statista)
9. The bitcoin blockchain size is circa 406 gigabytes as of July 2022.
Bitcoin blockchain statistics show that the largest cryptocurrency's blockchain has been continuously growing over the years, starting at 0.01 gigabytes in September 2009 to reach a massive 406.05 gigabytes as of July 2022. The bitcoin blockchain represents a list of all bitcoin transactions and records since the cryptocurrency's initial release back in January 2009, when it was first recorded in megabytes.  
(Statista)
10. Ethereum is expected to see a 30% drop during 2022.
By the end of 2022, it is predicted that Ethereum's value will have dropped by almost 30%. It started out this year at just over $3,000 and now according to Coin Price Forecast estimates they see a drop-down into late summer or fall where we might even see prices to about $2,600. 
Ethereum blockchain statistics, however, paint a more optimistic picture — with the cryptocurrency set to get switched from its current proof-of-work protocol to proof-of-stake, some experts say that the greater sustainability of this model will underpin the coin's value, propelling it to $4,039 or thereabouts by the end of 2023.   
(Lite Finance)
11. The market cap of Cardano almost doubled in February 2021.
Cardano is a decentralized public blockchain and cryptocurrency project potentially on track to outperform Bitcoin and Ethereum. The number of its daily transactions was highest at 164 in November 2021, according to Cardano blockchain statistics. Founded in 2015 by Charles Hoskinson and Jeremy Wood, Cardano uses a proof-of-stake algorithm called Ouroboros. Ouroboros is the first algorithm of its kind to be peer-reviewed by academics. 
(Sofi, Statista, Al Jazeera, Statista)
12. Solana, in theory, allows for a throughput of 65,000 transactions per second.
Solana was founded in 2017 by Solana Labs CEO Anatoly Yakovenko and CTO Greg Fitzgerald. The idea of blockchain is not just about transactions but also the ability for it to grow and adapt. Solana blockchain statistics show that this cryptocurrency offers a new solution that solves one major drawback: scalability. Solana currently has a theoretical throughput of 65,000 transactions per second, with fees close to zero.
(Blockworks)
13. 7,200 LTC are mined per day.
This happened after Litecoin halved its reward for miners in 2019, from 25 LTC to 12.5 LTC.  Since the block production time on the cryptocurrency's network stands at around one block every 2.5 minutes, Litecoin blockchain statistics point to 576 blocks produced every 24 hours with a new supply of 7,200 LTC entering the market. This is half the previous daily level of around 14,400 LTC. Litecoin is planning to issue 84 million coins, which is four times the size of bitcoin — 21 million. Litecoin is listed on most crypto exchanges and also has PayPal support, alongside bitcoin, Ethereum, and Bitcoin Cash. 
(Coindesk, AmonTech) 
Blockchain Usage Statistics 
14. Jack Dorsey's first tweet was sold for $2.9 million as an NFT. 
A non-fungible token, or NFT, is a type of blockchain technology that can be used to prove ownership of digital assets. On March 21st, 2021, an NFT representing Jack Dorsey's first tweet was sold at auction for $2.9 million. The tweet, "just setting up my twttr," was sent on March 21st, 2006, and has since been retweeted over five million times. The NFT was created by Matt Schlicht. This is the first time that a piece of social media history has been sold as an NFT, and it is likely that this will not be the last.
(CNBC)
15. China accounts for 46% of various global blockchain patent applications.
This was reported in a survey conducted in 2020 that observed that out of 100 global companies which filed patent applications, almost half were from China. The other top countries were the US with 24%,  Japan with 8%, and South Korea with 7%, blockchain technology statistics show.
(Finances Online)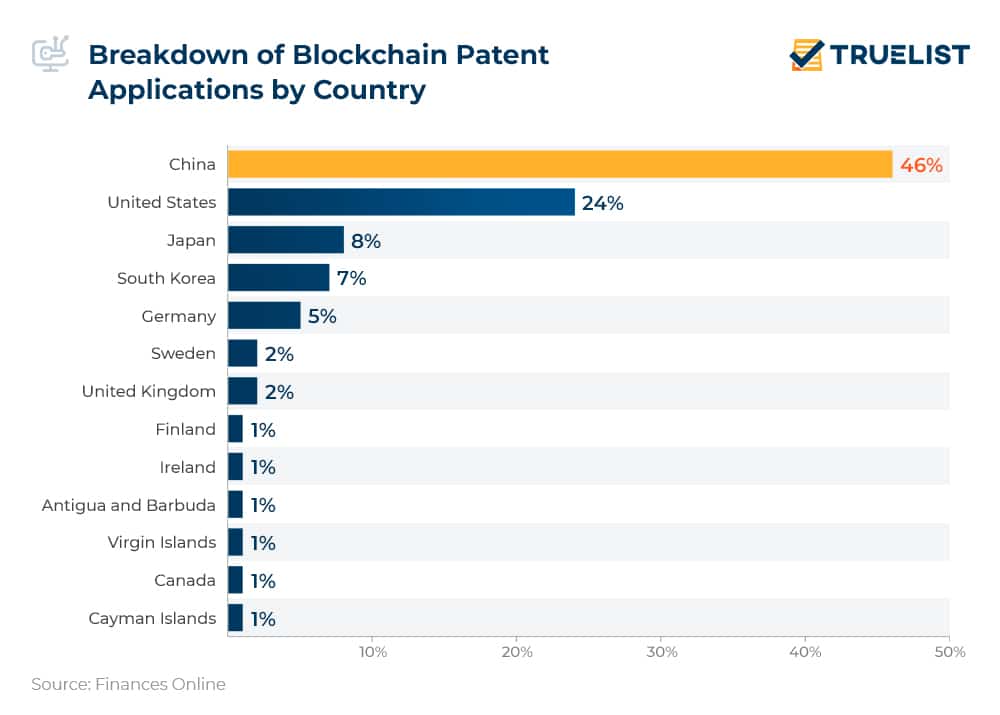 16. Counterfeit luxury goods manufacturing, which has cost the fashion industry $4.5 trillion in trade, can be prevented by the use of blockchain.
Blockchain-based supply chains would be more efficient and less vulnerable to fraud and corruption. As such, it is clear that blockchain holds great potential for the fashion industry as it can trace sourcing and track the supply chain. However, it remains to be seen whether fashion brands will adopt this technology on a widespread basis and reach out to blockchain development companies.
(Finances Online)
17. New York has implemented a COVID-19 passport based on IBM's digital health pass technology, blockchain adoption statistics show.
The digital health pass allows businesses to verify the vaccination status of their employees and customers, as well as other health information such as negative test results. The passport can be stored on a mobile device and is encrypted to protect privacy. Businesses can choose to require all employees or customers to have a valid passport, or they can use it on a case-by-case basis. The digital health pass is already being used by a number of businesses in New York, and IBM is hoping that it will eventually be adopted by other states. 
(Built In, Finances Online)
The Bottom Line
Blockchain statistics suggest that going forward, businesses will rely on this technology to increase transparency and prevent fraud. The decentralized ledger system is tamper-proof, meaning that all data entered into the blockchain is immutable and can be verified by anyone. This makes it a valuable tool for businesses that want to ensure the accuracy of their data. Additionally, as more people become familiar with blockchain technology, they will begin to trust it more for transactions such as buying goods or services.
Sources: Investopedia, Statista, Statista, Statista, Demand Sage, BeInCrypto, CoinGecko, Statista, Statista, Statista, Lite Finance, Sofi, Statista, Al Jazeera, Statista, Blockworks, Coindesk, AmonTech, CNBC, Finances Online, Built In