OnlyFans is home to over 1 million content creators who produce subscription-based content. This London-based service is popularly known for its pornographic content but also hosts other niches like physical fitness and music.
Although OnlyFans is relatively new, it has attracted famous influencers and celebrities to the site. But the lack of a search feature makes looking for specific content creators challenging.
Then,
How To Search For People on OnlyFans
Though we cannot directly search for usernames on the OnlyFans website, we can use third-party OnlyFans search engines and data brokers to find usernames matching specific search criteria. 
For instance, you can type the full name of a person you want to find on OnlyFans on OnlyFans search engines, and they give you OnlyFans username. Here is a list of such OnlyFans Finder tools.
Google

Fansmetrics

OnlyFinder

OnlySearch

Truthfinder

Find them on social media accounts
Method #1: Google
Google is the best place to start if you are looking for someone on Onlyfans. Here's how:
Go to

google.com

. 

On the search bar, type

site: OnlyFans.com (name).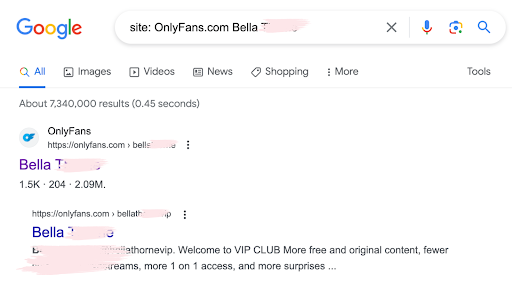 Note:
This method would only work if the person you're looking for uses their real name on Onlyfans. 
Method #2: Fansmetrics – Find People On OnlyFans By Location
With over 20 million profiles, Fansmetric has the largest OnlyFans database. This website allows its users to search for someone's OnlyFans account by:
name

social media usernames

Location

keyword

category
Using Fansmetrics is easy and does not require installing any software or extension. You only need to know their website and follow these three easy steps:
Go to the

Fansmetrics website

.

Type in the full name, social media usernames, or location of the OnlyFans profile you want to find.

Click the "Search" button.
(Fansmetrics User Interface)
You will land on the list of profiles matching your search query. For instance, here we tried to find people on OnlyFans by location
https://prnt.sc/5rEl8krHs4Zg
Though we tagged it as a tool for searching OnlyFans by location, Fansmetrics can also find people on OnlyFans by name flawlessly. We tagged it for location because no other tools do a better job of finding Onlyfans users by location than Fansmetrics.
Method #3: OnlySearch – Find People On OnlyFans By Name
OnlySearch is another specialized search engine that allows you to find someone's OnlyFans profile with only a name. Apart from the name, you can also use other identifiers to find someone's account on OnlyFans, like social media usernames. 
Here are the following steps to find someone's OnlyFans account through OnlySearch:
Go to

OnlySearch

.

Enter the name of the OnlyFans creator you want to search for.

Click "Search."
(OnlySearch User Interface)
OnlySearch will then scan its database to search for OnlyFans accounts that match the name you have entered.

Click the  OnlyFans profile you are looking for from the list.
Method #4: OnlyFinder – Find Specific People You Know On OnlyFans
OnlyFinder acts like a search engine for those who want to find someone's OnlyFans account. It has over 500,000 indexed content creators on their platform. 
Finding someone specific on OnlyFans is easy with OnlyFinder. If you know the full name of an OnlyFans creator, finding their user name and thus finding their profile is very easy.
How OnlyFinder Works?
When you enter a name on OnlyFinder, it will search and index the accounts of OnlyFans content creators. The search results will show you the information in seconds.
Here are the steps to use OnlyFinder:
Go to

OnlyFinder.com

.

Enter the full name of the person you want to find on OnlyFans on the search bar.

Wait for the results.

Click the exact profile from the list, and you will be redirected to the site. 
It's important to note that not all content creators use their real names. For this reason, you need a more powerful people search site that lets you link to the associated accounts.
Method #5: TruthFinder – OnlyFans Search By Email
TruthFinder performs background checks by sifting through public records and openly available information on people. It lets you find personal information online using only a phone number, email address, and even a name. You can use this tool to find someone on  OnlyFans
Using TruthFinder to Find an OnlyFans Account
TruthFinder is easy to use and does not require installing additional apps or software. All you need is access to their website and follow these steps:
Enter the complete name of the OnlyFans profile on the search bar.

Click "Search."
(TruthFinder User Interface)
Once the search starts, you will be prompted with other questions regarding the name you entered. Answer these questions for better results.

A list of profiles related to the query you enter will then appear. Click the OnlyFans profile that matches the person you are looking for. 
Method #6: Onlyfans Search By Social Media
If the previous methods didn't work, the next best method is to search on social media sites. Given the problem of no proper search feature on OnlyFans, most creators seek the help of social media sites. They openly share their OnlyFans user names on platforms like Twitter to increase their fanbase and paid subscription.
You can use Google or other search engines to find the social media profiles of the person you have in mind. Once you find them, check their walls for links to OnlyFans usernames. 
Protip – Start your social media search with Twitter because it is the most lenient platform for OnlyFans creators to share their profile URLs.
Wrap Up
Finding an OnlyFans account may be unavailable on its platform. However, you can use third-party tools like specialized search engines and data broker sites.
You can also ask the content creator directly through their social media profiles. Doing this will give you accurate information about the OnlyFans username you want.
Doing the suggested methods respectfully is crucial. It should not be threatening the content creator.
FAQ
Is OnlyFans anonymous?
It depends on the preferences you choose when you create an OnlyFans account. You can anonymize your identity on OnlyFans by using pseudonyms or other aliases.
How do I use OnlyFans?
As a subscriber, you must pay for the content you want to watch.  On the other hand, You must add your payment information to earn if you are a content creator. 
How to search for people on OnlyFans?
OnlyFans currently don't allow anyone to search for someone on its platform. Even if there is no search bar to explore, you can use many third-party tools. The most popular among them are OnlyFinder and OnlySearch.
Can people screenshot OnlyFans?
Yes, you can take screenshots on OnlyFans. However, it is against the rules of OnlyFans to take screenshots of their content.
Does OnlyFans have an app?
OnlyFans does not have a full-fledged app for Android and IOS devices. However, the free OFTV app is a paired-down version of OnlyFans that is available for all Android, OIS, Roku, and FireTV.