Content management systems (CMSs) have found their way into many businesses in the past decade. They allow just about anyone to create professional-looking websites without any coding knowledge. Today, we're going to answer some questions about this widespread market, including the CMS market share of the top platforms, the CMS market size, and much more.
CMS Usage Statistics
With 455 million websites worldwide using it, WordPress is the

most used content management system

. (

Envisage Digital

)

The CMS market is expected to reach $123 billion by 2026. (

GlobeNewswire

)

The

WordPress market share

is 37% of all websites. (

Envisage Digital

)

43.6% of websites use a custom-made CMS. (

Atlas SoftWeb

)

According to W3Techs, WordPress, Shopify, and Wix hold 73.8% of the CSM market. (

W3Techs

)

There are between 1,000 and 2,000 open-source CMSs. (

freeCodeCamp

)
CMS Market Share by Platform
1. WordPress
WordPress is the most popular CMS, without a doubt. It powers 37% of all websites on the internet. The CMS powerhouse is also one of the easiest ones to use for creating websites, which partially explains its worldwide popularity. WordPress is also available in 65 languages but is the most used CMS in the United States, Iran, the United Kingdom, Russia, and Canada. 
The US takes the lead with 3,667,102 websites run by WordPress, followed by Germany with 1,638,732 sites. The United Kingdom ranks third with 1,373,573 websites, followed by France's 874,707. Finally, Italy comes in fifth with 867,068 WordPress-powered websites.
CMS usage statistics show that, with 34,896,678 live websites worldwide, the WordPress market share grows approximately 1-4% annually
WordPress is open-source software, so you only pay for a domain name and a hosting plan. Open-source CMS comparison statistics show that WordPress also takes the lead in this category compared to other CMSs.
WordPress further offers thousands of plugins and professional themes. As the most common CMS, this platform is SEO-friendly, offers mobile-friendly features, and has superb blogging functionality. WordPress further leaves a lot of space for ecommerce development.
The main takeaway is that WordPress is one of the most popular CMS platforms in terms of ease of use, customization, and freedom, and its popularity doesn't seem to be fading anytime soon.
(BuiltWith, W3Techs, Envisage Digital, WP Beginner)
2. Magento (now Adobe Commerce)
Magento is one of the leading e-commerce content management systems in the industry. It's one of the top open-source CMS platforms, written in PHP, currently powering around 0.6% of websites worldwide. While the ecommerce CMS market share leader is WooCommerce, a WordPress plugin that boasts 36.68% of the overall market share, Magento's market share is notably lower.
The popular CMS currently has 163,300 users worldwide, most of which are based in the US (58,455), in the UK (12,471), and in the Netherlands (10,507). Data further reveals that there are 3,290 official extensions available but only 5 official themes.
(Magento, BuiltWith, Statista, W3Techs)
3. Craft CMS
Craft CMS is a user-friendly content management system that offers a clean-slate approach to content modeling and front-end development. As of September 2021, the Craft CMS market share stands at 0.2%.
Another important thing to mention is that Craft CMS is a self-hosted PHP application. It also connects to PostgreSQL and MySQL for content storage, while the templating is powered by Twig. The back-end is also user-friendly because Craft is built on the idea that everything from the ground up is a customizable data structure.
Additionally, users also like that database backups are seamless and that asset management tooling is superb. These are just some things that make Craft one of the top 10 headless CMS by market share.
(Craft CMS, W3Techs)
4. Drupal
Drupal is a veteran CMS, initially released in 2000. Contrary to WordPress, however, its CMS popularity seems to be dropping over the years. The Drupal market share dropped from 1.7% to 1.5% in a single year. The total number of global live websites using Drupal is 555,754, while the number of websites in the US is 213,271.
Just like WordPress, Drupal is open-source and free software that only requires purchasing a domain and server hosting. It is one of the most popular content management systems due to the fact that it focuses on social publishing community sites that house large databases and that are content-heavy. However, although it is not as beginner-friendly as WordPress and might require developer assistance, Drupal offers loads of software development opportunities.
(BuiltWith)
5. Joomla
Joomla is yet another free, open-source platform. Open-source CMS usage statistics show that the percentage of websites using Joomla in the top one million is 1.34%. It boasts more than 1.32 million live websites worldwide and 318,842 in the US.
The Joomla market share is 2,5% as of September 2022. Interestingly enough, 9% of business-oriented sites opted for Joomla. Another compelling piece of information is that this popular CMS has been downloaded more than 135 million times since its initial release in 2005, making it one of the most used content management systems. 
Joomla offers SEO-friendly and mobile-friendly features alongside more than 5,800 extensions, making it a great go-to CMS for web development.
(Joomla!, W3Techs, BuiltWith)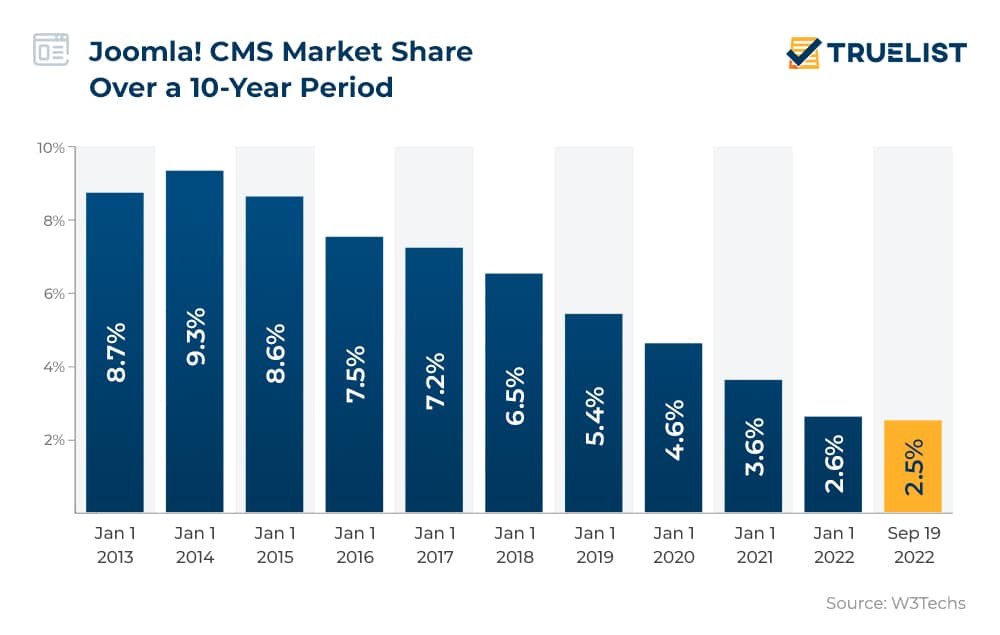 6. Umbraco
Umbraco is another older CMS, initially released in 2000. It is an open-source CMS built upon Microsoft's .NET framework. 23,721 websites worldwide use Umbraco, with 0.17% of Umbraco-powered websites ranking in the top 1 million sites.
However, even though the CMS has been around for more than two decades, Umbraco CMS market share is still less than 0.1%, which definitely comes as a surprise considering that it allows easy system integration, mobile content management, multiple site management, etc. While it's not the most popular content management system out there, it offers flexible load balancing, tight security, and simple controls.
(W3Techs, uSkinned, BuiltWith)
Conclusion
After going over the leading CMSs, it's safe to say that the content management system market is spreading like wildfire and offers many choices for just about any type of user. However, by CMS market share, user base size, and the overall number of websites worldwide, WordPress is definitely ahead of its competition by far. But who's to say that others won't catch up, right?
Sources: Envisage Digital, GlobeNewswire, Atlas SoftWeb, W3Techs, freeCodeCamp, WP Beginner, BuiltWith, W3Techs, W3Techs, Statista, BuiltWith, Magento, Craft CMS, W3Techs, BuiltWith, BuiltWith, W3Techs, Joomla!, Joomla!, Joomla!, uSkinned, BuiltWith, W3Techs