A/B Testing Examples
Last updated: 05.01.2022
•
If you want to have a successful marketing campaign, then testing your work regularly is essential. The only way to stay up to date with your industry and truly capture the attention of your site visitors is to keep experimenting with the things you can improve and implement the changes that will drive the conversion rates up. This is where A/B testing examples can help you and improve your strategy.
You can learn from the companies who've had major success and managed to turn their whole business around with the help of A/B testing tools. You can increase your revenue and social shares if you know what to focus your attention on, and testing your website this way will help you make the perfect formula that works for your company.
Are you eager to learn more and see some real-life cases that have proved to be effective? Then let us dive into the world of A/B testing and find out why this is a technique recommmended by the best web design companies.
AB Testing Examples
1. Optimize your banner (Humana)
A health insurance site called Humana hired a marketing firm to do some A/B testing for them, and with one very small change to their banner, the clickthrough on their site increased by 433%. Their initial banner was a jumbled mess of too much copy text and without an easily discernible CTA button. When they made the change with a banner tester, they cleaned up the design thoroughly and introduced a bold, eye-catching CTA button that stood out and captured attention. They also changed the background picture and the microcopy on the button itself – instead of 'get started now' they put 'shop medicare now,' which seemed to have made all the difference.
As you can see, the proper use of some A/B testing statistics made a huge impact and got people to stay on Humana's website and click on the call-to-action button.
2. Consider your landing page (Groove)
Your landing page can be the most effective part of your advertising campaign if you do it right. The people behind the site called Groove had a great idea to redesign it just to see whether they can improve the statistics, so they changed the copy, introduced a clickable video, and presented the site visitors with better reasons to subscribe to their service.
To accomplish all this, they contacted experts in website design to help them, as well as their own customers. They followed all the landing page AB testing steps and went even beyond that, which resulted in an increase in their conversion rate from 2.3% to 4.3%. Landing page design is very important, so besides your main website, make sure to improve your landing pages if you really want to capture attention.
3. Email sign-up forms (Hubspot)
Hubspot wanted to increase the number of lead conversions through their email sign-up form. Because of that, they asked themselves an important question – are embedded sign-up forms better than separate sign-up pages?
Hubspot AB testing showed that they are, and email A/B testing examples showed that in-link CTA managed to raise their performance by 71%.
4. Polish your headline (Movexa)
Movexa is a site that sells supplements, and they already had a pretty effective banner, but you'll notice that it didn't use to include one key element.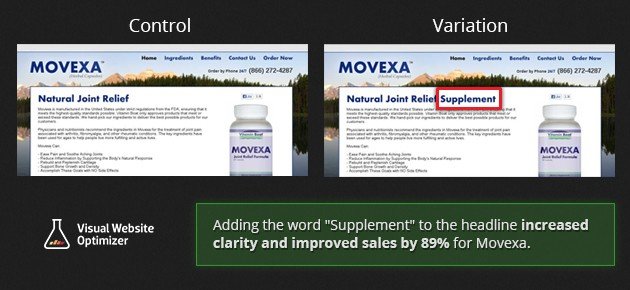 Simply adding the word 'supplement' and using a headline tester was enough to increase their conversions by almost 90%!
5. Don't forget your subheadline (Highrise)
A site called Highrise showed us that something as simple as AB testing headlines can produce quick and effective results. By changing the subheading to tell the visitors that the sign up is quick and easy, they managed to increase the clicks by 30%.
Playing around with simple details doesn't usually take too much time, and this is one of the A/B testing examples that shows you how effective a simple change can really be.
6. Have a mobile-optimized landing page (Rasmussen College)
Most users who stumble upon a non-optimized mobile page tend to bounce quickly because they believe the company can't provide them with what they need. Given the fact that more and more people rely on their phones for everything they do online, you have to bear this in mind and modify your landing page so it can be easily used from a handheld device. Take Rasmussen College for an example.
A better click-through menu that doesn't constantly need to be zoomed-in can make a huge difference, and you can use mobile AB testing to see how users respond. For Rasmussen College, this increased their conversion by 256%.
7. Think about your social media (Upworthy)
You need to boost your engagement and social shares if you want to reach more people. The site called Upworthy is one of the most famous viral content sharing sites, but while they had a big audience, their site design was still not good enough. Most of the users would click on a link shared on social media and reached Upworthy to read a story but didn't seem to have an easy way to dig deeper and reach other content on the website.
With the help of A/B testing statistics, they managed to see how different site layouts and recommended content influence shareability, and realized that the best versions increased social sharing by 28%.
If you make it easy for people to share your site's content, you're likely to start getting a lot more conversions. You can also try Facebook A/B testing to check how social media ads are performing and it's fairly easy to perform a test using the Ads Manager and divide the audience into random, non-overlapping groups. This is certainly one of the AB testing best practices because it offers you fair and accurate results that will give you a good idea on where you need to push your strategy.
8. Homepage testing (WallMonkeys)
WallMonkeys is a business that sells very interesting wall decals and decorations. They're a great example of a company who kept testing regularly even after the first initial success. Their homepage was already fairly good, but they wanted to try and see whether it's possible to make it even better. By using 'heatmaps' they were able to see how their viewers used the site to suit their purposes. 'Heatmaps' and 'scrollmaps' basically show you which areas of the site are most frequently clicked on, and you can use that kind of A/B testing data science to figure out where to focus your design.
WallMonkeys changed around their images to suit the personality of the brand better and immediately saw a 27% increase in conversion rates. However, they didn't stop there. They kept on testing with more variations and increased the size and polished the design of their search bar. This gave them even better results – the conversion rates increased by a whopping 550%!
As you can see, your A/B testing goals shouldn't be limited to running only one or two tests and stopping after you have found your success. Keep running analytics periodically and try out new AB testing ideas if you want your business to grow and you might see some drastic changes very soon.
9. Adding statistics, FAQs, and more info (Kiva.org)
Depending on what your business is, you might want to consider making information about your brand more easily available to your site's visitors. A non-profit organization called Kiva has a site that connects low-income students and entrepreneurs with the people who are willing to lend them money for their education or to start a business.
Kiva hypothesized that providing more information to clients about who they are would end up resulting in more donations, and they turned out to be right. Having analyzed a carefully made A/B testing presentation, they decided to provide a FAQ section, statistics, and proof of their social impact.
This made their site appear more trustworthy, and as a result, more people were willing to invest their time in it. Since those who wanted to donate could now see pictures and personal stories of the people they would be helping, they knew the money would go to the right hands.
One thing that you can learn from this example is that you should try to find a way to answer all the questions your visitors might have without making them dig to find out. Show that you're willing to be open and honest, and you'll get more people to trust your site.
10. Careful with sign-up forms (The Olympic Store)
Your AB testing results can show you that sometimes a clunky sign-up form can lead to a big bounce rate on your site. The Olympic Store used to have a necessary registration form that the customers had to fill out when they were checking out, which lead to a large number of them giving up on the whole purchase entirely.
Once they decided to opt out of it and allow their customers to make a purchase without logging in or registering, their completed purchases increased by 21%. This is one of the A/B testing examples that show us how enabling a simple way for a customer to buy what they want is essential in driving your business forward. The best web design companies usually prioritize bold, clean website outline for a good reason – it's straightforward and quickly gives the users exactly what they need; so follow this lead and always reduce the number of steps to a minimum to enable fast conversion.
11. Keep experimenting with your landing page (Centraal Beheer)
Here's another landing page example that you might learn from. Centraal Beheer is an insurance company from the Netherlands that already has a well designed, effective landing page that gets them plenty of clicks and drives up the business. However, they decided to try out a different AB testing template and they focused on their call-to-action button. They added a link for a secondary CTA that actually lead the customer to share the link through their LinkedIn profile, instead of simply taking them further so they could complete an offer.
It was an unusual strategy that ended up working quite well for them, producing an incredible click increase of 244%. This shows why it's important to reiterate that constant experimentation because testing can produce great results and keep leading you to more successful conversion rates. A/B testing landing pages and tweaking small details is the key to optimizing your site.
12. Listen to your audience (EA)
One of the most famous gaming companies, Electronic Arts, is famous for their The Sims and SimCity franchises. When they were releasing SimCity 5, they wanted to immediately maximize the revenue, so they offered a 20% discount on future products to anyone who bought the game. This is a very sensible strategy which is usually extremely successful because it offers people more incentive to buy something.
However, EA decided to take some steps in A/B testing and they made a variation of the page without the 20% discount. Surprisingly, it actually performed a lot better than the original version. With a 40% increase, it showed that sometimes conventional wisdom and our instincts don't always hold true.
Now, why did this version perform so much better? The answer is – because of the fans of the game. They are a dedicated crowd of people who are very connected with the franchise, and it appears that a 20% discount didn't resonate that well with them, as they didn't need any incentive to purchase the product.
You might still be wondering – 'what is the goal of A B testing?' This example makes it obvious why conversion testing is necessary and why you must always listen to your own audience. We might think that we know them well, but customers can be very unpredictable and often make choices that don't immediately make sense to us. While doing polls and surveys is a good way to get in touch with them and find out what they might need, this kind of testing is a cheaper, more organic way to get quicker results.
AB Testing FAQs
If you're still a little confused about A/B testing, here are quick and easy answers to a few of the basic questions.
What is AB testing in digital marketing?
An AB test, or a split test, is a comparison of two different versions of a website or a landing page. For example, you might be suspecting that your call-to-action copy or your pop-up page aren't quite as effective as you'd like them to be.
To resolve this, you can use AB split testing that will allow you to make more than one version of your website with only one detail changed, and then offer all of these versions to your site visitors. Once enough people have seen them, the analytics can show you which version of your site was the most successful one. That way you can quickly implement improvements one by one and get an accurate depiction of where you stand.
What do we mean by the term A B testing?
The reason it's called that way is that, basically, you take the version A of a website, and compare it with the version B to see which one performs better. You can test two vastly different versions of a page, but as you've seen from our examples, you can also test smaller details, such as headings, subheadings, CTA buttons, the page copy, or any other features that could improve your site. Even the smallest of changes can have a pretty big influence.
The simple A/B testing definition is that it's a randomized experiment with two or more different variables. It's easily conducted and any kind of business can benefit from this way of testing. As we've mentioned before, you'll get the best results if you do the tests regularly so you could stay up to date with the industry and the ever-shifting consumer wants and needs.
Encourage your marketing team to test every part of your website so you could reach that maximum level of optimization and efficiency.
How does an A B test differ from a multivariate test?
Multivariate testing is indeed very similar to AB testing, but it usually takes more variables into consideration. The aim of an AB test is to evaluate page design in a simple manner that's easy to implement later on. Multivariate testing usually compiles more information about each of the variables and it's generally recommended only for the companies whose sites get a lot of traffic; otherwise, it can take a very long time to get any meaningful results.
A multivariate testing example would be a page where several elements need to be changed. You might want to experiment with the fill-out form length, the CTA button, and the headings if you wish to make subtle changes with each of these elements. Then, you could run a multivariable test to see how these changes interact with each other and which combination of elements is the most successful one. While it can be very useful and give you a comprehensive picture, AB testing a website is faster and easier for most companies.
How do you do an AB test?
To begin, you'll need to find good testing software that will make it easy for you to manage your project, and the tools like Unbounce, VWO, or even simple Google Analytics Experiments can get you started.
The first thing you'll need to do is pick out a variable to test and figure out what you want to find out. Next, create a 'control' and a 'challenger' version. The control version should be your already existing site and the challenger should be the one with all the new changes implemented. You can use the AB testing examples from this text to get an idea about what you could test.
The most important thing is to split your sample groups equally in order to get the correct result. You should also make sure to run the test for as long as you can and not to jump to any conclusions ahead of time. Most tools will allow you to check the 'confidence level' and you'll want to make sure you reach a confidence level of at least 95% to 97%. A/B testing case studies show that this is the best way to get accurate results that lower the chance of random occurrences influencing the test.
It's also important to test all the variations of your site simultaneously and to give yourself enough time to gather a large sample base. Depending on the size of your business, this could be anything from a few hours to a few weeks.
Conclusion
Small changes on your website can have a big impact on the traffic and the click-through rate. A/B testing, in addition to a few test marketing examples, is a great way to control all the elements of your digital marketing efforts that make the optimal setting for your business.
You can improve anything from your landing pages to the overall design layout in order to increase your conversion rates; plus, you can also lower your cart abandonment, reduce bounce rates, and improve content engagement.
In today's competitive market, optimizing even the smallest details can put you ahead of the competitors, and A/B software makes it very easy to get an insight into which things need to be improved. Use these A/B testing examples to inspire you to start experimenting with your own website and figure out what your customers like or dislike.